By JAN LARSON McLAUGHLIN
BG Independent News

Bowling Green City Council heard more Monday evening about the ripple effects from the racist attack at Waffle House two weeks ago. Council chambers was so full – with about 80 people there – that people had to listen from the hallway.
They heard from a black woman who described her own experience of being verbally abused in a local restaurant. They heard from a Hispanic woman who wants training for business employees so they know how to handle such incidents.
And they heard from a white City Council member whose voice shook with emotion as he told how one of the alleged attackers at the Waffle House was in his government class at North Baltimore High School.
"I feel the sting when that's inadequate," council member and teacher Mark Hollenbaugh said.
"There are people within our community who have values who don't represent us," he said.
Eleven citizens took their concerns to City Council about the racial attack reported in the middle of the night on March 31.
The incident started when Justin Hartford, 18, of Mount Cory, and Zarrick Ramirez, 18, of Findlay, entered Waffle House and were reportedly met with racial slurs from two other men in the restaurant. One of the men allegedly told the teens that President Donald Trump would deal with immigrants like them.
Before leaving the restaurant, the men taunting the teens reportedly went over to their table and began beating them. Three employees and a customer told police the two victims did nothing to provoke the attack.
Bowling Green Police Division arrested Jacob Dick, 22, North Baltimore, and Zachary Keller, 21, of Custar, for felonious assault and ethnic intimidation.
Since then, two community meetings have been organized by La Conexion in an effort to come up with preventative measures to keep similar incidents from occurring in Bowling Green.
"The incident deeply affected and rightly enraged" city citizens, said Beatriz Maya, leader of La Conexion. She thanked the police division for its quick response to the attack, and city leaders for speaking out against such hate crimes.
"Bowling Green has taken a clear stance against hate," Maya said.
But more must be done, she told council. Maya read a list of recommendations gathered at the community meetings following the attack at Waffle House. The suggestions included:
Acknowledgement that racism exists in the community, with more open dialogue needed. "We must recognize this is a systemic problem," she said.
Enactment of an ordinance stating zero tolerance for racist incidents. Businesses could use that ordinance to require patrons to immediately leave if they are using racist language. If they don't leave, police should be called.
Training should be offered to teach employees how to respond to hate incidents. Those businesses completing the training would be given "welcoming city" decals for their doors.
Council President Mike Aspacher said he has spoken with Municipal Administrator Lori Tretter and Police Chief Tony Hetrick about the possibility of such training be offered.
Hetrick said the police division may be able to expand the training it already offers for liquor establishments, to make it instructional for businesses that operate overnight. It's possible that some type of training for bystanders could also be offered in the future.
"It's clear this is a community problem that will require a community solution," Aspacher said.
City Council heard from many citizens who wanted some type of training.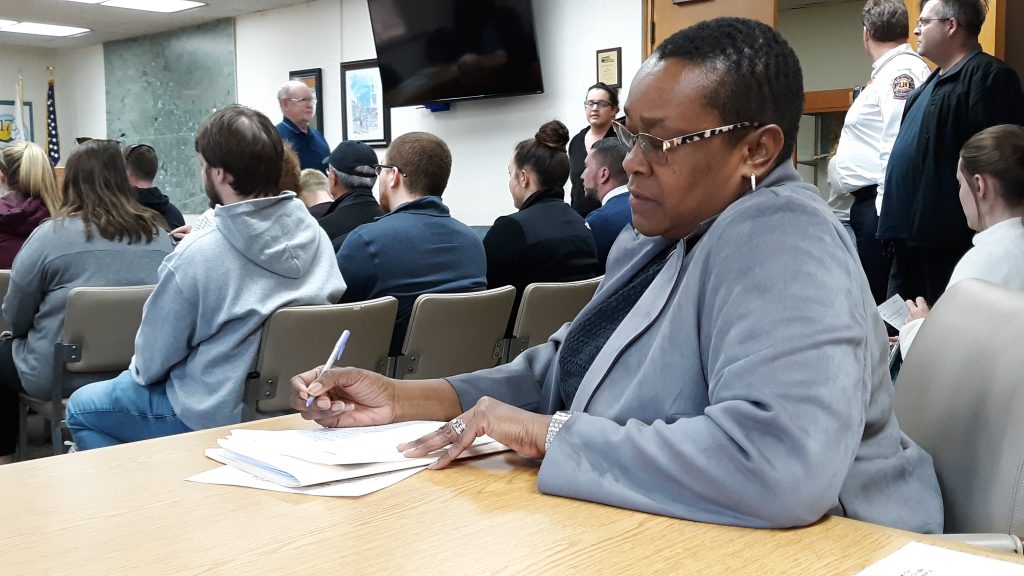 Karla Davis-McGowan talked about her experience when her father first brought her to BGSU in 1983. "Wow, baby. It's just like Mayberry. You don't need the police," she said her father told her.
Though she blames the perpetrators for the assault, Davis-McGowan also said Waffle House has some responsibility since the verbal assault reportedly was allowed to escalate and eventually led to the physical assault.
She suggested that just as another national coffee business was forced to do a nationwide training last year, Waffle House should do the same.
Sylvia Chandler agreed that businesses should have zero tolerance for racist behavior. "Intolerance won't be tolerated," she said.
Chandler told of her own experience at a local restaurant when she was verbally assaulted. Changes are needed, "so people of color can come in, and sit down, and not worry," she said.
"The need for training for the staff is something that we should enact," Chandler said.
Council also heard other suggestions.
Linda Lander talked about the need to collect local hate crime statistics, as well as data on acts of racism and bigotry.
"Little tiny cuts can cause just as much damage as felonious assault," Lander said.
Janet Parks suggested that workshops and training be offered on how to recognize more subtle racism, such as biased language or symbols.
"So many times we want to help, and we don't know how to help," Parks said. "Bowling Green has the potential to be the leader in this."
Citizens of two other communities – Pemberville and Perrysburg – said that Bowling Green is leading this fight, and others are watching and learning.
"You are leading the way on this," Colleen Boff, of Perrysburg, told council. "I'm so grateful for your insights, your work. I'm very much watching what you're doing."
Pemberville Council member Christina Yaniga suggested there might be ways for  communities to work together on the shared problem.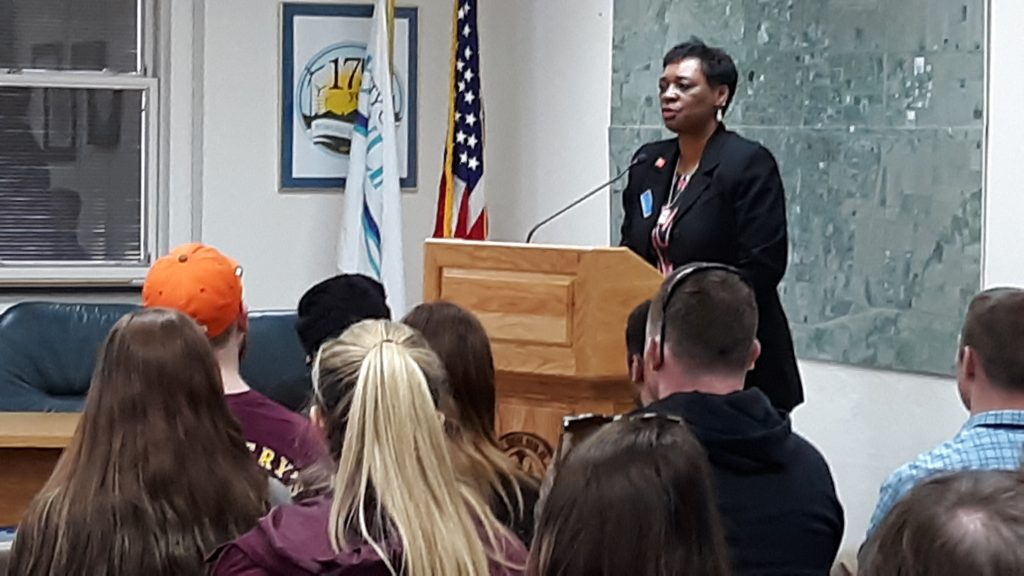 Susana Pena, of Bowling Green, praised the city for the work already done – with its Human Relations Commission, Welcome BG Initiative, Not In Our Town, and La Conexion. But the work isn't over, she said.
"We're looking to City Council for leadership," Pena said. "We need more resources committed toward these actions."
Conner Goodpaster voiced support of La Conexion's recommendations.
"Dealing with issues of hatred and racism doesn't happen overnight," he said.
Joe DeMare suggested City Council may consider paying for any outstanding medical bills of the victims in the Waffle House attack.
"It's hard not to be sickened when you're confronted with acts of racism like this," he said.
Some citizens spoke about the national climate of hate and intolerance. Council member Bruce Jeffers talked about Bowling Green's enactment of its Welcome BG Initiative in response to that national tone. He assured citizens that council would also work on their recommendations.
"We will take them all very seriously," Jeffers said, adding that any statement about the recent racist attack seems inadequate.
"Our work continues," he said.
Council member John Zanfardino said he plans to meet with citizens one-on-one on the issue. "I want to commit to being part of trying to address that," he said.
Council member Greg Robinette talked about the need for "community-based solutions." He reported that the Chamber of Commerce was planning to discuss the issue at its Tuesday meeting.
"I'm proud of Bowling Green," for working to find solutions, Robinette said.
Council member Bill Herald thanked the citizens for presenting their ideas, and assured them that council was listening.
"I would like you all to feel encouraged," he said, describing the track record of City Council in the last decade as "steady and innovative."
"We work best on council when we work together," Herald said, urging citizens to stay involved. "Continue to press us."