By JAN LARSON McLAUGHLIN
BG Independent News
Nearly 250 Bowling Green citizens sweltered in the sun Saturday to add their voices to the national cry for justice for families seeking refuge in America.
They gathered on Wooster Green to be counted among the 800-plus rallies held across the nation today with their top message being – families belong together.
They held signs saying "Resist Hate," "Reunite Broken Hearts," and "The Pilgrims were Undocumented."
They came to say their country doesn't treat people with such cruelty. And their Christianity doesn't turn away people in need.
They listened as Dr. Bill Donnelly, a psychologist who specializes in the care of children, talked about the traumatic effects the forced separations will have on children taken from their parents as they cross the southern U.S. border.
"There will be devastating consequences for children and their family members," Donnelly said.
Decades of research show that children forcibly taken from their families are likely to suffer long-term problems of anxiety, depression, panic and grief, he said.
"There is nothing more important for the mental health and physical health of a child," than being with family, Donnelly said.
Children crossing the border with their parents had already undergone great stress making the dangerous trek into the U.S. "They're not coming in a luxury train," he said. "Children rely on their parents for support in difficult times."
Despite President Donald Trump's executive order that children no longer be separated from their parents at the border, very few families have been reunited. More than 2,000 children are still being held in detention centers, and it appears that in many cases, the federal government does not know where some separated children are so they can be reunited with parents.
"This policy is needless and cruel," Donnelly said. "We know children are not reunited with their parents."
It's that image that brought Sheila Brown to Saturday's rally.
"I'm here to help support immigrant families," Brown said. "I can't even fathom having my children torn from me just because I'm looking for a better life for them."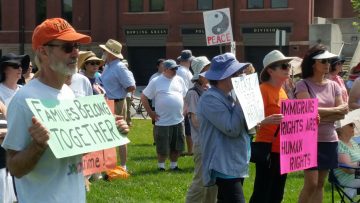 The rally began with Tim Concannon's singing of "This Land is Your Land," a folk song written by Woody Guthrie scolding Americans who didn't want to share their country.
Despite national policy, Bowling Green City Council members Bruce Jeffers and John Zanfardino talked about local efforts to make immigrants feel comfortable in Bowling Green.
"Bowling Green has welcomed immigrants naturally forever," Jeffers said. "Then Trump was elected."
So City Council considered how to "help with the new reality," he said. "We cannot change federal law."
But the city did adopt an ordinance declaring the city a welcoming community. "We try to do what we can locally," Jeffers said.
The city needs immigrants as a vital part of the local workforce, he added. Plus, it is just the right thing to do.
"We are a welcoming community," Jeffers said. "We believe in the essential goodness of humanity."
Often immigrant workers perform the jobs that would otherwise go unfilled, said Beatriz Maya, head of LaConexion.
"We are heavy contributors," Maya said. "We do the work no domestic workers want to do."
The federal crack down on immigrants is not just affecting distant borders, speakers reminded the crowd. At least four undocumented immigrants in Wood County have been picked up and detained by ICE.
Jeffers, a local teacher, told of one of his students whose father was picked up for a traffic violation and is now being held in an ICE detention center. The man has three children, all who are American citizens.
"What's going to happen to them? It's ridiculous," Jeffers said.
Jorge Chavez, of LaConexion, stressed that the immigration issue is far reaching and hitting home.
"It's members of our community who are being taken away," Chavez said. "It's members of our community who are being separated from their families."
With the support of the community, LaConexion was able to raise $3,000 in bond money to get one Bowling Green man released after he was picked up on a traffic violation. He has been employed in a skilled trade for years and also has three children who are U.S. citizens.
"We have him back," Maya announced to cheers from the crowd.
But meanwhile, families continue coming to the southern border of the U.S. to escape dangers that are even greater than their journeys to America, she added.
American policies have helped create those dangerous environments that send immigrants in search of safety here, Maya and other speakers said. The families aren't crossing the border to get a hamburger, she said. They are fleeing violence and extreme poverty.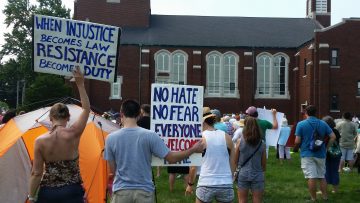 Two local pastors also spoke – in the shadow of statements made recently by U.S. Attorney General Jeff Sessions, who used the Bible to defend the U.S. "zero tolerance" policy at the border.
"Brothers and sisters of the resistance," said Pastor Debbie Conklin from Peace Lutheran Church. The federal policy is "using children as pawns," she said. The Bible has been misused to defend immoral actions before – like slavery and Japanese internment camps, Conklin said.
Pastor Mary Jane Saunders, of First Presbyterian Church, criticized the use of out-of-context scripture for "Bible boxing."
Saunders noted that at least 50 times in the first five books of the Old Testament, the Bible tells followers to "welcome the stranger in your midst."
"The message of Christianity is a message of love and justice and acceptance," she said.
Those at the rally were urged to continue their efforts with concrete steps. They were asked to sign letters that will be delivered to Congressman Bob Latta's Bowling Green office on Tuesday at 1 p.m. And they were asked to continue voicing their concerns.
"We need you to call your representatives," Amanda Schackow, of LaConexion's Immigrant Solidarity Committee. "These are not the American values we want to support."
And they were urged to "Remember November." Zanfardino said the midterm elections are voters' "one chance for the foreseeable decade" to rein in some of the policies by this president, including the separation of families which is being done with a degree of "gleefulness" by Trump's administration.