By DAVID DUPONT
BG Independent News
Activism and musical entertainment will come together in a Concert for the Climate Saturday starting at 7 p.m. at Grounds for Thought, 174 S. Main St., Bowling Green.
The goal, said musician Dustin Galish, is "to try to register people to vote and generate a dialogue about environmental and green energy issues."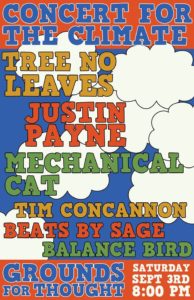 Grounds for Thought is a good venue for the event. It's a place people come to discuss issues, he said. "Music has inherently always been anti-establishment and about stirring things up, doing that in a positive way," he said. "There's always a history of when the time is right of talking about the issues you care about. Music does bring people together. It's a good bridge." Galish's own band Tree No Leaves will headline the event. It's been awhile since he's had a show at Grounds and as a field organizer for NextGen Climate, the timing seemed perfect.

NextGen is a national effort geared up to register voters and promote action to combat climate change. Galish said the group has been active registering voters every day since students arrived back on campus. NextGen Climate is helping with the show, and there'll be tables set up for other environmental groups including those from campus. "There's a good amount of environmental activism in the area."
He called around to bands to see who was interested in playing. Sage Rozzel's Beats by Sage will spin tunes, including originals at 7 p.m., as people gather and converse. Tim Concannon will open the concert at 8 p.m. The show will also feature singer-songwriter Justin Payne, who is recently back in town after an extensive tour. College rockers Balance Bird open the band portion with Tree No leaves batting cleanup.

Also making appearance will be the Mechanical Cat. Galish said the other acts won't necessarily include any topical material. Mechanical Cat, though, trades in his own surreal way in topical material. "Mechanical Cat will bring his whole experience. I'm sure he'll be saying certain things."
Galish said: "We're not telling anyone who to vote for. We're just saying get involved and showing how many people are involved." When people see others are committed to voting that will encourage them to go to the polls as well.