By JAN LARSON McLAUGHLIN
BG Independent News
Two area men have been arrested for using racist slurs and beating up two customers at the Waffle House in Bowling Green. One of the victims reported the attackers said President Donald Trump would deal with immigrants like them.
Bowling Green Police Division has arrested Jacob Dick, 22, North Baltimore, and Zachary Keller, 21, of Custar, for felonious assault and ethnic intimidation. They are being held in the Wood County Justice Center.
Police received a call Sunday, around 3:26 a.m., about an assault at Waffle House, at 1548 E. Wooster St.
Waffle House employees told police that two men walked into the restaurant, and another table of men began to harass them, calling them racial slurs for Hispanic and black people. Three employees said the two victims – Justin Hartford, 18, of Mount Cory, and Zarrick Ramirez, 18, of Findlay – did nothing to provoke the others.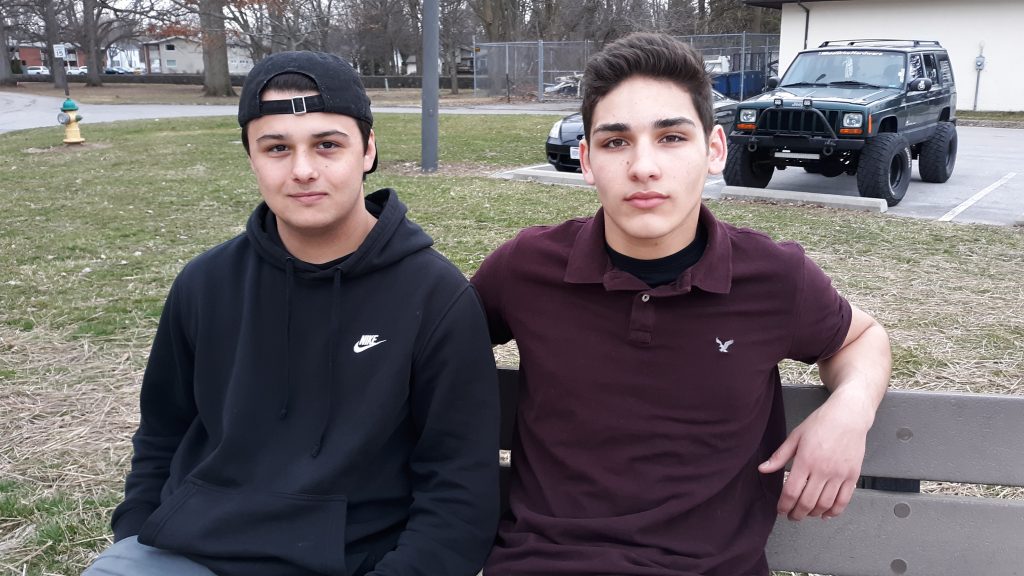 "As soon as we walked into the Waffle House, they started saying 'here come the s—-.' And telling us how Trump was going to take care of us immigrants," Hartford said.
Then they started calling Hartford the N-word, multiple times, he said.
It got so heated at one point that employees said they had to physically stand between the men taunting and Hartford and Ramirez. Other customers became uncomfortable and left the restaurant, the wait staff said. Police talked with one of the customers in Waffle House at the time, who also stated the victims did nothing to provoke the attack.
"We weren't saying anything to them. That's the craziest thing," Hartford said. "It was based on just the way we looked. That is so messed up – who cares what anybody looks like."
Hartford and Ramirez asked to move to another table further from the men using the slurs.
"It was making me uncomfortable," Hartford said. "I've been discriminated against before, but not anything like this. You'd expect this from somewhere in the south. But we're in Ohio."
After Hartford and Ramirez moved, and the table of men seemed to calm, some of the Waffle House employees went outside for a break.
Dick and Keller then came up to pay their bill, an employee said. The men were identified by the credit card Dick used to pay, and by another patron in the restaurant. After they finished paying, the employee said Dick and Keller abruptly went over to Hartford and Ramirez's table and began assaulting them. The employee stated again that the two victims did nothing to provoke the attack.
"As soon as he pays, he runs up and punches me in the face," said Hartford, who goes to Liberty Benton High School. "It all came so fast. I was just getting hit and hit."
Ramirez, who goes to Findlay High School, was also getting beaten, he said. By time it was over, "he was drenched in blood," Hartford said of his friend.
"I've never been hated on like that," Ramirez said.
Bowling Green Police Lt. Dan Mancuso said Friday afternoon that all the employees and witnesses interviewed have corroborated the sequence of events told by the victims.
Dick and Keller reportedly fled the restaurant after the attack.
Hartford and Ramirez were checked out by Bowling Green EMS at the restaurant, then at Wood County Hospital. Ramirez has a broken nose and other injuries. Hartford has an injured shoulder and bruised back.
"This is the craziest thing that has ever happened to me," Hartford said. "It's definitely been a super traumatic experience for me."
This is not the first racist incident involving Dick, who has several tattoos including one of praying hands and a rosary.
Last December, Dick resigned from his job with the Hancock County Engineer after a video surfaced showing Dick and another employee, Owen Stewart, with a blackface doll hanging from a noose. An unidentified male voice reportedly is heard on the video uttering a racial slur in the Twitter footage.
Stewart had been employed at the engineer's office as highway workers since August, while Dick had been there just a month.
After the video surfaced, Hancock County Engineer Doug Cade said the video was inappropriate and that such behavior did not meet the levels of professionalism, accountability and integrity that the office expected of its employees.
On Friday evening, Hartford and Ramirez were back in Bowling Green, using the skate park in City Park. Both said they tried this week to go to their regular hangout spot at the Waffle House in Findlay. But they just couldn't do it.
"We used to go there all the time," Ramirez said.
And Hartford said the assault has made him change his plans for after graduation.
"I was actually thinking about coming to college here, but it's too crazy," he said.