When BG Independent News launched the website bgindependentmedia.org, we questioned whether we wanted to get into running letters to the editor. From our long experience with newspapers, we both had very mixed feelings about those. Yes, having an open forum for readers to express their opinions is an important service to offer. But since that could mean publishing not infrequently things we knew were untrue, as well as expressions of hate speech, it left us uncomfortable. And while a newspaper has a corporate identity, BG Independent is far more identified with its principals, Jan McLaughlin and David Dupont. That's why we've opted not to accept candidates' political ads.
We felt Community Voices would offer some avenue for opinion pieces. But as that section has evolved, it has served well as a forum for a variety of news beyond what we have covered, becoming inadequate for the legitimate requests for more opinion driven writing.
We have revised our stance, deciding to give our readers a chance to express their views while refusing to be a conduit for the excesses we deplore. Community Opinion is our newest section, featuring only opinion pieces, letters to the editor, and other submissions we deem appropriate. But just as we hold ourselves to certain standards, we'd like our letter writers to as well. First, this is not the place to express hatred of classes of people due to sexual orientation or race or religion. Nor are we interested in quick "elect Q for office B" statements with no support. If you want to make a claim for or against someone, offer evidence. We also will not publish back and forth arguments between writers.
To submit a letter or opinion piece, send it in the form of a text document or within the body of the email itself (no PDFs or photo files) to letters@bgindependentmedia.org. Though only your full name and city will be published, please include a phone number and street address for our reference. We will not post anything from anonymous sources.
---
---
---
---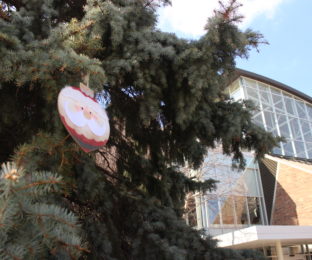 The annual lighting of BG's Community Holiday Tree has been a tradition for just over 30 years and the Wood County District Public Library is proud to host BG's Tree. Because it is important to the Library that the tree remain a vital part of the holiday season for Main Street for many years to come, we have worried about the health of the tree for more than a few years. Branches have died, or lost many of their needles, and the tree is swaying more and more with every strong windstorm. Recently, the Library checked with an arborist who, when examining the tree in detail last week, found indications of a disease that causes branches to die from the ground upward. While the tree many live for a few more years, we do not want it to get into such a poor condition that it no longer looks nice as the community's tree. BG deserves a beautiful tree filled with holiday lights. We also do not want to purchase a lot of expensive decorations for a large tree and then have to replace the tree with a smaller one. Therefore, after much deliberation – and reluctance – the Library has decided that it is better to replace the current tree with a new, healthy one that will be able to serve as BG's tree for many years to come. Later this Spring, we will work with the City to plant a new tree in the same location. This coming holiday season, we will gather together around a smaller tree that can serve as BG's tree for another 30 years…
---
---
---
---
---
---
---
---
---
---
---
---
---
---
---
---
---
---
---
---
---
Posted by: admin
on October 11, 2016.

Last revised by: elizabeth roberts-zibbel, our reviewer, on
May 3, 2017.