Interested in advertising on our website? Contact Elizabeth Roberts-Zibbel at elizabeth.lrz@gmail.com.
Our first six months have gone very well, and we've attracted quite an abundance of local traffic.
Take a look for yourself!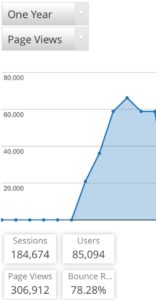 This is a recent Google Analytics report of the past year showing a little over 85,000 local website users. Your ad will be seen by thousands of potential clients and customers in the Bowling Green area.
If you would like our readers to see your ads, simply email Elizabeth at  elizabeth.lrz@gmail.com for detailed PDFs of information regarding ad locations and pricing, as well as sponsorship opportunities. Thank you for your support!