By JAN LARSON McLAUGHLIN
BG Independent News
There is no "normal" when it comes to child abuse and neglect cases. On Monday night, five children were taken into custody when their parent was arrested on the highway in Wood County. Last week, Children's Services was called in when a parent died of an opiate overdose.
So Wood County Job and Family Services Director Dave Wigent got on the county commissioners' agenda to request an additional Children's Services staff member. But by time the meeting rolled around on Tuesday, Wigent's request had grown to two additional employees.
"The situation has gotten worse," he told the county commissioners. "We're setting all-time records" for the number of child abuse and neglect cases being investigated.
Child abuse investigations increased in Wood County by nearly 25 percent in 2016 – a jump never seen before by the staff at Children's Services. The number of cases went from 718 in 2015 up to 894 in 2016 – meaning 176 more child abuse investigations. Cases of abuse were reported in every community in the county.
And so far, 2017 looks no better.
"This year we are trending above that," Wigent said, noting that March set an all-time high of 90 new cases. And most are not simple. "These cases are very time consuming."
The lack of local residential facilities for children with special needs is also creating more work for staff, who have to make monthly visits with the children. Most children with special needs in custody are not living in Wood County. "We have children across the state," Children's Services Administrator Sandi Carsey said.
"There's a lack of adequate placement beds," Wigent said. "In a perfect world, all the kids would be here in Wood County."
The closest facility found for a girl with some psychiatric problems is in Missouri. More than 50 facilities turned down the child before the Missouri facilities accepted her. Again, she must be visited by a staff member at least once a month.
"Physically laying eyes on the child is so important," Wigent said.
Children's Services workers try to visit youth in custody at least twice a month, if they live in Ohio. Tragedies can occur when licensed facilities aren't checked on regularly, he said.
Wood County has two group homes that are almost always full. There are no residential facilities that can take care of children with greater needs. Wigent said he has been talking with the Wood County Alcohol, Drug Abuse and Mental Health Services Board about such a facility. But any project is two to three years away.
Housing children in custody can be quite expensive, depending on their special needs. The average cost is $85 a day, but in extreme cases like the facility in Missouri, it can cost $420 a day.
The Children's Services staff is straining under the weight of the increasing cases, with investigation intake workers juggling 20 cases, nearly double the ideal, Wigent said. A couple ongoing caseworkers have left, leaving the agency even more stretched.
"If we don't keep the unit right-sized, we're going to create problems for ourselves," Wigent said.
So Wigent asked for two additional employees – one ongoing caseworker and one floater who can cover many positions including staffing the phone when the intake person is tied up with another caller. Currently, other Children's Services staff cover the phones for backup, but "I need them to be in the field," Wigent said.
The work is very demanding, and in some counties the average time on the job is measured in months, Wigent said. One year working with child abuse takes 10 years out of a person, he explained.
In Lucas County, Children's Services workers are given longevity pay if they stay past three years. Wigent is instead looking at offering a flex-time policy to keep workers in Wood County.
"Losses in Children's Services are especially troubling," he said, explaining that new workers have to complete six months of training before they can take on their own caseload.
"I don't want to exacerbate the turnover," by having an increasingly high workload. The additional staff will be paid for with a combination of federal and state funds, plus local levy funding.
Sandi Carsey said many of the increasing number of severe cases are due to the opiate epidemic. Approximately 40 percent of the cases so far this year are connected with drug abuse.
"I think the opiate thing has everyone's complete and full attention," Wigent said.
The number of physical abuse cases investigated in 2016 was 224, the number of sexual abuse cases was 142, the number of neglect cases was 439, and the number of emotional abuse cases was 19. Drugs were involved in 212 of the cases.
The county commissioners supported the request for additional staff.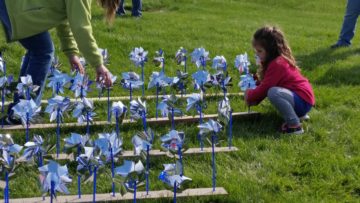 A field of pinwheels representing all 894 cases in the county last year was put up at Thayer Ford/Nissan, on Ohio 25 on the north end of Bowling Green this morning. Anyone wanting to report possible child abuse or neglect may call 419-354-9669.