By JAN LARSON McLAUGHLIN
BG Independent News

Bowling Green City Council met its newest police and fire personnel Monday evening.
The three new firefighters – Michael Brown, Jason Adkins and Tyler Ellis – were introduced by Fire Chief Bill Moorman after passing their year probation periods.
"They've proved they have what it takes," Moorman said.
The chief also thanked the firefighter families, many who were in attendance.
"It takes dedicated families to support them," Moorman said.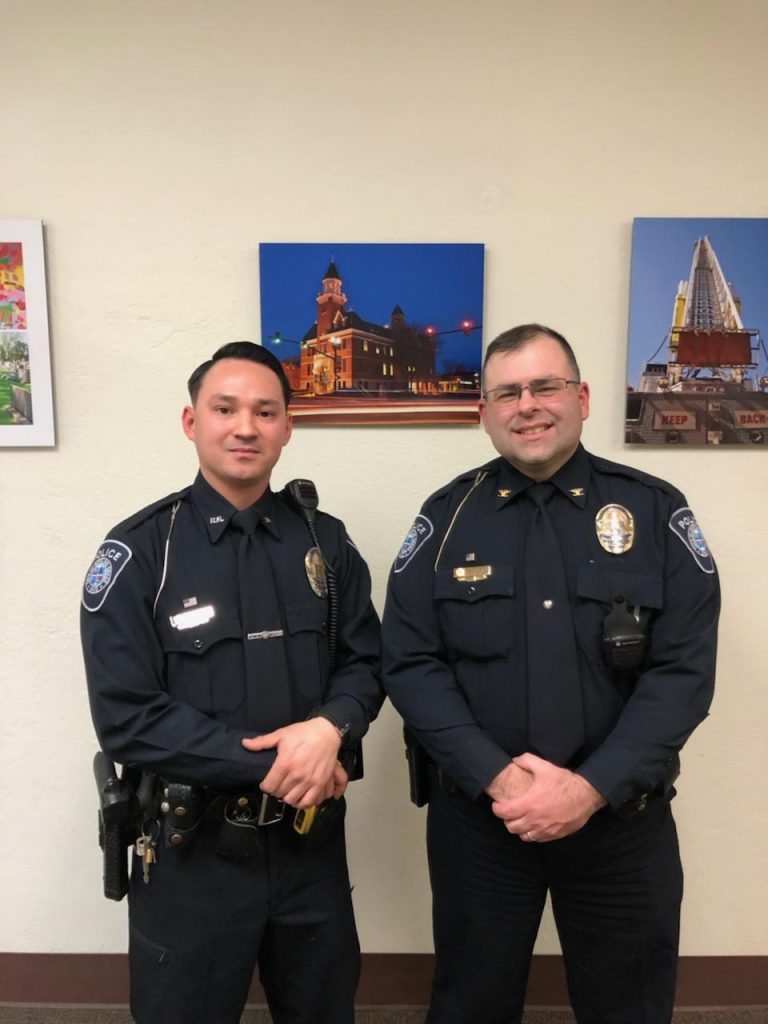 Police Chief Tony Hetrick introduced the newest member of the Police Division – Christopher Roley. Roley, from Kentucky, went through peace officer training with the Ohio Highway Patrol. He is an eight-year veterans of the Marine Corps Reserve.
Bowling Green City Council President Mike Aspacher welcomed the new employees and said council would "provide you all with the resources you need to do your job."
Also at Monday's meeting, Municipal Administrator Lori Tretter reported on the parking changes downtown. In addition to the doubling of the meter fee from 25 cents to 50 cents an hour, the city also extended the short term parking in city lots to a maximum of three hours. Handicapped parking spaces in the lots are always free.
Tretter reminded citizens that there are 157 on-street parking spaces that are free, but have two-hour limits.
City Parks and Recreation Director Kristin Otley reported that work had begun on the three buildings being removed in City Park. The demolition of the Veterans Building has been delayed a bit while the city waits for the abandonment of the gas line under the building.
Otley said that City Park's entrance would not have to be closed, as previously thought, during the demolition.
City Public Utilities Director Brian O'Connell gave an update on the Wooster and Main intersection closure this week for waterline work. He predicted the intersection will be open by Saturday afternoon at the latest.
Also at the meeting, City Council approved the swapping of a city-owned lot on Conneaut Avenue for a lot on North Church Street owned by Wood County Developmental Disabilities. The city was interested in getting the lot right next to the city administration building for future expansion. Wood Lane is interested in building a residential site for consumers.
In other business, it was reported that:
Council was going into an executive session after the meeting to discuss real estate. No action was taken once council reconvened.
The city's branding launch event will be March 28, from 5 to 7 p.m., in the Four Corners offices downtown.
The annual Interfaith Breakfast will be April 2, with doors opening at 7:15 a.m., at the junior fair building on the Wood County Fairgrounds.
The next public meeting about possible single-use plastic bag regulation in the city will be April 1 at 6 p.m., prior to the next City Council meeting.
The city will be selling wood from the trees being removed in City Park for the new building.