By JAN LARSON McLAUGHLIN
BG Independent News

The citizens group charged with finding the best solution for school buildings in Bowling Green was cautioned Wednesday evening to not get lost in the weeds.
The facilities task force has been assigned the duty of selecting the best option for school structures. That means deciding whether the district should renovate existing buildings, build new ones, or do a combination of the two. They are also to determine the best locations for the buildings – on existing school sites or a new campus.
The school facilities task force doesn't need to design the buildings – only decide which building option is the best fit for the community, according to the task force facilitators from the firm of Fanning Howey, architects Steve Wilczynski and Dan Obrynba, plus former school superintendent Tim Hamilton.
But the facilitators warned the task force about spinning its wheels if members continue to stray from their assignment.
The evening started with a tour of Kenwood Elementary School, the second largest elementary in the district, with 384 students.
Principal Kathleen Daney pointed out some of the school's deficiencies. The inconsistent classroom temperatures were noticeable – with some rooms being uncomfortably hot for those touring.
School maintenance director Chuck Martin answered some questions over speaker phone for task force members gathered in a classroom.
When the outdoor temperatures stay above 25 degrees, the heat is turned off in the building over the weekends. It is turned on again early Monday morning, but some rooms take a long time to warm up. The kindergartners at the end of the hall wear their coats all day on Mondays and many Tuesdays, teachers said.
The boiler system suffers from pipe leaks, which are blamed for mold on carpeting in some rooms. The district replaced about 20-feet of pipe under the building last year, Martin said.
Boiler room at Kenwood Elementary
When carpeting is replaced by tile, the asbestos beneath it must be abated. The heating pipes and the hallway ceilings also contain asbestos, which poses no risks unless it is disturbed.
Many classrooms lack storage space, so plastic bins are piled up. Desks sit in the hallway to allow for small groups to work together, since no other space is available.
When asked about the structural condition of the building, Martin said Kenwood is "probably in decent condition." Though he has concerns about the moisture under the building from the steam heat, the building is sound.
"To my knowledge, there are no structural faults that I'm aware of," Martin said.
After the tour, the task force gathered in the cafeteria to discuss the school's condition.
Task force member Dean Smith said the school was in much better shape than he had been led to believe by board descriptions.
"I'm kind of confused – other than furnishings – what we're missing," Smith said. He also noted that the classrooms seemed to be of adequate size.
"I was surprised how big they were," he said.
That was met with groans from some of the teachers on the task force, who described the need for more space in rooms with 24 small children.
Task force member Wayne Colvin noted the renovation costs tallied up by the Ohio Facilities Construction Commission when it toured the schools a few years ago. Replacement of the HVAC system was set at $1.6 million. Electrical upgrades were estimated at $744,000.
The report noted a lot of mechanical issues with the school, and photos appeared to show that some of the supports in the crawl space were rusted out.
But Rich Chamberlain focused on the structural assessment of the building, repeating Martin's statement that school had no structural issues.
In response to comments about the need for major renovations or new buildings, Grant Chamberlain said, "the voters have said 'no' twice. You're in for a long fight."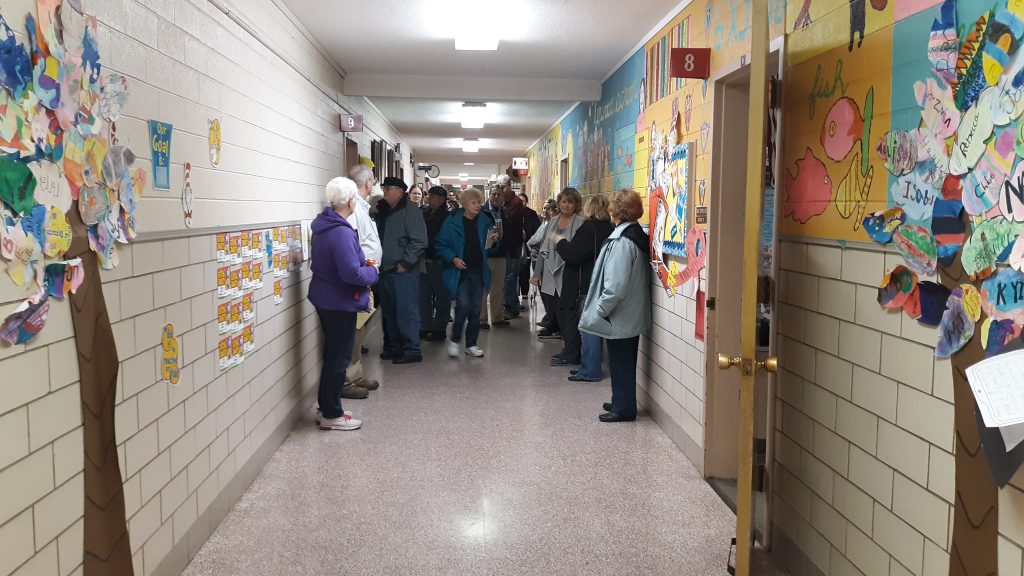 However, Ken Rieman compared the building to a 20-year-old truck he used to own that started falling apart and costing more and more money to repair.
"That's what's happening here," Rieman said. "It's crumbling from within."
The building is nearly 70 years old. "Does anybody think there's enough electric supply here," he asked.
The OFCC report set the renovation costs for Kenwood at $6.7 million – and that's just to fix building issues, not to create an updated educational environment, Obrynba said.
"They've done an excellent job of maintaining what they have," he said of the school district.
Questions were asked about the use of desks in the hallway for small group lessons. Rich Chamberlain accused the district of putting children at risk by placing items in the hallway. He was assured that the exits weren't being blocked.
"This is not atypical of an older building," Obrynba said.
"Staffs do what they need to do to educate the kids," Hamilton said. "Trust me, every school district needs to walk that fine line."
"You all want the same thing – you want what's good for kids," Hamilton said.
The focus, Hamilton said, needs to be on what is best for this community. New or renovated? Neighborhood or consolidated? Then that choice needs to be presented to the finance task force, which is charged with finding a way to pay for it with community support.
Teacher Kisha Nichols pointed out that the OFCC cost estimates focus on building needs and didn't take into account educational needs.
"Education is not what it used to be," reading teacher Ann Stroebel said.
Some task force members suggested talking with teachers in the district to see what they want and need.
"I want to hear from these teachers. They are the experts," Linda Lander said.
But Rich Chamberlain suggested that the task force talk to teachers in the Perrysburg district, where the schools get higher state report card grades.
"I go to winners when I want to win," he said.
Tracy Hovest pointed out that schools like Perrysburg and Ottawa Hills that get higher state report card grades have better tax dollar support and don't have elementaries where nearly every child qualifies for free school lunches.
"Let's keep that in mind," Hovest said.
The task force consultants presented the seven building options there were suggested by task force members, along with some perceived pros and cons at their last meeting. Those options were:
Build one new consolidated elementary. Pros: better more equal services, less expensive, better class size distribution and collaboration. Cons: loss of personal connections, loss of community identity, transportation/traffic, more expensive.
Renovate all three elementaries. Pros: Keeps neighborhood schools, less expensive, more personal smaller environment. Cons: Design limitations, logistics during construction, cost.
Construct new Conneaut and Kenwood schools on their existing sites, plus renovate of Crim.
Build a new larger Conneaut, renovate and expand Crim, renovate Kenwood and add room for administration.
Build a fourth elementary at the proposed location for the consolidated elementary.
Build a grade 4-5 school in the proposed location for the consolidated elementary.
Build two two-story schools, either for K-5, or K-2 and 3-5. Build the first new school on the campus site. When completed, move in Conneaut students and some from Crim and Kenwood. Demolish Conneaut and rebuild. When complete, move remaining students from Crim and Kenwood. Demolish Kenwood. Make any repairs necessary to Crim and expand for preschool, special needs, offices, etc.
At the next meeting, task force members will use "clickers" to rate the options. That meeting will be Jan. 9, in the middle school, with a tour starting at 6 p.m. followed by the meeting at 7 p.m.
Task force member Irene Hinesman said she has yet to find data showing that new buildings will guarantee success for students. She said there will be a "public outcry" if new buildings don't lead to quantifiable outcomes.
Wilczynski explained it would impossible to come up with that data because of all the variables involved. However, it stands to reason, he said, that a healthier environment at school will lead to better attendance, which means more time learning.
Several members of the task force voiced a desire to visit schools in the area that have been renovated or newly built.
Task force member Joanne Navin also asked for the group to tour a consolidated elementary.
"We have no idea what they look like," she said.
Fanning Howey recently helped with new buildings for Eastwood and Northwood school districts, and a renovated elementary in North Baltimore. So tours may be scheduled to those schools.
Task force member Brenda Pike suggested that the group needs to know more about the district's vision before proceeding. She asked at a recent school board meeting about the district's vision, but was not satisfied with the answer from Dr. Ann McCarty, executive director of teaching and learning for BG Schools. McCarty later sent Pike a copy of the district's vision, mission and strategic plan.
Pike asked that a vision subcommittee be created, but no action was taken. After the meeting, Hamilton looked at the district's vision and mission statements and said they consisted of standard language used by many quality school districts. The vision will drive the design – and that is a role of the district, not the task force, he said.