By DAVID DUPONT
BG Independent News
The men of Alpha Tau Omega know what many people think of when they think of fraternities and  sexual assault on campus.
For Cameron Johnson that "stigma" stings, so he and his fraternity brothers as well as those from two other fraternities marched across campus Thursday to stand up and say that in sexual relationships "no" means "no," and "quit asking."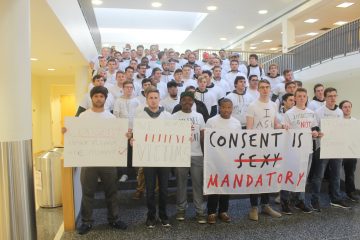 Brothers from three fraternities including Tau Kappa Epsilon and Kappa Sigma marched from the Greek Village. Observers couldn't tell what house they were from.
They all wore white t-shirts. Instead of Greek letters, their shirts were emblazoned with statements calling attention to sexual assault. 
"Are you part of the problem?" 
"Consent is mandatory." 
"Stand up don't stand by." 
"We believe victims."
"We're coming at this as men first and foremost, before Greek affiliation," Johnson said.
The three fraternities along with Sigma Chi will be collecting money Friday and Monday in the student union to benefit the Cocoon Shelter.
"We recognized an issue within our community," he said. "We wanted to be the one to stand up and address it publicly. We want to encourage a dialogue."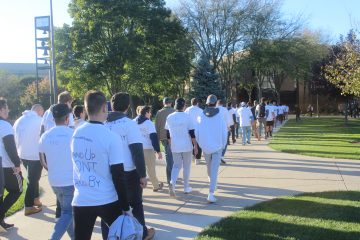 Dejontay Shakespeare, Alpha Tau Omega, said  there's a  belief  "that people in Greek life don't  stand up for sexual assault awareness."
But on Thursday "we've come together as a complete community to say that consent is absolutely required in a sexual relationship."
Shakespeare knows the importance of the issue. He's had family members sexually assaulted. And during his time in the military he served as an advocate for victims.
Brooke Barman stood by and watched as the march concluded in the student union, and the 100 or so marchers assembled on the steps.
"Sexual assault is something that's becoming very prevalent on college campuses," she said. "There's been a lot of attention around making voices heard and making victims' voices are heard, and making sure they know they can report and that they have people there for them.  
"To see this coming from this big group of men supporting consent and making sure it's known that consent is mandatory is a really big thing."