Bowling Green State University Athletics recently honored two alumni at a basketball game for their efforts to help with the purchase of a full court flag.
The drive to purchased the 50-by-90-foot flag was spearheaded by the BGSU Student Veterans Organization.
Through the use of the Falcon Funded program, the Student Veterans Organization raised more than $12,000 to buy the flag. Retired Col. Ted Jenkins, a 1954 College of Business graduate, and Tom Walton, a 1965 journalism graduate, were instrumental in the success of this mission.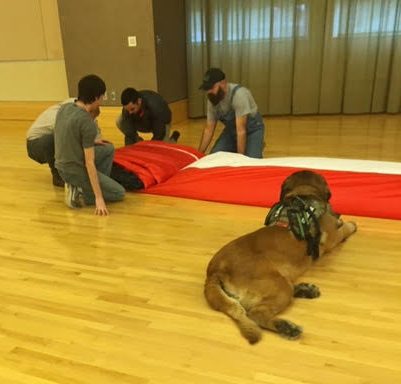 This flag will be used at BGSU sporting events to honor the military community. In announcing the recognition, BGSU Athletics stated: "The purchase of the full court size flag will stand as recognition for those who have a dedication to duty and a selfless commitment to something greater than themselves."
Col. Jenkins is retired from the United States Marine Corps. He served over 43 years on active and reserve duty, including service in World War II as well as the Korean War. He worked for more than 30 years working for Libbey-Owens-Ford in the Toledo area, retiring as corporate director of human resources. Along with serving on the BGSU Alumni Board and BGSU Foundation Board of Directors, as well as with numerous area volunteer groups, Col. Jenkins has supported BGSU for more 35 years. This includes working with athletics to purchase and install five POW/MIA Chairs of Honor. He will celebrate his 91st birthday in January.
Walton is a retired editor from The Toledo Blade where he had worked in various capacities during a couple of stints with the newspaper starting during his time as a student at BGSU. A former member of the BGSU Alumni Board as well as serving on the Falcon Club Advisory Board, Walton also helped create the Tom and Dianne Walton Freddie and Frieda Falcon Scholarship Fund. He has been supporting BGSU and Falcon Athletics since 1988.
The donors received BGSU challenge coins from Daniel Camper, a representative of BGSU's Student Veteran's Organization. These challenge coins are a military tradition used to denote meritorious service, and are one of the highest honors the BGSU Military Community can present.