By DAVID DUPONT
BG Independent News
Christina Lunceford has been thinking about her legacy lately.
In introducing Lunceford as the keynote speaker for the annual Martin Luther King Tribute Friday, university student Morgan Hollandsworth noted that this was Lunceford's last day as Assistant to the President for Diversity and Inclusion. Lunceford, who had a split role at Bowing Green State University for the past couple years, will become interim chair of the Department of Higher Education and Student Affairs and part of the leadership team for the College of Education and Human Development.
Lunceford said in this period of transition she's looked back at those who helped guide her to become who she is as an educator, scholar, and mother.
Some are unknown outside her family, others more renowned. Yet each struggled for social justice "with integrity, resilience, and joy," she said.
"I am definitely part of each of these legacies. I do my best to make sure their investment in me was worthwhile, and I take that responsibility very seriously to do good with what they instilled. It's important that the legacy continues."
Lunceford started with her grandmother Lyda Mae Saunders.  Lunceford said growing up in East St. Louis, Missouri, her father "started fighting, stealing and drinking at a young age."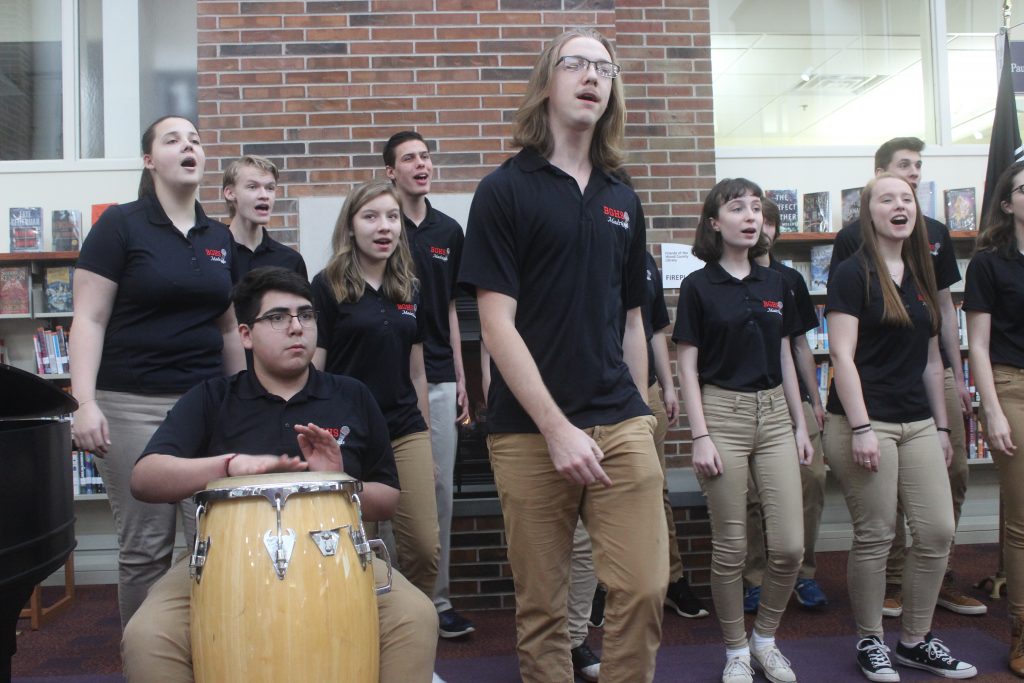 Her grandmother moved with him to the outskirts of Dallas, where she taught, taking advantage of some of the opportunities just opening up for blacks. Yet she knew she needed more, so she went to graduate school in Denver, because what she needed was not available to her in the South at that time.
Lunceford still wears her grandmother's 1958 class ring.
Her father, Ronald Lunceford, went on to become a sociologist and counseling psychologist. He met her mother in Kansas where he went to train teachers working in newly integrated schools. As a mixed race couple their lives were "adventurous," Lunceford said.
They relocated to southern California, where he taught and together they founded a clinic for black and Latinos setting an example of building community.
The percussion played during the Madrigal Singers' performance of the South African anthem "Tshosholoza" earlier in the program reminded her of her father. He often played African drums, sometimes to relieve stress and sometimes "to bring joy" to their family.
Part of her family's circle in California were two of black pioneers in psychology, Robert Guthrie and Joseph White. They would argue between themselves, each wanting to bestow on the other the distinction of being the father of black psychology.
Each wrote seminal works on black psychology.
Guthrie, who received his bachelor's degree from Florida A&M, a historically black university, was told when he went on to graduate school that he could not cite his former professors. Their work was not published in the "right" journals.
Guthrie went on to published the book "Even the Rat Was White: A Historical View of Psychology."
At the time, Lunceford noted, he was criticized for being "divisive" by the American Psychological Association. His book has since been inducted into the APA's archives.
He and White were instrumental in founding the Associate of Black Psychologists.
White wrote a seminal article "Toward a Black Psychology" in 1970 and published it not in a scholarly journal but in the popular magazine "Ebony."
He wanted the article read by the general public. He wanted it in beauty parlor and barbershops, Lunceford said.
She learned from them how to disagree respectful and good natured way. They had divergent views, for example, about their time in the military. Guthrie enjoyed his service because of the variety of people he interacted with; White hated being ordered around.
"They did serious work, but also knew how to have a good time."
Lunceford also spoke of those in South Africa who also guided her.
She first went to South Africa in 2002, when she was working on her doctorate. She continues to visit the country almost annually and to place students in internships there.
She showed an aerial photograph that illustrated the divisions that still plague the country. On one side of the road were the white neighborhoods, with large lots and plush lawns. On the other side were the black townships, packed with shanties and people.
Lunceford taught with Ann Harper. Harper and her husband, Bill, an education official, were always aware of their white privilege. Even in retirement, she said, they invite people to their home for long meaningful conversations. "They continue to learn and educate other people and maintain the importance of reflection in the work we do."
Lunceford was later recruited by Lullu Tshiwula, the deputy vice chancellor for student development of the University of the Western Cape, for an administrative job there.
Tshiwula received death threats for hiring a foreigner. But she insisted that Lunceford was the right person for the job.
The president of the university Brian O'Connell, known as "Prof," showed her "how to have a strong university without pushing equity to the margins,"
He came to the school when it was on the brink of shutting down and built it into one of the best universities in the world "all with keeping focus on diversity."
Lunceford also had the opportunity of meet Archbishop Desmond Tutu, one of the leaders of the movement that overthrew apartheid.
He was a chancellor at the university and came to speak. Given the criticism of her hiring, Lunceford said she was wary about his reaction.
But he said it was important for an American to be at the university, to foster ties between the two countries.
Lunceford was impressed with the time he spent with students. "No matter how noted you are," she said, "you should take the time to connect with youth."
She sees the legacy passing down to her own daughter, who already has an interest in Martin Luther King. "She's already asking a lot of questions about civil rights." That's a credit to her kindergarten teacher, Erica Blust, Lunceford said.
"I would invite each to consider how we contribute to the legacy of Martin Luther King. The proof is in the actions and results."
Lunceford likened this communal work to how a drum line performs together. "I incite you to pick up a drumstick and join the line. When we work together we can do amazing things."