By DAVID DUPONT
BG Independent News
The theme of Bowling Green's Holiday Parade was Lights, Cameras, Angels. Well, Saturday morning wasn't the best day to be donning angel wings, as the Wood County Library contingent found out. They were book angels, each celebrating a favorite story. But the icy wind caught their cardboard wings and twisted them out of place.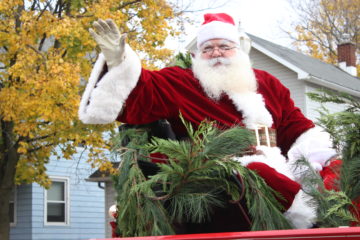 But the blustery weather, a sudden blast of winter after Friday's unseasonable balminess, didn't dampen the spirits of those walking down Main Street, nor the spirits of the bundled masses, including candy collecting kids, lining the parade route.
The Holiday Parade puts the community on revue. You have to wonder with so many people marching, how many are left to watch the parade.
The parade features the panoply of the community from youngsters in childcare to senior citizens. Those who keep us working like Lubrizol and Rosenboom and those who entertain us like the Horizon Youth Theatre.
As expected there were twirlers braving the weather with skimpy costumes and frozen fingers, and marching bands that blasted out brassy renditions of holiday favorites.
Frieda and Freddy and the cheerleaders represented Bowling Green State University, and a large Not In Our Town group represented town-gown cooperation.
Professionals showed a more playful side. The dental practice of Phipps, Levin, Hebeka & Associates, put on their brightest smiles and won honors as the best float for their efforts.
Other winners were:
Best of Show:  Julie's Dance Studio
Most Unique:  Jerome Rollers
Best Youth:  The Beat Dance Company
Best Live Performance: High Society Baton Corps
All this led up to the arrival of Santa Claus, who was carried on a sled by the team of horses not reindeer.
The predicted precipitation had held off until then, though just a few minutes after the parade ended, there was snow in the air.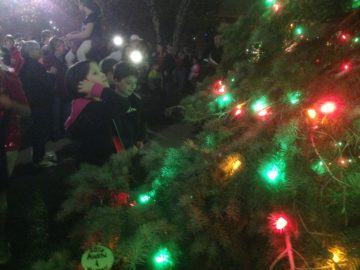 The holiday festivities got underway the night before with temperature in the 60s, when Mayor Richard Edwards flipped the switched to light the tree in front of the Wood County District Library.
This, he said, later was the beginning of the holiday season, and he was optimistic it would be a good one for the city.
Wendy Chambers, of the Convention and Visitors Bureau said, "people are ready to spend money."
And the Shop Small campaign slated for the weekend after Thanksgiving is an effort to share some of that wealth with the downtown merchants.
The next morning businesses that sold hot beverages were already feeling some of that holiday cheer.