By JAN LARSON McLAUGHLIN
BG Independent News

Candidates running for office need name recognition, a 30-second porch speech and a good pair of walking shoes.
Dr. Melissa Miller, political science professor at Bowling Green State University, presented a program Tuesday on "Gotta Run: Taking the mystery out of running for office." She spoke to a crowded room of potential candidates and interested citizens, where tables had to be removed to make space for more people.
"You're here tonight because you care about democracy," Miller said.
But running for office can be a frightening prospect. Many potential candidates fear that throwing their hats into the ring may cost too much money, demand too much time, and require them to make long-winded speeches.
It's those fears that might lead to the more than 40 percent of state legislature races in the nation going uncontested each election, Miller said.
"That's not so good for democracy," she said.
So Miller tried to debunk several myths surrounding running for office.
Myth: Running for office is so expensive that only the rich can afford to do so.
False. While more than $1 billion was spent on the last presidential races in the U.S., running for local offices takes modest budgets in most cases. The only fee for filing with the board of elections to be a candidate is between $30 and $80, depending on the position being run for. And most candidates for local offices don't break the bank on running.
"You can get a campaign up and running with a few thousand dollars," Miller said.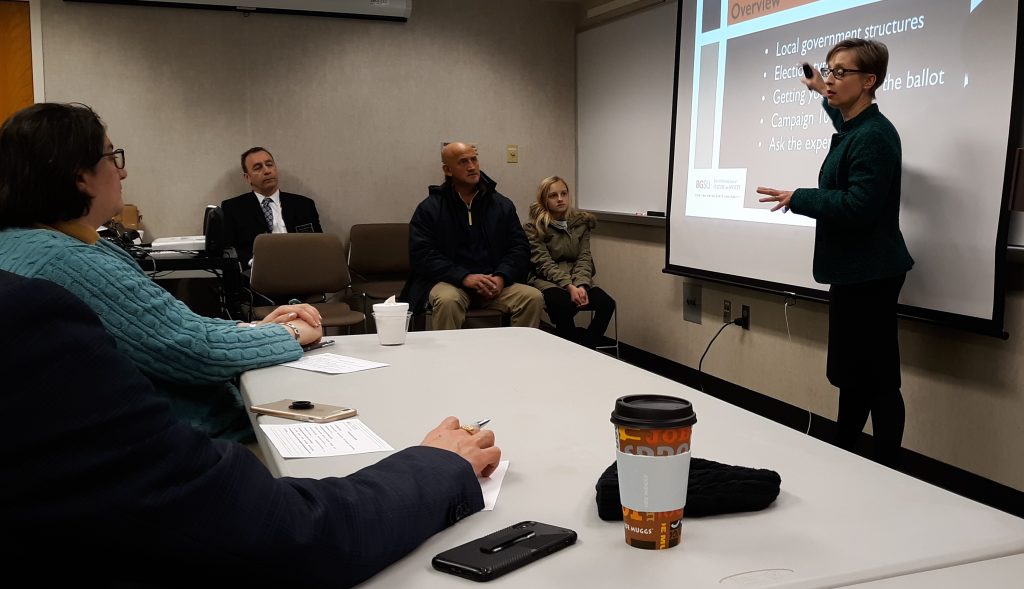 Myth: Running for office is too complicated.
"Truth be told, it's a little complicated," Miller confided. Candidates need to know their local government structures. For example, in Bowling Green the City Council candidate races are partisan and based on wards. In Perrysburg, the council races are non-partisan and citywide. Some have primaries, some do not. And different communities have different filing deadlines.
But all a candidate needs to know can be found at the Wood County Board of Elections.
"Go to your county's board of elections," Miller said. "There's no substitute for talking with professionals at the board of elections."
Myth: It takes a lot of petition signatures to get on the ballot.
False. In most cases, it takes between 25 and 100 valid signatures to run for office.
"Don't be overwhelmed by needing to get signatures to run," Miller said.
But make sure the petition is filled out exactly according to the rules.
"You don't want your petition thrown out because there was one box left out," she said.
"Make sure you get extra signatures," just in case some are not valid, she added.
Once the petition and filing fee are turned in, the campaigning can begin. First, the candidate needs a team with a treasurer, campaign manager, publicity person, and so on.
"You want to find people who believe in you and support your campaign," Miller said.
Then the real work begins. Candidates need to go to meetings of every organization and club, eat at every pancake breakfast and chicken barbecue, march in every parade, meet with media, and make speeches.
Nowadays, candidates must have social media coordinators. And though younger voters gravitate more to Instagram, Miller suggested using Facebook since older citizens are more likely to vote.
"Name recognition wins local elections," Miller said. "It really is a huge factor in local elections."
Miller also suggested that candidates figure out how many votes it will take to win – by looking at numbers from past elections and then calculating in a cushion for victory.
Though it may seem intimidating, door-to-door campaigning is vital. So candidates need to have a 30-second doorstep speech.
"There is no substitute for voters actually meeting you and talking with you," she said.
Yard signs are a necessity.
"We are a driving society. We pass by these signs and the names stick with us," Miller said.
And don't forget other paraphernalia, like old-school campaign buttons, brochures and door-hangers.
"It's about getting your name out there," she said.
Candidates have to conquer fears of public speaking. They should have a five-minute stump speech that rolls off their tongues. And they should use strong action verbs, Miller advised. A candidate who promises to "address" pothole problems isn't seen as strong as a candidate who vows to "tackle" potholes.
Miller also suggested that people thinking about running for office in the future take some steps today. First, get involved in the community. Volunteer in local organizations, attend local government meetings, look for leadership opportunities, and get involved with a political party.
Two local elected officials – Bowling Green City Council member Sandy Rowland and Perrysburg Board of Education member Eric Benington – were invited to share their campaign experiences at the forum sponsored by the Bowling Green and Perrysburg League of Women Voters.
"It feels overwhelming" initially, Benington said.
Rowland at first dreaded going door-to-door, but quickly realized, "it becomes part of you."
"You have to think of every door as an opportunity," she said, noting that only one person slammed a door in her face.
No one warned Rowland that she needed a good pair of orthopedic shoes – so she developed blisters and aching feet during her first campaign.
And though the active campaign season may be only a few months, it can be exhausting, the candidates agreed.
"I never thought it would end," Rowland said.
"It is tiring. You need some stamina," Miller said.
Though some recent campaigns seemed to have gotten nastier, Benington stressed the need to keep it positive, and not let negativity take over.
"Go easy on people, and hard on the issues," he said. "Don't let other people take you off your own message."
Rowland suggested that the fear of campaigning shouldn't keep someone from running for office. If they have a desire to serve, they should do for it. "Pursue your dream," she said.
But realize it may take awhile to reach success.
"I can't guarantee you're going to win your first election," Miller said.