By DAVID DUPONT
BG Independent News
Eri Maeda feels right at home in Bowling Green.
The exchange student from Japan was helping visitors try on kimonos Sunday at the annual Ohanami Cherry Blossom Festival at Bowling Green State University.
She said she feels so much at home in Bowling Green, she's not looking forward to leaving in May.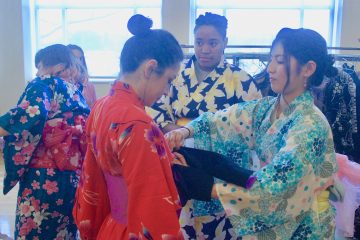 "I'm so happy that so many people enjoy Japanese culture," Maeda said. Back home she doesn't encounter many foreigners, so she was pleasantly surprised that several hundred of people gathered in the Bowen-Thompson Student Union to celebrate the culture of her native land.
This is BGSU's 18th annual Ohnami. The first was held in 2001 to celebrate the planting of 50 cherry trees that were donated by BGSU alumni living in Japan. The grove also includes three sakura grown from cuttings of the original trees that were presented to Washington D.C. by the City of Tokyo during the presidency of William Howard Taft. Since 2001 Japanese firms have donated a few dozen more trees.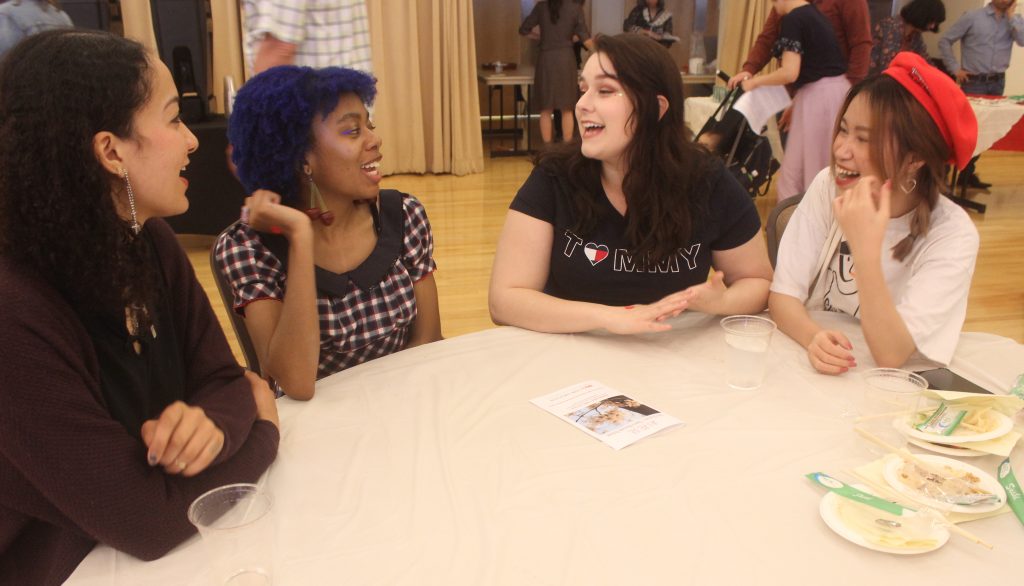 That first festival was held on a windy day under cloudy skies, so it was decided to move it indoors.
Akiko Kawano Jones, who teaches Japanese and advises the Japanese Club, said when the club and the Asian Studies Program launched the festival it was the only one in the region. Now several others have blossomed.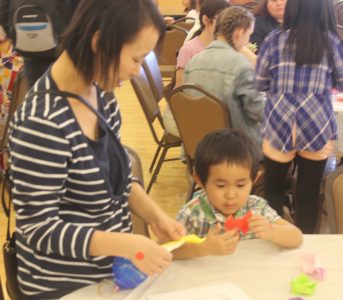 What sets the BGSU event apart, she noted, was BGSU's Ohanami is free. Entry even included a snack plate of sushi and a sweet rice roll as well as rice crackers.
This is made possible by funding from university as well as Japanese firms with local operations.
Jones said she wants to keep it free to encourage students to attend. What they find was an array of hands-on activities, including origami, traditional games, calligraphy, and flower arranging as well as performances by the university's Kaze No Daichi Taiko.
A performance on the traditional string instrument koto by Mutsumi Takizawa was a new addition to the festival.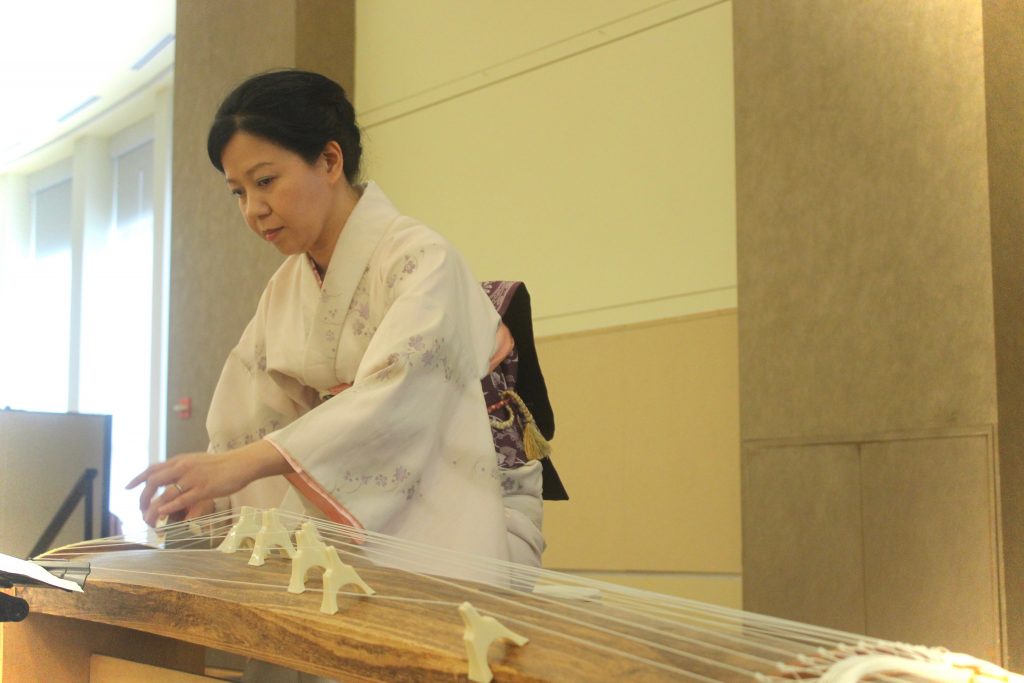 For St. Ursula students, Ayriana Shartzen and Kiera Waters, the appeal was the company. "I like that I can speak to so many different people," said Waters, whose mother works for a Japanese company in Toledo.
"It's so diverse," Shartzen said. "It's a great sense of community. It brings people together."
Jones was pleased that the counsel general from the Japanese consulate in Detroit as well as Mayor Dick Edwards, BGSU President Rodney Rogers, and Dean of Arts and Sciences Raymond Craig were all on hand to open the festival.
That recognition, Jones said, means a lot to the  students who stage the event.