By DAVID DUPONT
BG Independent News
Bowling Green has now become part of the Judgement Free Zone.
On Tuesday, Planet Fitness marked the opening of its Bowling Green location, 1135 South Main St., The gym, which bills itself as a Judgment Free Zone, first opened its doors at Halloween.
On hand to help mark the grand opening was Danni Allen 2013 winner of NBC's "Biggest Loser," which Planet Fitness sponsors.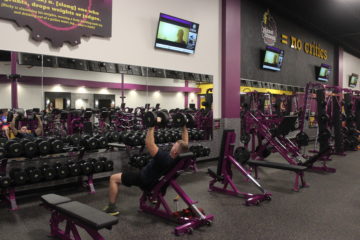 Allen, who is a national ambassador for the fitness company, said as someone who once topped 300 pounds she can relate to the people coming to the nationally franchised gym. She believes Planet Fitness is the right fit for many.
"We cater to first time gym users or people looking for a fresh start," she said.  "We do accept multiple flavors as I call them. We have more flavors than Baskin-Robbins that walk through the front door. From any range of fitness you can get your goals met at Planet Fitness. Just walking in the door you see there's a different range of sizes, ages, demographics. The great part is we all sweat the same color."
Jonathan Habuda, the regional manager, said that from its founding 25 years ago, Planet Fitness has promoted "the judgment free zone" concept.
"We want to create an atmosphere that's comfortable for everyone and offers fitness instruction in a comfortable non-intimidating environment," he said.
Planet Fitness has about 1,400 locations nationwide.
That welcoming concept extends to pricing, which is $10 a month. For another $10, said Deanna Silmi, who manages the BG facility, a member has access to further amenities in the spa such as tanning and massage chairs.
The standard membership provides access to a baker's dozen of fitness machines – treadmills, ellipticals, cardio rowers, cable towers, and more.
The TRX room allows a member to move through a series of machines in way that gives a total body workout in 30 minutes.
The facility employs a full-time certified personal trainer, Hannah Barber.  She's available by appointment or to walk-ins.
"She'll walk you through everything," Habuda said.
Having a trainer is key to helping members stay on track. She can help change routines up every three or four weeks. "The more creative you can be in work out, the more likely it is you'll come back."
The gym also offers the Planet of Triumph app which connects you with everyone in Planet Fitness.  "That keeps people engaged," Habuda said.
Planet Fitness is open 24 hours a day, seven days a week except for a few holidays. The number for Bowling Green is 419-806-4289.