By JAN LARSON McLAUGHLIN
BG Independent News

A small miracle of sorts occurred in the Crim Elementary cafeteria Tuesday evening. After months of long meetings peppered with strong opinions, the school financial task force found a path forward.
Not just with a simple majority – but with an undeniable consensus.
By a vote of 29 to 5, the task force voted to ask the Bowling Green Board of Education to put an issue on the ballot to raise an estimated $40 million for the district's elementary buildings.
Financial consultant David Conley informed the task force of something many of them already knew. By time the district spends about $40 million on its elementaries, and then deals with its aging high school later, it will have spent more than the original $72 million bond issue that voters turned down.
"In essence, we're looking at the same $72 million," task force member Richard Chamberlain said.
No, Conley said.
"It's going to be $100 million when it's all done. It's inevitable. Everything goes up in price," Conley said.
After the ballots were tallied Tuesday evening, the results showed that the 29 who wanted the board to proceed voted as follows:
What type of bond issue would you recommend?
Combined property tax and traditional income tax: 21
Only a traditional income tax: 5
Only a property tax: 3
What term would you recommend?
Would you recommend using additional funds for maintenance of the new buildings?
Would you recommend the district apply for the state's Expedited Local Partnership Program?
Would you recommend the property tax and income tax appear on the ballot as a:
Combined issue: 26
Separate issues: 3
When would you recommend placing the issue on the ballot?
November 2019: 19
March 2020: 6
November 2020: 4
The financial task force's conclusions will be presented to the Board of Education on March 26. The facilities task force – which narrowed the building selections to four options – will also present those results to the board.
"We haven't had the most perfect facilities process," Conley said.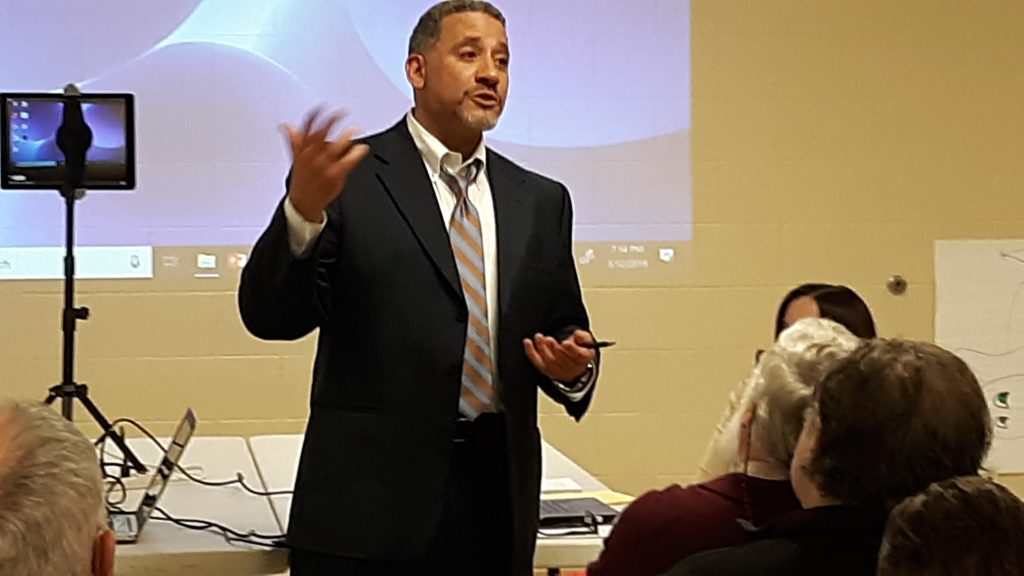 One of the top choices of the facilities task force called for $37.7 million to build a new Conneaut Elementary, a new Kenwood Elementary, and renovate Crim Elementary.
So the finance task force used that as a starting point, then decided to bump up the cost to $40 million taking into account the effect of inflation on construction, and the cost of maintenance to the buildings.
"There's absolutely no perfect way to do this," Conley said of the process to find a path to fund school buildings. "The goal is try to be as equitable and fair as you can be."
Conley warned that the latest estimates for construction inflation costs have jumped to somewhere between 10 and 15 percent a year. The district isn't allowed to hire an architect till the funding is approved by voters, he said. So even if that occurred this fall, construction wouldn't start until 2021, and would take up to four years to complete.
Some task force members questioned the idea of giving the district a cushion for maintenance and capital improvements to buildings. Some asked that language specifying that use be placed in a resolution. And some said they preferred to see any additional amount be used to pay off the bonds early.
Conley stressed to the citizens that they are in charge.
"We're not victims as taxpayers," he said. "You have an obligation to make sure they do what they say they are going to do."
Conley also reminded the task force members that their efforts were sought after voters rejected two bond issues for a new elementary building.
The school board approached Conley about helping find a solution.
"We have to find a way to pull the community together," he said the board told him.
"At the end of the day, I would not want to be on your school board – not for all the money in the world," Conley said.
It's impossible to make all the taxpayers happy.
"It is a thankless position to be in," he said. "They're elected to take care of your children – not you."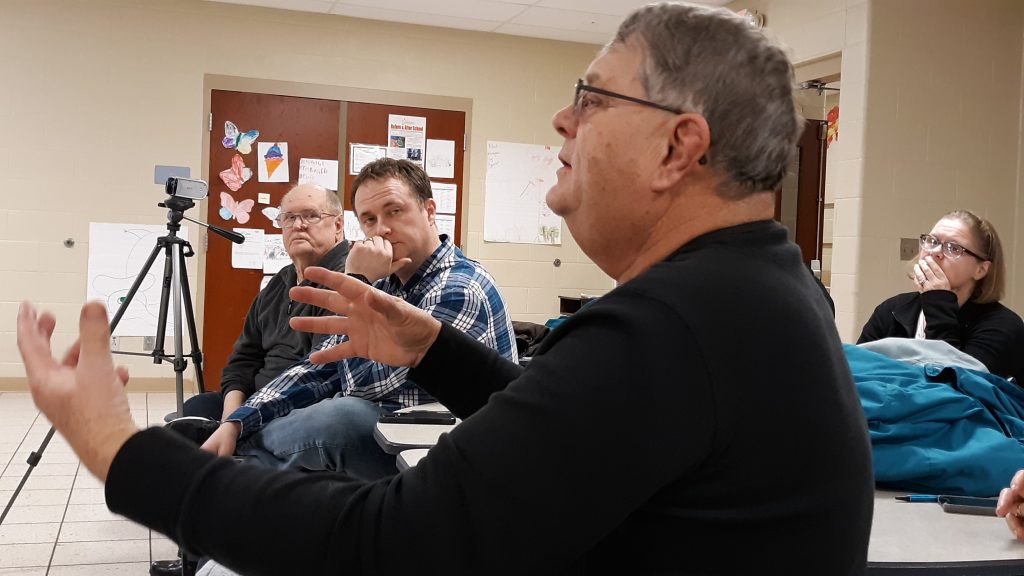 Before voting Tuesday evening, the task force went over several different options for coming up with $40 million – using various types of taxes over various lengths of time.
In an effort to make the financing of the buildings less burdensome to large landowners in the agricultural community, the group agreed to use a combination of property and income tax revenue.
But even that effort raised concerns.
"Do we have people who don't like income tax, voting no, and people who don't like property tax, voting no? Could we lose everyone," asked task force member Ellen Dalton.
That was a possibility, Conley said.
The group also discussed the reason for not using income tax entirely, since it completely exempts businesses and puts the burden solely on residents.
And when it came down to the vote, no one supported just an earned income tax, which shrinks the tax base even further. Task force member Ben Otley pointed out that earned income tax allows an exemption for the first $250,000 in farm and rental income.