By JAN LARSON McLAUGHLIN
BG Independent News
Cautious adults cringed as the carefree youth demonstrated their skate park skills – flipping and twisting in the air – seeming to defy gravity.
The kids show up almost every day to use the skate park in Bowling Green's City Park, riding their skateboards, scooters, BMX and mountain bikes.
Last week, the youth demonstrated their skills for the Bowling Green Kiwanis Club. Many of them have been inspired and instructed by Don DiBartolomeo and Matt Bowley, of The Right Direction, a non-profit organization that uses action sports to teach life skills.
"He took a childhood activity, riding a bike, and parlayed it into a career," Kiwanis member Scott Seeliger said of DiBartolomeo. "They've affected the lives of young people."
The Right Direction teaches kids far more than stunts on their skateboards and scooters. The organization teaches time management, organization and communication, DiBartolomeo said. The youth learn practical skills, like how to work on their bikes, and community skills like how to create a fundraiser to aid local organizations.
Last year, the kids performed 3,500 hours of community service and collected 2,000 pounds of food to donate to local food pantries.
"It gives the kids a chance to step out of their little bubble," DiBartolomeo said, and be part of the bigger community.
And the skate park in City Park gives them a safe place to practice their skills. When the skate park was first constructed, some questioned whether it would get much use. But nearly every day, kids are at the park, fine-tuning their stunts.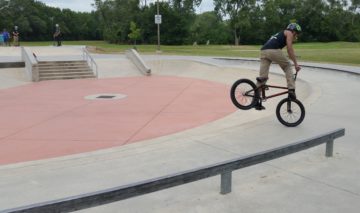 "It gives these kids something to take interest in," DiBartolomeo said. And they show their appreciation for the site by keeping it clean from trash and graffiti. "They kids are very respectful."
"These guys take care of this like it's their own house," Bowley said of the skate park.
For many of the youth, action sports filled a hole in their lives, Bowley said. They aren't the kids who fit into traditional sports like football or basketball, or who enjoyed organizations like scouting. The Right Direction, with its loose rules, fit them better.
"There's no governing body for it. We saw a need and we filled it," DiBartolomeo said.
The Right Direction also offers an opportunity for families to take pride in their kids, he said. Parents who can't cheer on their kids at Friday night football, can watch them perform feats of skill and daredevil acts at various camps, performances and competitions.
"We made a bridge for them to be proud of their kids," DiBartolomeo said. "This might be the only award that kids gets. It feels good."
The Right Direction gives youth who may be struggling with grades a chance to learn that commitment can make a big difference, DiBartolomeo said. It's not unusual for a kid to practice for hours just to perfect one trick.
"Once they translate that drive into getting their homework done, it's a beautiful thing," he said.
The group also has opportunities for youth who aren't athletic, by letting them put together the music and videos for the organization. The Right Direction puts on several demonstrations throughout the year, using portable ramps. This fall, the group will be part of the STEM in the Park event, where the focus will be on the physics involved in the stunts.
After performing stunts for the Bowling Green Kiwanis Club last week, some of the kids took a break to catch their breath. Rusty Estok, 13, of Toledo, said he has been using the BG skate park for nearly two years.
"It keeps me off the streets," Rusty said, holding his scooter. "It keeps my head clear of everything."
Reggie Stormer, 15, of Waterville, tried football and soccer. "It just wasn't for me," he said. "I didn't really like to do any school activities."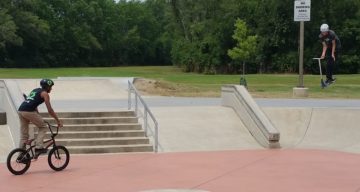 Many of them use the skate park almost daily – and have the battle scars to prove it.
"I've broken fingers," Rusty said.
"I broke my ankle," said Sam Gilmore, 18, of Perrysburg.
Reggie has broken toes. But it doesn't keep them from coming back.
Even cold winter weather doesn't discourage them. "We usually suck it up. I've ridden here when it's in the 20s," Sam said. "It depends how bad you want it."
"Time and commitment," Rusty said – exactly what The Right Direction leaders are hoping the kids learn.
More information about The Right Direction can be found at therightdirection.org.