By JAN LARSON McLAUGHLIN
BG Independent News
With their rubber gloves and blowing garbage bags, the students scooped up sandwich wrappers, paper plates, and beer cans. But their primary prey was much smaller.
"The two big contenders are cigarette butts and Taco Bell sauce packets," said Sean Herman, who organized Saturday morning's cleanup of the city's East Side through The Common Good organization.
By 9 a.m. nearly 50 students and a couple full-time residents were crammed into The Common Good house on Crim Street to load up on coffee and bagels before heading out for the neighborhood cleanup. They were given gloves, garbage bags and maps with instructions of streets their teams should cover.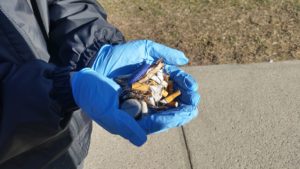 Herman has organized several cleanups, but this one drew more volunteers – from fraternities, a student environmental group and honors students.
The work focused in the Wooster Street area on the east side of the city.
"This is where the most trash seems to accumulate," he said.
Through The Common Good, Herman has pulled together occasional cleanup crews for the past 18 months. "I just thought there was a need out there and no one was doing anything about it," he said.
Hollie Baker said the cleanups started after the East Side neighborhood group began talking about the negative effects of living in an area so populated by university students.
"So this is a way to help the East Side become cleaner and show them that college students acknowledge it's a problem," Baker said.
Megan Sutherland, director of The Common Good, said BGSU students canvassed the East Side neighborhood to ask how relationships could improve between campus and community members.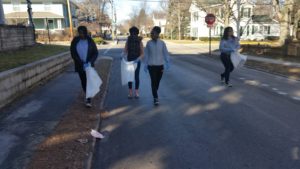 "We were expecting something way more complicated," than picking up trash, Sutherland said. "This is so simple. But the residents see there are students who care and the students get to know the residents."
The simple act of collecting trash is helping to build a bridge between the campus and the community, she said.
Some of the residents have responded by asking if they can join the cleanup efforts, Herman said. "People ask if they can help out."
Gradually, distrust is being replaced by respect, Sutherland said.
"When you start actually meeting your neighbors, it becomes a neighborhood," she said. "It's putting a face to a house. You watch out for each other."