Submitted by HORIZON YOUTH THEATRE
Horizon Youth Theatre is pleased to present their third annual fall production for younger actors aged 6 – 12, The Magic Harmonica and Other Fanciful Tales. Directed by Keith Guion and featuring thirty children from many area schools, Magic Harmonica will be performed at Otsego High School (18505 Tontogany Creek Road) on Thursday, October 12 and Saturday, October 14 at 7:00 pm; and Sunday, October 15 at 2:00 pm. Tickets can be purchased online now at www.horizonyouththeatre.org/product/harmonica for just $5.00.
The Magic Harmonica and Other Fanciful Tales by Janet Layberry is a collection of four enchanting plays sparkling with charm, wit, imagination, and a quirky sense of humor. In You Call That a Bedmonster?, Princess Julia discovers that Humphrey, the monster under her bed, is missing, and sends her guard out to find him. The Magic Harmonica brings a bit of excitement and adventure into an otherwise dull kingdom. But Hoo Is It For? takes us through an enchanted forest where nothing is what it appears to be, and the party which is rumored to be happening is hard to find. The Woobly Fiasco is a play within a play about a Stage Manager having trouble with her actors, who are supposed to be narrating a play about Wooblies, mysterious creatures who have become the caretakers of the animals with whom they share a crowded forest.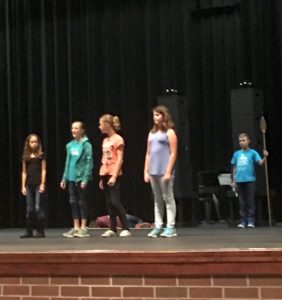 The cast members all play at least two roles within the four mini-plays and are as follows: Simon Baney, Lauren Carmen, Arianna Chung, Greta Chung, Emily Coan, Brianna Dunham, Reece Hall,    Emma Kate Holbrook, Bindi Hoskay, Emma Montion, Kathryn Mullins, Lauren Peppers, Lee Ann Polinsky, Adam Proulx, Isobel Roberts-Zibbel, Liam Rogel, Addie Smith, Olivia Stutzman, Paige Suelzer, Aidan Thomas, Drew Thomas, Jonah Truman, Kaitlyn Valantine, Nash Valantine, Alice Walters, Aria Weaver, Cordelia Webber, Calista Wilkins, Emy Wilkins, and Yelia Xu. The production team is rounded out by student stage manager Olivia Strang; costumer Christina Hoekstra; and Wendy Guion who is assisting with props.
As always, HYT thanks Otsego Schools for providing a home for the productions of this nomadic non-profit.