By JAN LARSON McLAUGHLIN
BG Independent News
A Bowling Green man has been sentenced to 16 years in prison for invading local homes and stealing hundreds of bras, panties and other personal items.
Bradley Feasel, 34, pleaded guilty to 12 counts of burglary, plus one count each of attempted burglary, breaking and entering, and voyeurism.
Feasel was picked up by Bowling Green Police Division one year ago – after hundreds of bras and panties, DNA from a pizza crust and intricate handwritten notes helped link him to at least a dozen burglaries committed in the city over a period of five years.
Feasel, who was living at 236 S. Grove St. at the time of his arrest, has been held at the Wood County Justice Center for nearly a year.
After a jury was selected and a trial date was set, Feasel waived his right to trial by a jury or judge, and changed his plea to all the charges to guilty on Nov. 19, 2018.
And in December, Wood County Common Pleas Judge Reeve Kelsey sentenced Feasel to 16 years for the 15 charges.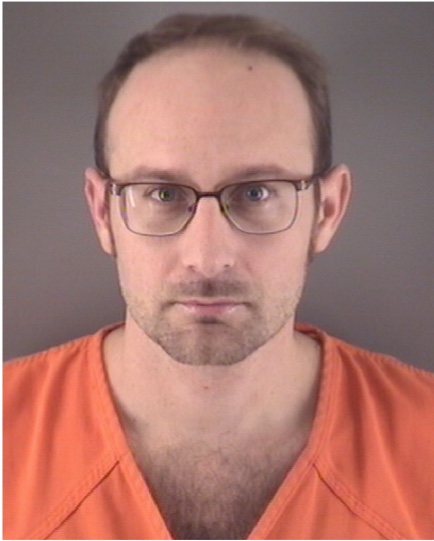 The judge also ordered that Feasel be classified as a Tier 1 sex offender, and that he submit to DNA testing.
In his sentencing, Kelsey stated the "court reviewed the seriousness and recidivism factors, and considered that the victims of the offenses suffered serious economic and psychological harm as a result of the offenses."
The judge also noted that Feasel has a history of criminal convictions, and has not responded favorably to sanctions previously imposed for criminal offenses.
After reading the victims' statements, Kelsey continued, "the harm caused by these multiple offenses was so great and so unusual that no single prison term for any of the offenses committed as part of this course of conduct will reflect the seriousness of the offender's conduct."
Feasel was also ordered to pay restitution to some of his victims.
When police officers first picked up Feasel in the fall of 2017, they had no idea that so many cases would be linked to the defendant. But a search of Feasel's home quickly showed that the defendant had saved items from many home burglaries.
"It's pretty alarming," Bowling Green Police Major Justin White said at the time.
And a search of his background showed that Feasel had a history of similar offenses dating back more than a decade.
In the fall of 2017, police found a folder of handwritten notes at Feasel's home, listing dates with names of females. Under the names were notes indicating the items that were taken and the method of entry into the residences.
One note labeled "Manville House," included a detail stating "all rooms masturbated." At a home on Byall Avenue, a bullet point mentioned "red panties." In some cases, women were sleeping at the homes when Feasel entered. On a few incidents when Feasel was seen by the residents, he was barefooted.
Many of the victims reported to police that they believed their homes had been entered multiple times. Many were college students, who shared clothing with their roommates, so the disappearance of underwear was not initially noticed.
Police said they also found a Google pin map at Feasel's home, with handwritten notes on it. One notation said "65 enters."
After gaining search warrants for all of Feasel's electronic devices, police found that Feasel had made Google searches for several of his victims. He also searched for them on Facebook, Pinterest, Linked In and MySpace.
It also appeared from the police reports that Feasel frequented a downtown bar where one of the victims was employed and other victims told police they often visited.
This is not the first time for Feasel to face charges of illegally entering homes and taking women's underwear. He served six months in 2004 after being found with several women's bras and panties that he had stolen from a Bowling Green apartment.
In 2017, the search of Feasel's residence turned up "several containers" full of women's bras, panties and clothing stored in the loft area of the garage.
In addition to bras and panties, Feasel also took hair extensions, vibrators, headphones, photos, and one woman's copy of the book, "Fifty Shades of Grey."
Many of those items have been identified by women – some who reported the crime before, and others who didn't even realize items had been stolen. Police were able to locate some of the women by using Feasel's notes, his mapping, and sometimes by student names on sorority clothing that was stolen.
"Once we realized his mode of operandi and after getting evidence from the search warrant, we were able to go back and connect cases," White said last year during the investigation.
In one case, Feasel was linked to a crime scene by the DNA he left behind when he finished up a partially eaten pizza in a box in the refrigerator. He ate all but the crust, which BCI tested and found Feasel's DNA.
"He had such a cavalier approach," White said, noting the number of times Feasel entered the same homes.
The police scoured all the evidence found at Feasel's home and on his electronic devices – looking for other possible victims.
Police found multiple videos showing Feasel inside residences rummaging through bedroom dresser drawers. Some videos show the exterior of the homes, the women's vehicles, and in one case, one of the victim's birth certificate.
Feasel also took videos outside bedroom windows of his victims in various states of undress.
Police also found video Feasel took of himself lying on a bed in an unknown apartment, masturbating and ejaculating onto a pair of women's underwear.
In some of the homes, he was caught when residents arrived home unexpectedly. In one case as Feasel fled, he left a "very large pile of bras and panties," containers of food and a laptop on the ground outside one of the windows, a police report said.
The police also found video during their search of unsuspecting women driving next to Feasel, women in parking lots, walking down the street, in parks, in bathroom stalls and in gyms. Some of the videos appear to be of breasts of unsuspecting women.
During the investigation, police spoke with a woman who was previously engaged to Feasel for 18 months, ending in March of 2016. She reportedly told police that she knew Feasel had previously been a "panty thief," but he had attributed it to a nervous breakdown when he was in college.
The former fiancée said in the fall of 2015 that she discovered a pair of women's underwear and an eyelash curler in Feasel's work bag. She told police that she assumed he was cheating on her with another woman.
Police said most of the homes targeted by Feasel were unlocked when he entered. In cases where he was confronted by residents, he left, usually without speaking. His journal had detailed notes about several of the homes he visited, such as: No lights, easy window opening, no cars in drive, no blinds or lock, "must be a hot girl," suggestions of where to park, or a note that the door is locked so to look for alternative entries like the roof.
In many cases, the window screens had been tampered with, according to police.
After years of entering residences and taking personal items, Feasel was caught in the fall of 2017.
In September of 2017, college students living in a house on East Merry Avenue found a man in their residence when they returned home around 1:30 in the morning. The man fled, leaving a pile of the women's underwear and clothes under a window as he escaped.
The women reported that they believed this to be the third or fourth time the man had entered their home. They also told police the dead bolt to the basement had been damaged, and they felt Feasel had been down there listening to them.
The next month, Feasel was arrested for trespassing in the 200 block of North Enterprise. In that case, the residents heard Feasel trying to enter by the front door. They called police, who apprehended Feasel outside the house.
Search warrants allowed police to link Feasel with the previous crime on East Merry, plus eventually to homes on Manville, East Court, Byall, South College and South Grove streets.
Thirteen years earlier, Feasel was charged with some of the same offenses. According to police reports from 2004, Feasel broke into 1480 Burrwood Drive, stealing personal items like jewelry and perfume. He apparently made several trips to and from the home in one night.
A female student in the home reportedly walked out of her bedroom around 2 a.m. and saw Feasel standing in her bathroom. She locked herself in her bedroom until help arrived.
Feasel, a BGSU student at the time from Cygnet, was arrested and charged with burglary. Feasel told police that he was just curious and wanted to see what was happening at the residence.
According to police, Feasel's pockets were overflowing with items he had tried to steal from the women early that morning. Reported stolen were underwear, bras, a video recorder, photographs, perfume, jewelry, make-up, tank tops, sweatshirts and a sorority bag.
The BGPD obtained a search warrant for Feasel's car and apartment also in 2004. Among other items, Feasel had a telescope in the trunk of his car and police found sex toys, jewelry and underwear that were not just the Burrwood Drive women's items.
Police also found a journal kept by Feasel. The journal detailed Feasel's plans for a website describing how to watch attractive people, how to dress up like a woman and how to set up a hidden video camera.
He was sentenced to six months in 2004.