(Submitted by Wood Soil and Water Conservation District)
The Ohio Natural Resources Conservation Service (NRCS) was recognized with a total of eight national, regional, and state Earth Team volunteer awards for exceptional service. The Earth Team is the agency's volunteer workforce.
"Volunteers play a vital role in providing us with the necessary workforce to get our tasks and conservation activities completed," said Terry Cosby, NRCS State Conservationist in Ohio. "Great opportunities and achievements come from volunteering. Without the support of volunteers and the communities we serve, our conservation goals would have been much harder to achieve."
An outstanding Earth Team Volunteer program relies on dedicated volunteers, and in 2018, more than 6,085 volunteers donated 46,214 volunteer service hours to Ohio NRCS valued at over $1.14 million.
NRCS State Conservationist Terry Cosby presented the following Earth Team awards during a ceremony in Columbus.
The National Earth Team Partnership Award was presented to the AG Venture 2018, from Bowling Green.
The Wood County AG-Venture Self-Driving Tour was designed to be an entertaining and educational opportunity to highlight Ohio's #1 industry – Agriculture. Seven tour sites recorded 1,785 visitors for an average of 255 visitors per site. Events such as these not only bring a community together, but also serve to educate and inspire people to take care of our precious natural resources in the hopes of ensuring agricultural sustainability.
The Northeast Regional Individual Volunteer Award was presented to Bob Moser, Perrysburg.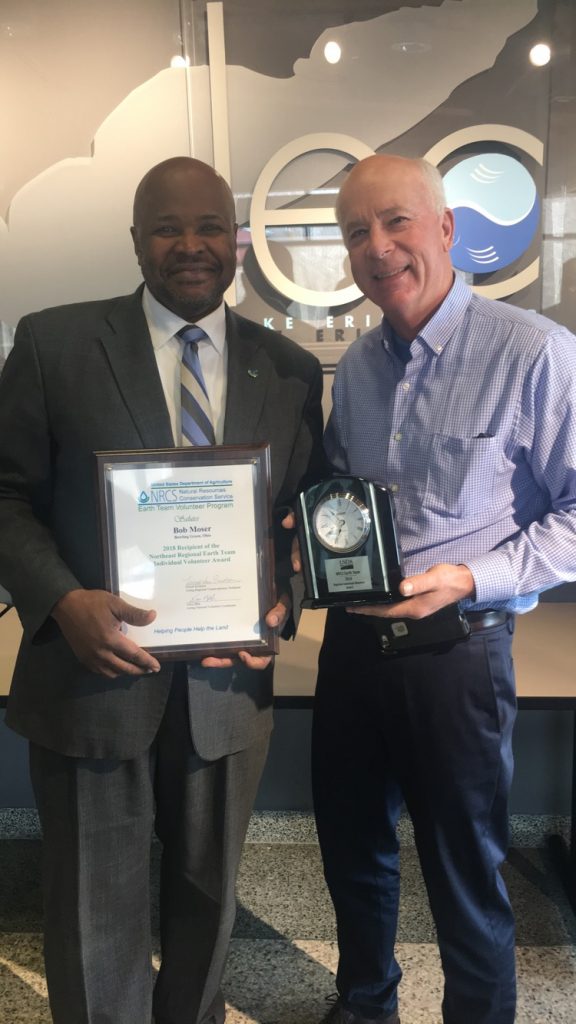 From the inception of the Wood County AG-Venture Self-Driving Tour, Moser was front and center in planning, coordinating, and organizing the event. Through Moser's many contacts in Wood County, he was instrumental in securing seven tour sites, including his own farm. Bob was also part of the volunteer recruitment team who recruited, organized, and trained a total of 146 volunteers. By the end of the event, this team of volunteers donated a total of 3,084 volunteer hours. Bob personally accounted for 208 of these hours.
If you want to become an Earth Team volunteer, and are at least 14 years old, contact any USDA Service Center or visit the Ohio NRCS website.