By JAN LARSON McLAUGHLIN
BG Independent News
As the soldiers marched into the gym, the families rose to their feet and let the wave of pride push aside their fears for the moment.
"Ladies and gentlemen, if you're wondering what our nation's finest look like, look no further. They are sitting in front of you," said Major General John C. Harris, assistant adjutant general for the Ohio Army National Guard.
The "call to duty" ceremony, held Wednesday afternoon in the Stroh Center at Bowling Green State University, bolstered the soldiers being deployed for Jordan, and fortified their families preparing for their absences.
"I'm really proud of him, and he's really proud to serve," said Melissa Krieger, of Bowling Green, about her son Logan.
Logan Krieger will turn 22 next Wednesday. "He'll miss his birthday here," his mom said. But she is certain of her son's service. "I know they've been very well trained. And I'm confident they are going to look out for each other."
Krieger was one of about 360 soldiers from the Ohio National Guard's 1st Battalion, 148th Infantry Regiment, headquartered in Walbridge, being deployed overseas to help train the Jordanian Army. The troops are expected to spend nine to 12 months overseas.
"I've been preparing for this for eight months," said Kristin Russo, Findlay, as she waited for her boyfriend James Preble to march past her seat in the stands. "I don't think it's real until they actually leave. It's pretty surreal right now."
But like so many others, Russo was overwhelmed with pride for her boyfriend, for whom this will be his third deployment. "I'm really proud of him," she said.
Josie Shaheen, of Syracuse, New York, is familiar with serving overseas, having been deployed to both Afghanistan and Qatar. But this time it's her husband going, and this time they have a little girl, Emma, 1 ½ years old.
"He's going to miss her second birthday. He's afraid she won't recognize him when he gets home," she said of her husband, Mahdey Shaheen.
As he spoke to the soldiers and their families, Harris said those being deployed will miss countless birthdays, anniversaries, proms, graduations, failed furnaces and broken down cars.
"I know it's you who will have to bear that burden," Harris said to the families.
But their loved ones are needed overseas, to support Operation Inherent Resolve in Jordan, and Operation Spartan Shield in the United Arab Emirates.
"You represent our nation's finest, which means you are the world's finest," Harris said to the soldiers. Of those headed to Jordan, 58 have already been deployed once before. For 30 this will be their third deployment, for 10 it will be their fourth, and for three this will be their fifth tour of duty.
"This is the best led and most experienced battalion," Harris said.
Harris had three orders for the troops. While the mission is not to destroy an enemy, Harris told them to keep their skills at the ready. "Stay razor sharp," he said.
He also advised them to work tirelessly to stay in touch with their families and their employers back home. And finally, he told them to execute their mission well. "The world is watching the 148th Infantry."
"This is no easy task," Harris said. "Our nation is eternally grateful."
Several politicians were on hand to thank the soldiers for their service. Lt. Gov. Mary Taylor said Ohio has the sixth largest veterans' population with 900,000. Unlike some periods in history when military service was common, now just 1 percent of U.S. citizens sign up for armed forces, she said.
"We are very proud of you. We are grateful to your families for the courage they display," Taylor said.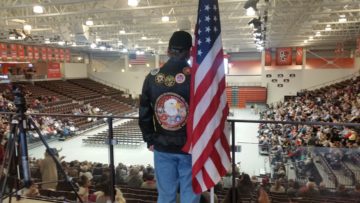 Families were offered blue star service banners to be displayed at their homes. And those who were experienced in deployments provided Family Readiness services such as bridges with communication overseas, emotional support, newsletters, and social events for families back at home.
"We are a big network of support for families," said Genevieve Rasik, head of the organization.
After the "call to duty" ceremony, soldiers exchanged last hugs with loved ones. While many were leaving behind jobs, Kierra Fountain was leaving behind school. "I'm leaving the books." And she is leaving behind her mom, sister and grandpa. But the mission is important. "I feel oddly OK," Fountain said.