Nick Hennessey, director of the Bowling Green State University Office of Sustainability, is all business as he gives a reporter a tour of the ReStore sale.
We stroll down a long corridor that starts in the Sundial on the north side of Kreisher dorm, into the dorm's lounge area. Lining the space are tables of stuff, lots of stuff, a variety of stuff from the makings of a Halloween party to books passed rows of clothes. There are microwaves, lamps, and electronics. This is a college-life version of Ali Baba's cave.
Then Hennessey stops. "I'm digging these green pants," he said, picking up a pair of trousers from a stack. Setting them back down, he allows they probably won't fit. Then he gestures to a nearby pile of blue jeans.
In previous years, there were many, many more. "We used to get so many pairs of jeans," he said. This year, "jeans seem relatively low for both men and women."
And that may be a good sign. "Maybe some people are hanging on to things longer. That would please me a great deal. Maybe people are having second thoughts about getting rid of stuff maybe they could reuse."
The ReStore is the culmination of his office's When You Move Out Don't Throw it Out (WYMO) campaign.
It encourages students when they leave campus for the summer to donate what they don't want or can't fit in their vehicles.
Some people misinterpret the treasure trove of castoffs, Hennessey said. "One of the things I like to clarify to people because we're always hearing people come in and see all this stuff and say 'I can't believe students left all this stuff behind.' The reality is they have to make intentional decision to donate it. They made the decision 'I want to donate something to the WYMO program.'"
That means hauling stuff to the lobby of their residence hall and putting it in the appropriate bids, even though the dumpster may be closer."
With the help of interns, Sierra Wilson and Wolfgang Ach, and numerous volunteers, these donated items are organized, cleaned up, and laid out for people to buy.
Last year, Hennessey said, the sale netted about $4,000. That money helps support sustainability programs and education.
Those proceeds, though, are not the reason for WYMO, Hennessey said. This sale itself is a demonstration of the importance of reusing goods.
Last year, Ach, an environmental policy and analysis major, said, the sale kept 17,000 pounds of material from going to the landfill. "That's amazing."
So everything is priced to go, even if that means it's free. "I'm not going to charge someone for crutches," Hennessey said, referencing a dozen pair or so leaning against the wall.
Students get injured. They go to the Falcon Health Center, and their insurance provides them with a pair, which they no longer have use for.
The sale is open to "the university community," Hennessey said. That's defined very broadly to include faculty, staff, and students, their families, former students, and retirees. "We consider them all part of the university." And that's on "the honor system."
The sale runs Wednesday (May 23) through 4 p.m. and continues Thursday, May 24, from 9 a.m. to 4 p.m. Shoppers should enter in the central door just across Ridge Street from the Student Recreation Center.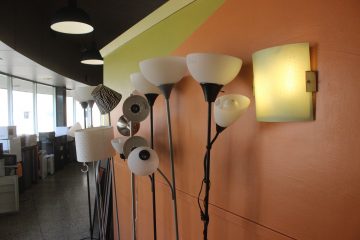 Some of the collection is already gone. Any food is donated to five food pantries and the Cocoon Shelter. They also got the bulk of disposal plates, cups, napkins, and utensils. Hennessey said that there is a bit of irony in disposal goods offered for sale at an event meant to promote sustainability. But "there's nothing sadder than disposal items not getting used and thrown away."
WYMO works with a number of non-profit agencies. That's what attracted Wilson to the project. "The main thing is stopping all this from going into a landfill, and just to have students give back to other students."
She's availed herself of the WYMO bounty.
As Human Development and Family Studies major, she was also interested in the opportunity to network with a broad range of nom-profits that benefit from WYMO.
After this week's sale what's left, will be donated.
"Habitat for Humanity and Easter Seals look forward to getting the clothing donation," Hennessey said.
Some items will be sent to textile recycling.
The ebb and flow of items into the sale can reflect changes on campus. Hennessey noted an increase in bathroom supplies, cleaners and furnishings. This is because more residence halls have rooms where just a few people share a bathroom and are responsible for stocking it.
He also noted that the number of light bulbs donated has declined. He attributes this to the advent of LED bulbs which last longer and are more expensive.
Hennessey has little idea of the volume of material in Kreisher. He estimates there's at least as much as last year. This is a new space. Previously the sale was held in Harshman, but that residence hall complex is in the process of being demolished.
Hennessey said that the sale couldn't have occurred without the cooperation of Dining Services which allowed the use of its space. Residence Life has also continued its collaboration on the project.
Where the sale will be held next year has yet to be decided. If you go this year, forget about those cool green, or maybe blue, pants. Turns out they fit, and Hennessey snapped them up.