From BGSU OFFICE OF MARKETING & COOMMUNICATIONS
The Bowling Green State University Board of Trustees will be asked to approve the naming of the "Slater Family Ice Arena" at its Dec. 9 board meeting. The naming is in recognition of a gift from the Scott Slater family.
Slater '73 enrolled at BGSU in the fall of 1969 and first attended Falcon hockey games with his future in-laws, who had season tickets. Nearly 50 years later, Slater still has those same seats in the upper level of the Ice Arena, and in the decades since, he has done much more than just cheer for the Falcons.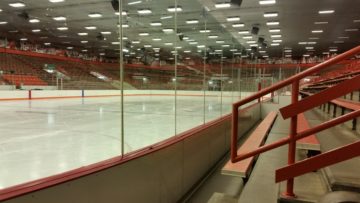 Slater and his family were major contributors to the "Bring Back the Glory" campaign that secured the BGSU hockey program. Now, the family is making a $2 million transformational gift to advance the future of the facility that means so much to them.
"The Slaters are a true Falcon Family," said Mary Ellen Mazey, Ph.D., president of Bowling Green State University. "Through the years, they have made the University central to their lives with support of BGSU Hockey and many community programs such as high school hockey and figure skating. It is fitting, and inspirational, that their dedication become a permanent part of the University with the naming of the Slater Family Ice Arena."
Over many years, Scott Slater's six children were involved in youth and high school hockey and figure skating programs at the Ice Arena. His four sons have each been part of the highly successful Bowling Green High School hockey program and been on teams that won state championships or finished as state runners-up, while his two daughters participated in figure skating.
Now his grandchildren are "rink rats" on the ice at BGSU, and Slater and his family have made another generous gift to secure the future of the facility that is so close to their hearts, and will now carry their name.
"It is a BGSU-owned asset, but my family has always viewed it as more a community asset," he said. "The thing I like is that, more than anything else in town, the Ice Arena is a place where the University and the community really merge together. That's been a wonderful thing for a lot of people, for a very long time."
Mike Natyshak, a member of the 1984 BGSU national championship team, was a freshman hockey player from Belle River, Ontario, when he met the Slaters. They were part of the first group of host families that opened their homes to student-athletes from outside the country and helped them transition to life in an unfamiliar place.
"Scott had a very important job to worry about, and he and his wife already had a house full of kids, but he knew the University needed assistance so he took in this hockey player from Canada and made me feel like part of the family," Natyshak said. "And it wasn't just in hockey – over the years he has supported everything going on at the Ice Arena and the University community at large."
When Natyshak learned that the Slater family was making another substantial gift to the University, he said anyone associated with BGSU hockey or skating would not be surprised.
"Scott exemplifies Bowling Green. That's how Bowling Green is – people come together and help, and they support the things that are important to them and their families," Natyshak said. "He is the type of individual who never searched for the limelight, but was always there when you needed him, in the happy times and the not-so-good times."
Slater said the Ice Arena became a very familiar surrounding for many Bowling Green families, whether they were attending BGSU hockey games, bringing their children for skating lessons or youth hockey, or supporting the high school and club teams.
"It becomes another big family, since you make so many friends there and people are always supporting each other, giving kids a ride home, or sharing rides to a hockey tournament," said Slater, a Magna Cum Laude graduate of both BGSU and Bowling Green High School. "You really want to see something that connected to the community continue to thrive."
He said the passionate supporters of Falcon Hockey get to know the players and coaches, and many long-term relationships develop.
"We've had Mike Natyshak, Nelson Emerson, Rob Blake – a lot of guys in our home. They played floor hockey with my kids," he said. "You make lifetime friends with people you connect with at the Ice Arena."
Slater recalled how when his oldest son went into the hospital in 1983 and was battling diabetes, the members of the BGSU team autographed a hockey stick and presented it to him.
Slater said he is pleased to see the Bowling Green program on solid footing and re-establishing itself on the national scene.
"A lot of people like myself feel very strongly about Falcon Hockey and we wouldn't let it go away," he said. "The program is certainly building back up and becoming more respected again. I know Chris Bergeron and his staff very well and I'm impressed with what they have done."
Natyshak said his decades-long friendship with Slater has given him a closer look at a very giving and unassuming individual.
"He has made great decisions all of his life, in a humble, low key but very strategic and intelligent way, and he has brought those resources to Bowling Green State University," Natyshak said. "Scott is thrilled about giving this to the University, and the community. And this isn't a gift for a couple dozen hockey players – it's a gift for the whole Bowling Green community."
That community tie is essential for Slater, who is proud of the fact that back in 1951, he was the first boy born in Wood County Hospital, just after the facility opened.
"I am about as BG as it gets," Slater said.
A design study of the Ice Arena is underway, after which a determination on specifics will be made. In the meantime, the gift has secured the future of the facility that has been so important to the Slater family and countless others in the Bowling Green community.
"It has been a lifetime asset for my family, and I would hope my donation will cement its place. I want to boost it, and know that it is going to be there for another 50 years," Slater said. "I can't fathom the city of Bowling Green without the Ice Arena here."
The Slater Family gift will be celebrated at the Ice Arena 50th Anniversary Community Celebration on Saturday, Feb. 11, 2017. Other highlights of the weekend-long event include famed alumnus hockey announcer Mike "Doc" Emrick '76 returning to broadcast BGSU Hockey versus Mercyhurst, and gatherings for Bowling Green High School Hockey, figure skating, curling and more.