By DAVID DUPONT
BG Independent News
Sometimes when Falcon forward Alex Barber is skating off the ice at the Slater Family Arena, he looks up at the mural and sees a photo of his father in his hockey glory days.
Tim Barber was a member of the 1980 state championship team from Bowling Green High School, and scored a hat trick in the championship game
Now, almost four decades later, Alex Barber, No. 6 on the Bowling Green State University hockey team, is pursuing hockey glory of his own. He and his teammates are headed to Allentown, Pennsylvania, for the regional round of NCAA Division I Hockey Sweet 16.
"How cool it is that I'm skating in the same rink where my dad had so much success," the younger Barber said.
This will be the first time in 29 years the Falcons have earned a berth the NCAA Sweet 16. The Falcons last won it all in 1984. On Saturday at 4 p.m. on ESPNU, BGSU will take on the team those earlier Falcons beat for the title in 1984, the University of Minnesota Duluth Bulldogs.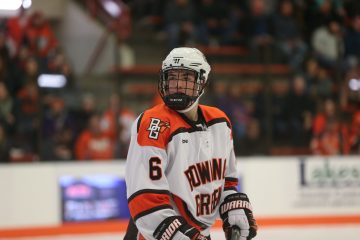 For Alex Barber, a freshman, it's an auspicious start to his collegiate career.
"It's been a good season. It definitely exceeded my expectations. We've obviously done really well. I didn't expect to have this much success."
And that he's having that success in the same rink where his father had success is a bonus.
His BG roots go back even further. His grandmother Sue Barber was the figure skating coach at BGSU, where his grandfather Les Barber taught English and was an administrator at the university.
There's a photo of him as a 2-year-old with his father on the arena ice. "It looks pretty much the same," he said. Now he's playing collegiate hockey here.
That's maybe not much of a surprise. He attended hockey games with his family when they visited Bowling Green, where his aunt Amy Rybak teaches writing.
When he was 8, his grandparents got him a Falcon hockey jersey with his name on it.
Barber, 20, grew up in Dublin frequenting ice arenas . He started playing hockey at 5, and his older sister Emily was a figure skater. His father continued playing recreational hockey until just a couple years ago. That's one of the attractions of the game, Tim Barber said. "It's something you can play your whole life. … and get that same feeling as long as you want to do it. … It's a team sport you can play forever."
Alex Barber remembers going out on Saturday nights to "watch the old man try to play like he's young again. It was pretty cool to see him play out there."
During winter break they had a chance to get out on the ice for an hour to skate together.
Tim Barber said his son also started playing soccer and baseball, but his passion was for hockey.
"Even when he had 6 a.m. games, he was always up and ready to go," the elder Barber recalls. "He kept making the team. It's great it worked out for him."
"Growing up I always wanted to play college hockey," Alex Barber said. "It was something my parents always talked about me doing once we realized it was a possibility."
He played Tier I junior hockey in the United States Hockey League, first with the Youngstown Phantoms and then with the Central Illinois Flying Aces.
BGSU was the first college that showed interest in him, and Barber verbally committed to becoming a Falcon at 16.
Tim Barber said he and his wife, Krysten, feel fortunate that their son has played reasonably close to their Dublin home. Tim Barber took a hiatus from officiating so they could go to all the BGSU home games, as well as a few away games.
Living in Bowling Green means their son gets to have weekly dinner with his grandparents
That Alex Barber made the right choice was evident as soon as he got here. "We have a great group of guys. We gelled really quickly. It was easy to come in here and feel like I belonged."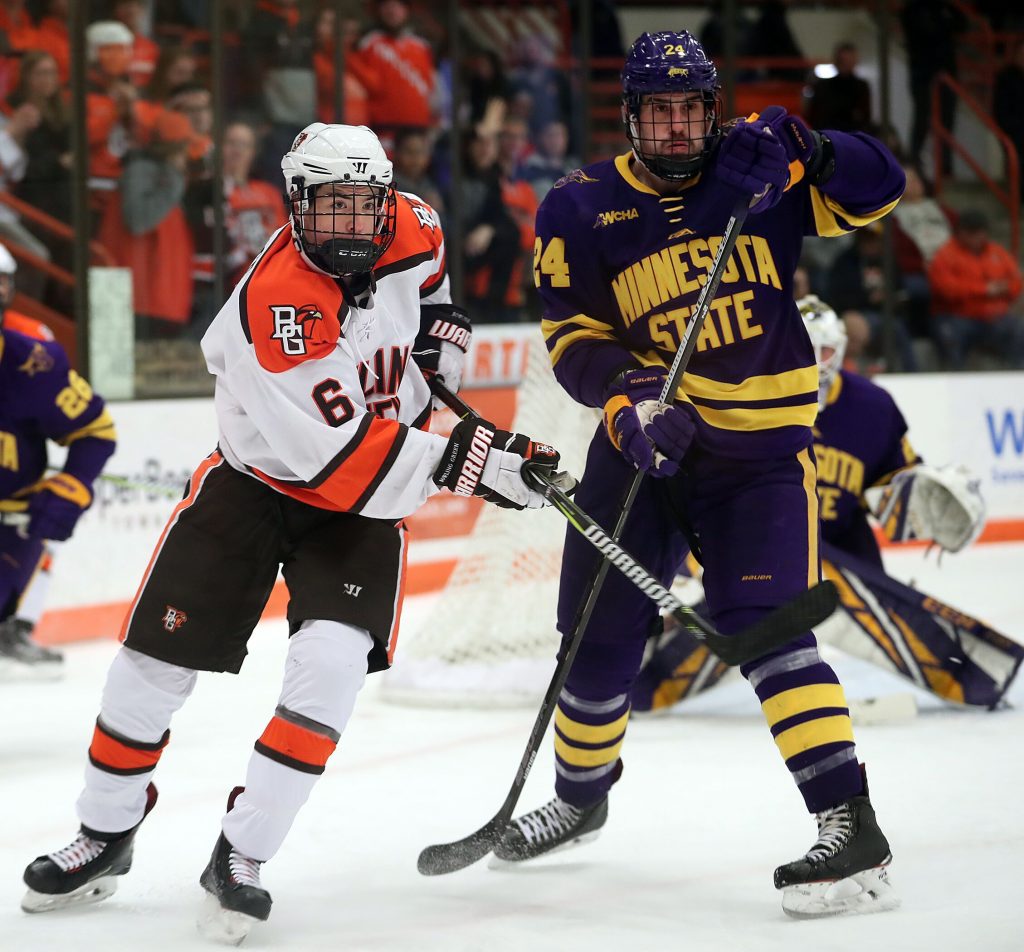 The season got off to a fast start with an 8-2 shellacking of Mercyhurst in Erie, Pennsylvania.
That was a good sign, and the team grew more confident after another 8-2 victory three weeks later, this time against Ohio State in Columbus with Barber scoring his first collegiate goal in front of his hometown crowd. Sweeping Western Michigan with wins home and away, lifted their confidence even more. "There was a feeling in the locker room that we can take this as far as we want to as long as we keep playing together. We can make a run for it."
Then after Christmas the Falcons hit the doldrums, alternating wins and loses. Yes, they had a tough travel schedule, Barber said, but all the teams did.
"We took our foot off the pedal a little. We needed to straighten the ship," he said.
And in the Western Collegiate Hockey Association playoffs they did, starting with a stunning win against Michigan Tech at home. They found themselves down 2-0 midway through the third period, even though Barber said they'd dominated the Huskies most of the game.
Then the Falcons scored two goals within 15 seconds. He said he could feel the energy shift. "Everyone knew we just needed that first goal."
The team's playoff run took them to the WCHA championship game against Minnesota State Mankato. Then it was the Falcons turn to squander a two-goal lead, losing 2-3 in overtime. The Falcons lost focus, Barber said, and then made a couple mistakes. The Mavericks are a good team, he said, and capitalize on their opponents' errors.
Despite the disappointment, they had the consolation of learning they were headed to the NCAA tournament. Coach Chris Bergeron told them that they had to put the loss behind them and focus on the next game.
Barber's glad to have the season extended. He scored five goals this season and is looking forward to "contributing in any way I can," he said. "Hopefully we can keep it going and get some wins in the tournament."