By DAVID DUPONT
BG Independent News
Tony DiTerlizzi writes creates stories that are read and viewed by millions of people. Most famous is the "The Spiderwick Chronicles," both as a book and a movie. There's "Adventures of Luke Skywalker, Jedi Knight," a George Lucas approved expansion on the "Star Wars" franchise.
Then there's "Kenny and the Dragon," The Wood County District Public Library's Youth Community Reads book for this spring.
Of all those fans one reader remains the most critical to the best selling author. What will 10-year-old Tony think of what now 50-year-old Tony DiTerlizzi makes?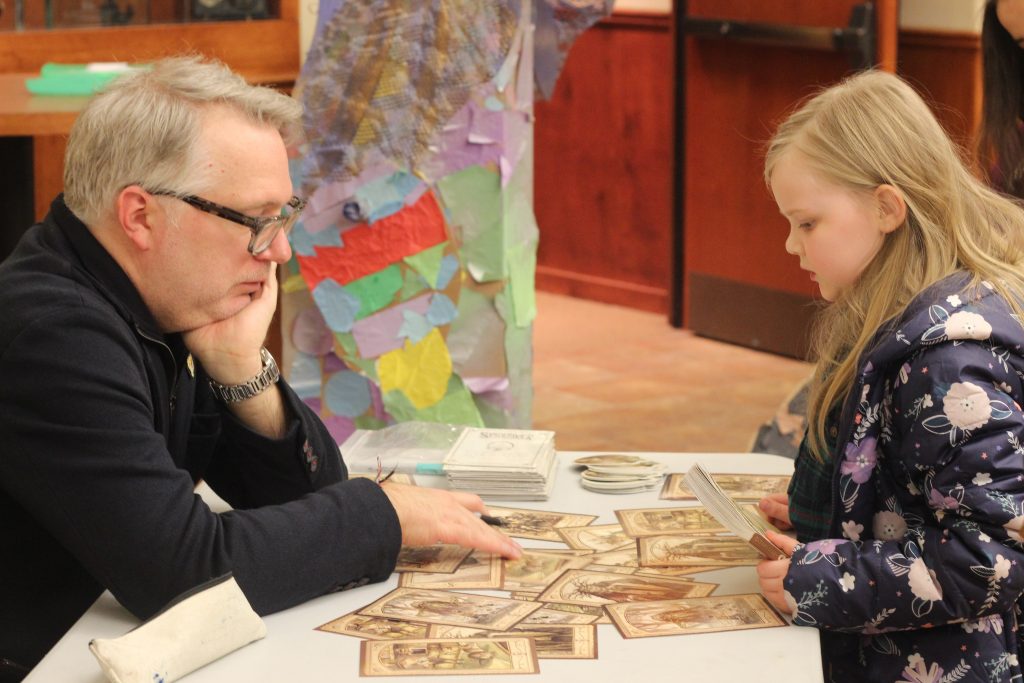 DiTerlizzi recently visited Bowling Green as part of the Community Reads program. He visited schools, and in the evening gave a talk about how the 10-year-old from Florida grew up to become a beloved author and illustrator.
Luck, he said, was important.
Yes, people tell him that he's lucky because he gets to spend his time drawing and writing fanciful stories.
When DiTerlizzi talked about luck, though, he went back to his childhood growing up in southern Florida. "Old people move down there and turn into lizards," he said.
He was not a good student. He preferred sitting in class drawing. In those doodles he unspooled the stories that were being screened in his mind.
Then came time for him to give an oral book report on the classic children's book "The Mouse and the Motorcycle" by Beverly Cleary.
"An oral book report is like oral surgery," DiTerlizzi told the audience of parents and kids. Then he crouched,, trying to make himself as small as he could, to demonstrate how he presented his book report. He had failed to master even the basic details of the book.
The problem was, DiTerlizzi said, was that the books he loved were picture books, such as Arnold Lobel's "Frog and Toad." While Cleary's novel had a few illustrations, it was mostly words.
But DiTerlizzi was in luck. His teacher had an inkling of what the problem was.
So he gave 10-year-old Tony another chance. Pick two scenes from the book and draw pictures of them. Suddenly the youngster was engaged, reading the book scene by scene finding more than enough ideas. He'd read as he'd never had before, and passed with flying colors.
"I was lucky because there was an adult who saw something in me that I didn't see," he said.
And he was lucky to be bored. A few years later during the summer, his mother told him and his two younger siblings they needed to go out to play. It was too hot, they complained. They didn't want to turn into lizards If they were going to be inside they needed to stay out of her hair.
So DiTerlizzi retreated, bored, into his room. He was a Boy Scout, and had made up his own field guides of insects.
In his room he studied those field guides, and that inspired a whole new world filled with imaginary creatures.
What he was creating was the field guide that is at the heart of "The Spiderwick Chronicles."
That boredom freed his imagination, "and imagination is one of the greatest skills we have."
While he's been involved in films and illustrating for role playing games, books remain central to him. "That's the thing about books that I love — you have to interact with a book."
DiTerlizzi left plenty of time for questions. He said it takes him up to a year and half to write a book. He'll re-write the book 10 times, making revisions right up until the time it is ready to go to the printer.
Then when he looks at the finished book, he can always find elements he's not satisfied with.
He never has writer's block. Several stories are always floating around in his imagination. "I have the opposite problem," he said, he has far more ideas than he can write about.
New ones pop up all the time.
He recalled a Christmas with his wife, Angela DiTerlizzi, and young daughter. They were decorating the tree, and his daughter broke an ornament.
She was upset, but he reassured her. "When an ornament breaks, a Christmas fairy is born."
His wife, also a writer, looked at him and said: "That's a book."