By DAVID DUPONT
BG Independent News
The Black Swamp Arts Festival's Youth Arts Committee has one job – keep more than 1,000 children entertained over the two days of the festival.
For Katie Beigel, committee co-chair in her second year, that means bringing her diverse interests and training to bear – art, art education, and event planning.
"We're planning for about 1,500. … I'd rather have a little too much than not enough," she said.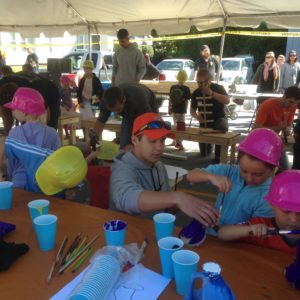 Working with Matt and Heidi Reger, she is organizing activities at the Kiwanis Youth Village with a mix of old favorites and new twists.
Last year a survey conducted of the festival found that youth arts was highly popular, rated 3.4 out of a possible 4 – the only thing ranked higher was the festival as a whole with a 3.7. The survey found visitors spend on average one to two hours in the village. And it's clear from the survey that the youth activities make it more likely that families will attend the festival.
Beigel said she heard plenty of praise because the activities appealed to all ages and abilities. Most kids do more than one activity, the survey found.
Given that, it's not surprising that people wanted bags to carry home all those treasures.
So Beigel put out a call for t-shirts, and with stacks of them on hand, kids will be able to make bags from them. And they'll be able to stencil them with pictures made up of words at the poetry table.
The sleeves of the shorts will be cut off and sent over the area where children will make decorations for their hats. In the past, the festival purchased flowers for decorations. But last year they ran out, and people were disappointed, Beigel said. This year they decided to let the kids apply their own fashion sense and make decorations.
"It's important to be teaching kids that art can come from anywhere you don't need to go and buy a bunch of stuff to be creative," Beigel said.
That fits with an emphasis on reuse, recycling and repurposing. "We're showing that arts can have a function more than just something you put on the fridge," Beigel said. "There's so many things that can be used to make new projects. The festival is a cool place to do that. There's no lesson plans, no state standards to meet, their only goal is to have so much fun and be creative."
Unleashing that creativity is the focus of the task tent where young festival goers are offered an assortment of random materials and allowed to let their imaginations go wild.
In its first year in 2017 that meant swords, boats, even balls of tape emerged. Even parents got in the spirit, Beigel said.
Returning this year will be the construction area. Heidi Reger, who teaches architecture at BGSU, is the driving force behind the tent where children can use tools with the guidance of construction management and architecture students to build projects.
Also returning after a few years is easel painting, and, of course, the favorite tie-dying.
"When you're teaching art, you're teaching the motor skills, but also how to think about it," Beigel said. "Making sure they have adequate time to really think about it, that's part of it. That's what they're getting to do this year."