By DAVID DUPONT
BG Independent News
Jeff Fearnside has his new year's goal set out for himself – finish his novel.
And he's hoping that novel, when finished, won't take as long to see print as his first book of fiction, "Making Love While Levitating Three Feet in the Air."
The Bowling Green native who now lives in Corvallis, Oregon, completed that manuscript in 2005. The stories had already won awards including the Santa Fe Writers Project Literary Award. The collection was a finalist for the New River Press MVP award.
Publishing, he thought, at the time "was just around the corner."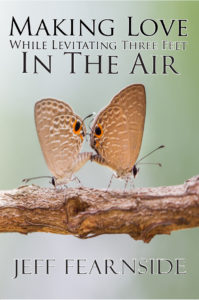 But what was right around the corner was frustration. "Then it didn't go to the next level," he said in a recent telephone interview. "I lost faith and stopped sending it out. Something I now really regret. That put me behind."
He advises other writers not repeat to that mistake. "Keep the faith."
When he decided to start submitting the manuscript again, it wasn't long before he struck a deal with Stephen Austin State University Press. The book was published in 2016. "It all worked out in the end," he said.
"Making Love" brings together 13 short stories, including the six he submitted for his Master of Fine Arts in Creative Writing thesis from Eastern Washington University in 2000.
The stories are "stylistically all over the board," the author said. There's realism, allegory, magic realism, and surrealism. "I like a collection that has a little bit of eclecticism to it."
What holds them together is keen psychological insight expressed in clear, shapely prose.
The collection opens with the quirky realism of "Nuclear Toughskins," about coming of age in the shadow of the bomb and includes the allegory, "Cat People," in which feline overlords dish out just desserts to those who have treated them well or badly. For the record, Fearnside has two cats and is assured of rewards should his fantastical vision come true.
On the other end of the spectrum is "Going for Broke," a straightforward piece of historical fiction. Fearnside tells of a talented Japanese American baseball pitcher, struggling against prejudice to make it to the big leagues after being interned during World War II.
The settings of several stories become characters. Fearnside locates his tales in places he knows – his native ground of Northwest Ohio and his adopted home, the Pacific Northwest. "I'm really interested in place and deliberately choose places I knew." Several characters, like their creator, straddle both regions.
In "Every Living Thing That Moves" set in the farm fields of Wood County, a teenager struggles with a domineering father and with his own emerging sexual desires. In "Maps and Compasses," another character, also sorting out his relationship with his father, stalks a deer on the cusp of winter. The Western wilderness almost claims him.
"When I was writing these, it was more about personal relationships, really close to home, really interior kind of things," Fearnside said. His focus has shifted to a more global viewpoint though "I don't think I'll ever lose interest in the personal."
After he graduated from Eastern Washington University with his Master of Fine Arts in Creative Writing in 2000, he decided to realize his dream of joining the Peace Corps. He either had to do it then, he said, or wait until he retired.
He spent two years in the central Asian republic of Kazakhstan, and then stayed in the region as the manager of the Edmund S. Muskie Graduate Fellowship Program. It was an eventful four years, yielding a poetry chapbook, "Lake and Other Poems of Love in a Foreign Land," and love – he met and married his wife, Valentina, in Kazakhstan.
"Being overseas really broadened me," he said. This led him "to tackle bigger subjects, different places in the world."
Fearnside got his first taste of writing for publication close to home as editor of The Scarlet Parrot, the school paper at Bowling Green High School.
He went on to receive his Bachelor of Fine Arts in Creative Writing from Bowling Green State University.
During his time in Bowling Green, Fearnside worked as a reporter for the Sentinel-Tribune, before heading out to Washington where he was arts editor for the Boise Weekly for about a year before starting graduate work. Journalism, he said, in a biographical sketch for Eastern Washington University, taught him the discipline of sitting down and writing every day.
Now at Oregon State University, he teaches two courses closely related to his own work– Writing about Places and Literatures of the World: Asia.
He enjoys the part-time schedule. "For the first time in my life, I have full freedom to work on my own writing, which is amazing."
He has a book of essays about his time in Central Asia making the rounds, and the eBook edition of "Making Love" is forthcoming in the spring. Then there's the unfinished novel, and all of 2018 available for its completion.