By DAVID DUPONT
BG Independent News
Kazuki Takizawa urges the visitor to break the art gallery taboo against touching the art.
"Pull it," he urges. "A little more."
The visitor gently tugs at the edge the large oval frame that has about six dozen glass bowls suspended from it. The frame starts to swing. The glass bowls jangle against each other, ringing out through the River House Gallery.
That sound is as central the work fittingly titled "Breaking the Silence II" as the sweep of the frame or the translucent colors of the bowls.
The frame is shaped like a tree branch and looks like it was executed with a brush stroke. In calligraphy, a complete circle signifies unity, Takizawa said. "This is an incomplete circle that needs audience participation to start the dialogue and break the silence," the artist said.
The silence he wants to break is the silence surrounding suicide and mental illness.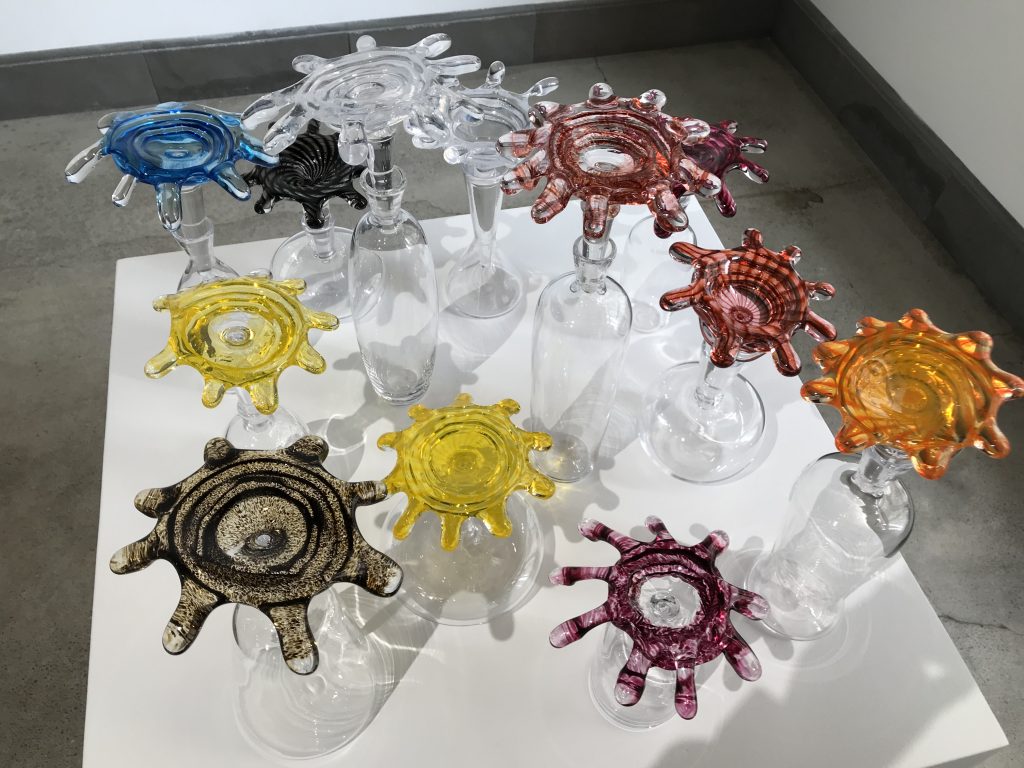 Takizawa suffers from bipolar disease. But it was when his younger brother slumped into a suicidal depression that he became more forthright about addressing these issues.
His family flew to be with his brother in Tokyo. This marshaling of family love was "empowering," he said. But "it was painful, super painful. The death was so close. That's when I really started learning about suicide, and how we can go about preventing that."
He continued: "This is around the time when I started making pieces around suicide prevention and speaking about being bipolar and started telling people that my work is about mental illness."
That's the central theme of his exhibit of glass work, "Infinite Spectrum," now on display at River House Arts, 425 Jefferson Toledo.
Takizawa's education in suicide prevention included volunteering as a lifeline counselor on the National Suicide Prevention hotline. "I got a chance to be on the other side of the line with people who are in a critical state," he said.
More people die from suicide than homicide, he said. And the problem gets worse every year.
Takizawa tackled his own issues of depression when he was a student at the University of Hawaii Manoa where he studied glassblowing.
A shy child, art had been his outlet.
Takizawa, 33, grew up in Hong Kong "in a weird bubble" of Japanese residents. He never learned to speak Cantonese. When he was 16 his family moved to Bangkok for his father's job.
For Takizamwa art became another language.
"I was a really shy kid and very self conscious and always nervous in school," he remembers. He had a few friends. "In art classes I was always comfortable."
Some of his best memories are of talking to people about the work he had created.
About this time, Takizawa saw a television show about glass blowing and decided that's the medium he wished to explore. He also wanted to improve his English, so he applied to schools in the western United States landing in Hawaii.
There the bipolar symptoms manifested themselves.
"Art work contributed to it," Takizawa said. "You stay up working on projects, and it's really detrimental to your health."
He started going to therapy. "I loved it. I knew nothing about depression. It was empowering to me. It was like going to another class, a time you have for yourself, available for you at school. All these counselors knew a lot of stuff I didn't know."
He was so excited about what he was discovering he shared it with his family. "I feel like our family changed."
Takizawa graduated with a Bachelor of Fine Arts in 2010, and started working for other artists as a studio assistant.
He started teaching and traveled for artist residencies, to teach workshops and serve as a visiting artist.
Last year, at the request of Alli Hoag, a classmate from Hawaii, he visited BGSU. That's where he met Paula Baldoni, who operates River House Arts. She offered to host an exhibit of his work.
The exhibit features work never before shown.
"I look at glass in a historical context," he said.
"Glass is a medium that was created to contain something that's precious." That goes back 2000 years to ancient Egypt and Mesopotamia when the first core vessels held perfume.
He's also inspired by the fine glasswork of Venetian craftsmen.
Those come together in "Stopper Driven," which Takizawa described as "a pivotal piece."
Though he'd talked about depression, this is the first instance that he addresses his manic side.
"Driven Stopper" is a garden plot of clear glass vessels. Each has a stopper that seems to explode from the inside in a burst of color, like a floral firework. "It more reflects me when I am hyper."
Though a stopper is intended to hold the contents in, instead these stoppers burst forth.
"I take advantage of the manic side," he said. "I get a lot done, but then I feel like it's what's stopping me in every aspect of life. … It's a stopper but also a driving force that's powerful, especially in my creative process."
The result results of that process are on exhibit through April 13.