By JAN LARSON McLAUGHLIN
BG Independent News
In a college town with nearly 7,000 rental units, there's an awful lot of headbutting between landlords and renters and homeowning neighbors.
When problems occur with home maintenance, is it the landlords' responsibility to prove that their housing meets safety standards? Or is the onus on the renters to notify authorities if their housing is substandard?
For years, Bowling Green officials have debated this question. Other Ohio college towns – like Kent, Oxford and Athens – have mandatory rental inspection and licensing programs. Bowling Green has preferred to make sure there are services in place that respond to rental problems as they arise.
Following are various viewpoints in Bowling Green, including those from Mayor Dick Edwards, BGSU President Mary Ellen Mazey and landlord Bob Maurer. Those who respond to complaints – the health district, fire division, building inspection and planning office – also share their perspectives. People closest to the students, like BGSU legal services and some East Side residents, also weigh in. And officials from rental inspection programs in Athens, Kent and Oxford talk about their experiences.
EYE-OPENING TOUR
Early this fall, some BGSU students asked their professor Neocles Leontis to help them get out of a lease at a rental property they felt was unsafe.
"I could not believe it was allowed to be rented," said Rose Hess, who toured the house. Photos taken during the tour show a ceiling fan dangling from the ceiling, a filthy washing machine that wasn't working, a dryer that was not vented, a stove that didn't work, fuse boxes without covers, and bricks holding open windows.
"These properties are unrentable, yet they are being rented," Hess said. "We need interior inspections and licensing."
Leontis agreed. "Parents who send their kids to Bowling Green can have no assurance when they rent a house that it's safe."
Inspections are required of restaurants – the same should be standard for rental housing, he said.
"This should not be allowed. Your kid moves into a fire trap and you never know."
SAME HOUSE – DIFFERENT PERSPECTIVES
Of course, few issues are truly black and white. Even the rental property mentioned above is shaded with an awful lot of gray. The landlord reportedly rented the house to students who had difficulty getting others to rent to them.
Bowling Green has several safety measures in place for renters who encounter problems with their residences. When complaints are received, city officials ask the Bowling Green Fire Division, Wood County Health District, or Wood County Building Inspection to check out the property.
In the case of the house rented by Leontis' students, Fire Chief Tom Sanderson also toured the residence.
The fire division recently started a community risk reduction program, in which firefighters inspect multi-family residential sites.
"We do not inspect individual residences," unless there is a specific request, Sanderson said.
Though this particular house had several deficiencies, as someone who frequently tours the inside of rental properties, the chief had a different perspective.
"I don't believe the home was unsafe," he said.
Though it may appear worrisome, the original wiring in the house is not inherently dangerous. "We find that all over the place," Sanderson said of the old wiring.
The health district's role is similar, in that its inspectors only respond to specific complaints about such issues as leaks, mold or other housing code items.
"If you have a housing code, the expectation is if you are going to rent property that it meets the housing code," said Lana Glore, director of the environmental division at the health district.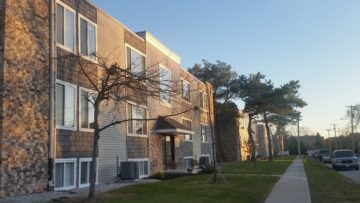 HOW KENT, OXFORD AND ATHENS HANDLE HOUSING
Athens, home to Ohio University, conducts annual health and safety inspections on more than 5,600 registered rental units. The percentage of rental housing in Athens is about 75 percent, compared to 60 to 62 percent in Bowling Green.
The Athens inspection program began in 1975 due to concerns about the quality of rental properties, said Rick Sirois, director of code enforcement in Athens.
The inspections cover items like roofs, lighting, windows and locks, handrails, smoke detectors and pest infestation. The costs range from $60 to $100 per unit, depending on the size of the apartment complex. The fees pay for four code inspectors in the city's zoning code office, who perform the annual rental reviews.
Students can file complaints on properties, with anonymous complaints being accepted. The results of inspections are posted online, Sirois said.
"Our focus is on health and safety," he said.
As a result of the program, 90 percent of the problems at rentals are fixed while the inspectors are onsite, Sirois said. "We work with the landlords a lot."
In Oxford, where Miami University is located, all rental units require annual permits. The city website has the approved rental list where people can verify if a property has a valid permit.
Oxford is also heavy on rentals, with an estimated 10,000 students on campus, and another 8,000 students living off campus in a community with an overall population of 22,000.
The mandatory program has been in place for more than 20 years, and started out with in-house inspections. However, Oxford now contracts out with National Inspection Corp. to do the rental inspections. The basic fee starts at $110.
Becky Kolb, of the Oxford community development office, said some of the landlords protested the new housing rules when they first went into effect.
"We have a couple owners who showed some resistance," she said.
But Kolb feels the program has improved rental housing in the community. "I believe that it has. I think there would be an element of unsafe conditions otherwise."
The annual inspections in Kent are conducted by the city's health department. The health commissioner has the authority to condemn any residential unit that fails to comply with the housing code. The inspection fee is $100 per dwelling, plus $5 for each additional bedroom.
The program has been in place since 1979, according to Bridget Susel, the community development director. "We did receive some pushback from landlords," when the program first began, she said.
The inspection program was recently expanded to include all rentals, not just student rentals, after the city saw an increase in illegal conversions of homes in residential neighborhoods being turned into rentals.
"We did it for the preservation of our residential neighborhoods," Susel said of the program expansion. "Zoning violations were adversely affecting our residential values."
Susel said the inspection program has served the city well. "It has resulted in safe and decent housing," she said.
BG LANDLORD DOESN'T SEE REASON FOR CHANGE
Bob Maurer, of Greenbriar Inc., is one of the largest landlords in Bowling Green. He said the vast majority of landlords respond to renters' concerns, and there is no need for the red tape of inspections and licensing.
"I don't really know what they want to accomplish," with licensing, Maurer said. "I've never really understood why. You have to have a goal to accomplish first. If there are problems, we should sit down and take a look at it."
For those landlords who don't respond quickly, Maurer said the city has fall-back provisions with inspections by the health district, fire division or building inspection.
"We have a lot of agencies that sure cover it," he said.
Enacting an inspection and licensing program can be quite complicated, he added.
"It's not a simple solution to just go out and inspect," Maurer said. "There's always a cost factor."
But some student advocates believe the responsibility should be on the landlords to prove their housing meets standards – not up to young renters to have to report them.
And the last time a rental housing program was discussed in the city, it was not exactly met with open discussion from landlords, Hess said.
"The landlords fought us tooth and nail," Hess said. And she expects nothing different if it comes up again. "It's going to be a big battle. We're going to get a lot of resistance. The landlords don't want it."
OHIO LANDLORD-TENANT LAW
Rodney Fleming, managing attorney at BGSU Student Legal Services, sees a handful of cases each year between landlords and student renters.
"It's not uncommon for there to be various perspectives on how bad it is," Fleming said. Parents and students may view a rental unit as "unlivable," while the landlord may see it as fixable.
"I don't recall any cases recently where that's been the case, that a home is unfit to live in," Fleming said.
In cases where there are problems, the Landlord-Tenant Law in Ohio puts the onus on the renters.
"The tenant has a responsibility to notify the landlord if an issue needs to be addressed," Sanderson said. For most items, the landlord then has 30 days to fix the problem.
"That landlord always needs knowledge of the problem and an opportunity to fix it," Glore said.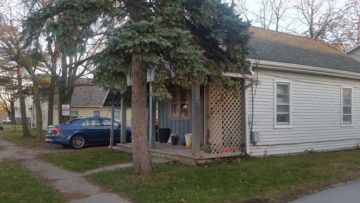 NORMAL MARKET PRESSURE DOESN'T WORK HERE
Poor housing is normally driven out by the market, Fleming said. But that doesn't work in many college towns because of the transient population and the trend toward early lease signing starting as soon as November for the next school year.
"The student population kind of drives the housing. Word never trickles down here," Fleming said. "Normal market forces don't work here."
Last year, BGSU Off-Campus Student Services started offering students information about off-campus housing. The "renters guide" allows student renters to share their experiences leasing properties from certain landlords.
"The feedback has been pretty good," said Lakeshia Dowlen, assistant dean of students at BGSU.
Ohio State University uses a voluntary rating system, that landlords can use to promote units. They aren't required to undergo annual inspections, but they can voluntarily have their properties inspected and then rated with a series of "buckeyes," Fleming said.
"I think something like that would probably be better," he said. "It gives the landlords an economic incentive."
MAYOR PREFERS VOLUNTARY OPTION
"It's an old issue," Mayor Dick Edwards said about the rental housing concerns. "There are some deplorable situations."
But it's not as if Bowling Green has had money to spare to use on inspections. The proposed addition of another code enforcement officer has suffered from budget cuts the last couple years.
"Clearly our resources in the city have been strained in the last few years," Edwards said.
The mayor prefers the voluntary inspection program adopted around Ohio State University's campus.
"The more I hear about the OSU program, the more I like it," he said. "That seems to be effective in Columbus."
Edwards, who previously worked in academic administration, has experience on four different campuses. "It's a constant theme. It's a complex picture," he said of poor rental housing. But compared to other university towns, Bowling Green's rental housing stock is actually pretty good, the mayor said.
"We're in much better shape than some of these other university communities," he said.
The mayor believes Bowling Green has the necessary safety measures in place already – renters just need to use them. "If a person has problems, they have so many avenues to turn to."
BGSU PRESIDENT'S PERSPECTIVE
The last time the city debated rental inspections, BGSU President Mary Ellen Mazey had recently taken her post at the university and was hesitant to make waves. She's not so worried now about stirring up some turbulence.
Speaking through BGSU spokesperson Dave Kielmeyer, Mazey said the safety of students is her top priority and she will assist the city in any way she can to address the housing issue.
Though the majority of rental units here are operated by responsible landlords, there are some substandard properties, according to Mazey.
"The president has seen communities where licensing has been in place," Kielmeyer said. But the university will defer to the city on this issue. "It is the city's decision on how they manage the properties."
"Certainly the president has seen where it's been effective in other communities," Kielmeyer said of rental licensing programs.
EVERYTHING COSTS MONEY
If Bowling Green were to adopt a rental inspection and licensing program, the costs will undoubtedly be passed on to the renters.
And that is a concern for Heather Sayler, director of the city's planning department.
"Of course we want people to have decent housing," Sayler said. "But it concerns me from a cost-benefit standpoint. We don't want to force people to move out of Bowling Green to Weston or Portage," in order to find more affordable rental housing.
An estimated 60 percent of Bowling Green residential properties are rentals, and many of them are for adults and families – not just university students. The recently written Community Action Plan for the city suggests some type of rental registration system.
That also concerns Sayler, with her staff of three full-time workers. "We're pretty bare bones here," she said.
Over the years, Sayler has gotten more complaints from citizens about the exteriors of properties. And a rental licensing program won't address grass that it too high or a fence that needs repairs.
"What the community told us is they want us to look nicer," Sayler said.
Both Sanderson and Fleming shared concerns about rental costs being raised to support a program.
"It's a wonderful idea to help the tenants. I'm sure it would benefit renters, but at what cost," Fleming said. "Obviously they will pass that cost on."
"Rent's going to go up that much to support this program," Sanderson said. "The landlords in this community aren't going to eat that."