By DAVID DUPONT
BG Independent News
When you teach at a university for 44 years as Lee Meserve has at Bowling Green State University, a lot happens.
Yes, there are the budget committee meetings, the lectures and labs, the advising sessions with students, the research, and presenting research results at conferences. There's discussions of various bodily functions and demonstrations of the male and female sexual response
Sometimes there's even an airborne mouse.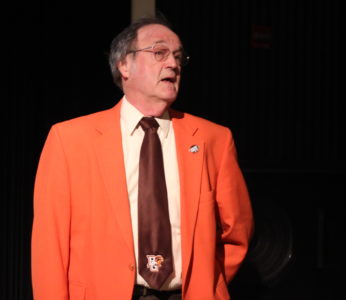 Lee Meserve gave a Last Lecture Monday night. Not his last lecture – he doesn't retire until the end of the semester. But rather a talk in a series sponsored by the Mortar Board Senior Honor Society. The conceit is: If this was the last lecture you would give what would you talk about?
In a twist that Meserve relishes, this was in fact his second Last Lecture. Meserve, a professor of biology, used the occasion to review his long career at BGSU.
It started not long after receiving his doctorate at Rutgers University. The journey started before then, growing up on a "hard scrabble" dairy farm in Maine where the family milked 25 to 40 cows.
The farm was a place he learned that of there was something to do, you'd best get to doing it whether it was fixing the milk parlor floor or the barn roof. That's a work ethic he brought to academia where a 50, 60 hour week is the norm.
He poured himself into the institution to such an extent that his wife, Marge, once gave him a t-shirt that read: "Stop me before I volunteer again."
He didn't get the message.
Meserve didn't go to the University of Maine with the intent to become an academic. Rather he was majoring in animal husbandry. Then in his junior year, his father sold off the herd. Meserve made other plans that sent him to Rutgers to continue his studies. In New Jersey, he also found Marge, his companion for the adventures that would follow.
Teaching anatomy he discussed the diarrhea and vomiting, subjects he allowed were not discussed in others courses.
In reproduction he discussed the amount of ejaculate a man releases and had a choreographed strut that demonstrates the difference in male and female sexual response.
And for the respiratory system, he pulled out his harmonica, and played a tune. He can even put it to his nostrils and toot it that way. "Some people play by ear, I play by nose."
It was while teaching endocrinology that the incident with the mouse occurred. Two female students were having a hard time getting a needle into a mouse in the proper place to draw a sample. Meserve offered to help.
His grip was no better and the mouse clamped onto his finger with its teeth. Meserve reflexively tossed the rodent into the air. One of the women was wearing a low-cut jumper. Meserve said he saw the geometry of the situation play itself out as the mouse came to rest inside the jumper.
"Get it out!" the student cried. He obliged, reaching into her dress. "Luckily the first thing I grabbed was mouse."
His career was not all slapstick.
The subject of his research, in which he engaged his students both graduate and undergraduate, revolved around the harmful impacts of PCBs – polychlorinated biphenyl
Meserve and others have shown the substance widely used by utilities and other industries and then indiscriminately dumped into the nation's waterways has deleterious effects on human development.
The substance does not break down. The molecule is "virtually indestructible." Yet when General Electric was required to dredge the Hudson River to remove polluted sediment the company complained the whole time, saying it was safer left alone. Not for the creatures in the water, nor for the creatures, including humans, who eat them, Meserve said.
That led to regulations about what companies, including mining companies, could dump into the nation's waterways.
"It looks like we're going back to the bad old days," Meserve said. "Hopefully there are some of us who will yell and shout and will scream and holler to stop that from happening wholesale because I know what happens with this stuff."
Meserve has also served the university in other capacity, including a job wearing "a funny hat and carrying a big stick" as the mace bearer for university graduations.
He has also served as the faculty liaison to the athletic department, making sure that student athletes are academically qualified. BGSU does a great job in making sure student athletes leave the university with a piece of paper that prepares them for life beyond the playing fields.
BGSU, he said, is at the top of the Mid-American Conference in its student athlete graduation rate and the MAC is one of the best conferences in that regard.
Meserve said "since I'm expecting them to perform well academically, it behooves me to get out and yell and holler when they're doing what they're passionate about."
So he and Marge attend as many home games as they can, and occasionally travel to away contests as they did this past week when they went to Oxford, Mississippi, to watch the softball team play.
In honor of their years of support the softball diamond was named in their honor in 2008 after they donated 13 acres of land to the university that were sold to pay for lights and heaters in the dugouts.
Meserve has also advised about 9,500 students most in health-related fields.
Meserve said he and Marge never had children of their own. "We borrow other people's children."
One of those Abby Siefker, a basketball player now headed to Ohio State to study dentistry, introduced Meserve and testified to his positive impact on students.
"He and Marge consider the students here their children and BGSU to be their family," she said. "His caring attitude, empathy and willingness to help in any scenario make him truly unique and admirable.
"I can say my experience as a Falcon would not have been the same without his endless support," Siefker said. "I'm just one of the many students who has a brighter future because of this amazing man."