By DAVID DUPONT
BG Independent News
The rock band Mindless Matters has now played on both sides of the street just north of the intersection of Main Street and Court Street in downtown Bowling Green.
In the two years that Kameron Frankart, guitar and vocals, Joey Craig, drums, and Allan Landgraf, fretless electric bass, have been a working band, they've appeared on the iconic stage at Howard's Club H.
Wednesday night the trio of Bowling Green High School seniors, played across the street at the Wood County District Public Library, on the site where Howard's was originally located.
Mindless Matters did a set to support the Libraries Rock summer reading program. They performed a mix of classic rock tunes, a couple songs by Bob Dylan, and a number of originals.
They also urged those in attendance to head out to the Civic Music Club at 135 S. Byrne in Toledo to cheer them on Friday night (July 20) when they compete in the finals of the venue's Battle of the Bands. The show starts at 7, but the band isn't sure when they'll hit. The competition started weeks ago with 40 bands playing over the course of a number of nights. Now it's down to eight bands that will appear Friday and Saturday.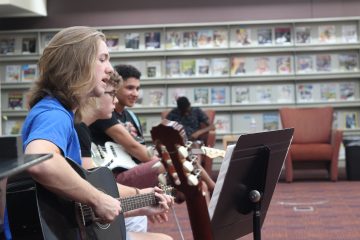 Mindless Matters stems from a time when Frankart and Craig jammed with another young musician they knew from school. When that trio didn't work out, Craig suggested they recruit Landgraf whom he knew from the high school jazz band.
The new combination clicked, but then Landgraf left town to spend a year in Austria with his family.
As soon as he got back, though, Mindless Matters started playing shows. That was two years ago. They've made the rounds of venues, including Grounds for Thought where they launched their four-song EP, the Black Swamp Arts Festival, where they will play again this year, and the aforementioned Howard's Club H. They also have a single making the rounds.
"We all love playing music together," Landgraf said.
Recently they've been entertaining at friends' graduation parties as an acoustic trio. That was the format at the library. Afterward, though, Frankart said the acoustic trio was a work in progress. They prefer plugging in. "It's nice to have some power behind you," the vocalist said.
They all draw on their interests from the older music they've heard growing up.
Craig noted his father was something of a Deadhead, and both he and Landgraf heard a lot of jazz.
At Wednesday's show, when Frankart stepped off stage to get some water, Craig slipped over to the library's Steinway grand piano, and he and Landgraf launched into an impromptu version of "Take the A Train."
He also played piano on an original song he'd composed.
He said he and Landgraf both consider themselves jazz musicians, and they work jazz-inspired syncopations into their rhythm work with Mindless Matters. Landgraf said they're also juicing up the chords with some jazz harmony.
Frankart does most of the songwriting. "I really like raw and meaningful songwriting, not just a few chords with easy lyrics." That reflects his admiration for Dylan "the king of meaningful lyrics."
That's not the case with the title, which he came up with because it sounded good.
While Frankart gets credit for the songs, the band collectively arranges them.
They rehearse a couple times a month in Craig's basement, which has become their recording studio as they start producing the band's first full-length recording.
All three plan to study music.  Frankart plans on majoring in music education, and Landgraf, who also plays saxophone, and Craig, plan on majoring in musical performance in both classical and jazz.
All three are considering Bowling Green State University with Craig keeping his options more open.
Regardless where they end up, they'd like to keep Mindless Matters a going concern.