By DAVID DUPONT
BG Independent News
Alishia McCoy was so moved by the faces staring at her from the photographs on the wall at Jerome Library, and by the stories that accompanied them, that she just had to tell someone.
She turned to the two men also looking at the display of images of refugees.
Those photographs made her reconsider her life. Attending Bowling Green State University from Cleveland, McCoy was very aware that most students here have more than she has. Many receive gift cards from parents, she has to work for everything she needs. "I could write a book about things that could be better," she said.
But here was the image of a woman who gets a kilo of beans and two tablespoons of salt every two weeks.
"These people have nothing," she said. "Literally only their bodies."
As it turned out one of the men was Tariq Tarey, who was a refugee himself and now lives in Columbus. His mission is to capture the stories and images of refugees around the globe.
These were his photographs.
And just a photograph inside the study room nearby could be of an older man from Brooklyn, not from a Greek refugee camp, so could McCoy or either of the men be the subject of one of the photographs.
All are humans.
"Refugee Stories from Three Continents" opened at the library as part of the Immigrant Ohio Conference held earlier this month at Bowling Green State University,
The photographs will remain on display through April in the first floor of the library, inside the study room adjacent to the Thinker's Café and on the wall outside.
Tarey is no stranger to the world. He was born in Mogadishu, the son of a Somali diplomat. He spent a good part of his youth in the Arabian Peninsula and in India before arriving as an asylum seeker in Columbus.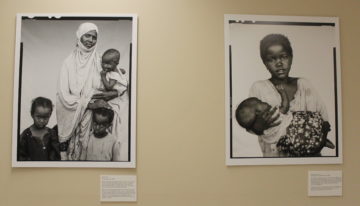 That's where he got involved in photography. He loved the craft, but more than just taking photos, he wanted to use his art to help people.
Tarey he said he was "jealous" of the way European immigration was documented, but little is known about new refugees and immigrants from Africa like himself.
At first that was documenting the Somali refugee community in Columbus, then to camps in east Africa and in Greece to visit others who have fled their homes.
He uses a 4 by 5 sheet camera and makes black and white prints. This technology, he said, dates back to the American Civil War, so he knows it will last. Digital technology comes and goes. He doubts the staying power of the millions of images on Facebook and Instagram.
He wants his work to last. He saves all the odds and ends from his travels, but the most important element are his photographic negatives.
He works with a camera decades old. So old, refugees suggest that they should collect money to buy him a new camera. He also carries a Polaroid camera. He uses that for reference prints and to have a photo to give to his subjects. "I never hold things back."
Refugees will invite him to share a meal with them. They want to hear his story as a Somali in America.
"This person is offering me everything they have. It's the most humbling experience you can imagine," Tarey said. "People who have the least offer you the most."
The living conditions are harsh in the camps he visited.
In Greece he traveled 2000 kilometers to various camps. The refugees have crossed seas, walked great distances, and evaded authorities. Now they are kept in old Army camps, along mountain sides.
Tarey said the winter weather in Greece is like it is in Ohio. Yet people, including children, live in tents with no heat. "It really is the roughest place you can ever imagine."
In east Africa, the temperatures reach 115 degrees and the air is filled with dust. "It is an extremely miserable life."
In the camps there's little access to education, and finding water or what few necessities are available requires walking for miles.
Still, he said, thanks to the United Nations High Commission on Refugees, the camps are safe.
Tarey does not linger on the squalor of the camps. The eyes and expressions of his subjects dominate each frame. They tell the story. The sparest details are shared on the cards. Those can be harrowing. People with nothing but the clothes on their backs, orphans left adrift in the camps, and girls afraid of being forced into marriages.
"I want you to get to know the refugees and know more about them," the photographer said. And he wants people who visit the show to talk to politicians about the positive impact refugees can have and "how they change our lives."