By DAVID DUPONT
BG Independent News
Walking north of the west side of North Main Street in downtown Bowling Green past the restaurants and bars, a sweet and fresh scent tickles the nose.
The source is evident a couple doors down at 157 N. Main the home of R&R Premium Bath Products. The new business has been open for several weeks with a grand opening set for May 21. Still someone in need of a last minute Mother's Day gift may want to stop down.
The shop is run by Joseph Heaton and Sarah Bail.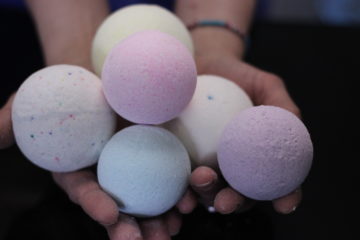 The mission of the shop is not only to provide products that make their customers clean, they also strive to keep Mother Earth clean and fresh as well.
Heaton said all their products are made from natural ingredients. Many of the products hand-crafted on site. An opening in the shop gives customers a peek into the workshop.
Bail, who graduated from Bowling Green State University earlier this month with a Bachelor of Science in ecology and conservation, oversees the materials used. Heaton and Bail moved here from Springfield, Ohio, four years ago when she started her studies at BGSU.
"Anything you can imagine using in the bathroom we'll have it," Heaton said. Bath bombs, including its original GloBomb, soaps, make-up removers, lotions, bubble bars, fizz sticks, and robes.
"Everything we sell here is either made here or made in the United States, all handmade," he said. That means finding suppliers who have the same quality standards that they do.
Heaton said he's devoted to selling, having started with DirectTV.
"I loved bath balms," he said, "but as a guy no one in the market sells a masculine scent or gender-neutral scent."
He and Bail want to show bath products "can be gender neutral while retaining the quality we want from a local company.
"We're just trying to bring back the local vibe and bring back a quality American product," Heaton said.
The shop's location downtown makes it accessible to college students, with later hours to fit their schedules. He said their pricing also makes their products affordable.
Their concern for the environment extends to minimal packaging – "we package our products naked," he said. Shipping is done in biodegradable packages.
R&R Premium Bath Products can be reached at 418-806-1197. Their web site is: rrbath.com and the business Facebook page is @RnRBath.
Heaton said that in the future they'd like to offer workshops in how to make bath products, spreading that clean scent throughout the town.