By JAN LARSON McLAUGHLIN
BG Independent News
The at-large City Council race in Bowling Green has pit two Democrats against each other in the primary election on May 7.
Council member Bruce Jeffers is asking to be returned to the governmental body, and Neocles Leontis is asking for a chance to serve.
The winner of the primary will not face a Republican opponent in the general election in November, since the Republican who filed for the seat, Adam Wilson, submitted an insufficient number of registered voter signatures on his petition. However, an independent candidate may still run for the at-large council seat.
Not up for election this year are two other at-large council members – Greg Robinette, Republican, and Sandy Rowland, Democrat.
Following are stories on where both of the at-large Democratic council candidates stand on issues facing Bowling Green.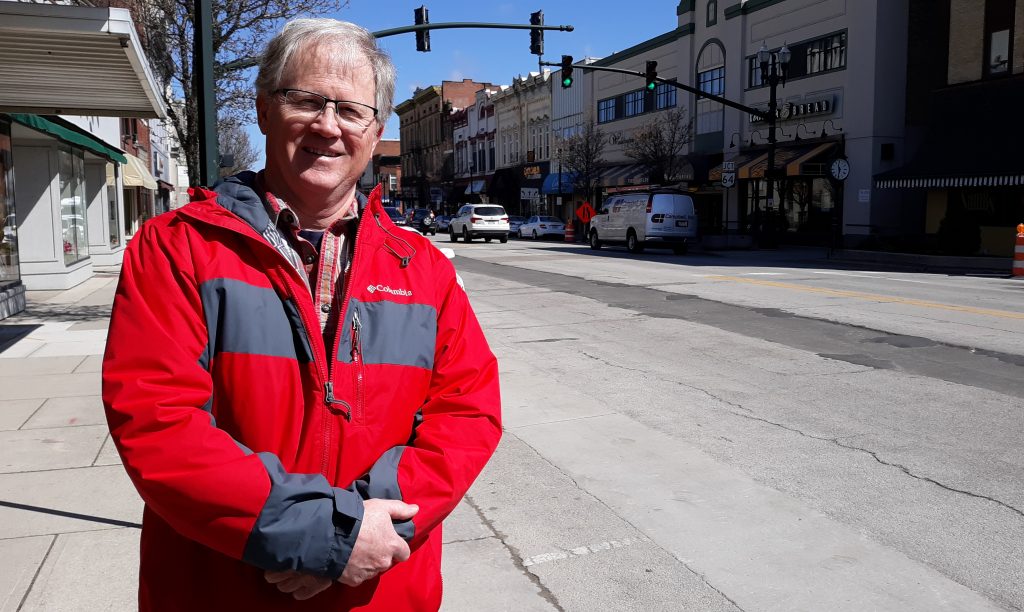 Bruce Jeffers, who has served eight years on City Council, knows that government seems to move too slowly for some. That deliberate style works well for Jeffers, who has taught geometry for 35 years at Otsego High School.
"I'm slow to make decisions," Jeffer said. He is comfortable with the process that may be too slow for some, but guarantees input from all. "Once I make the decision, I accept the fact that not everyone will agree. I can live with that."
Though Jeffers' position on most state and national issues is "fairly liberal," he realizes that doesn't always fit with local issues faced by City Council.
"When it comes to council issues, I have to remember that I represent everybody," he said.
"I'm willing to put the time into discussions and research, and listen to people," Jeffers said.
One of Jeffers' signature issues has been the "Welcome BG Initiative," which works to make the city a place that welcomes immigrants to the community. The initiative began not only with the belief that the city should be a place of inclusion, but also because of ongoing problems that local manufacturers have in finding employees.
"I was personally insistent that we didn't want it to be just a 'feel good' resolution," he said. The city needs to examine the ways Bowling Green can break down barriers for immigrants. That includes concrete steps toward helping people get loans, homes and jobs.
"There is not a line of immigrants wanting to come to Bowling Green," Jeffers said. "It will take a lot of effort. It's not going to happen right away."
Jeffers knows that the issues of development, city planning, and neighborhood revitalization have been discussed for years by city leaders. Multiple planning studies are pointing the city in the direction of healthy development along East Wooster Street, and strengthening residential neighborhoods.
"That has some real possibilities," he said of the most recent development study. Jeffers talked about the value of commercial and residential development being combined, and the possibility of some type of parking garage in the "ground zero" area of East Wooster and Manville streets.
But such development takes time.
"We don't want stuff thrown up that's cheap," he said. "We have to find the right balance."
The studies also point toward townhouses and condos.
"If we provided new housing for students, then they will not need subdivided homes," and those houses could possibly be turned back into single-family homes, he said.
Jeffers differs from his opponent about the issue of rental registrations of apartments. Renters already have the right to have their homes inspected and made safe.
"If today they are in a home they don't feel is safe, they can call the fire department and they will come inspect it," he said. The same can be said for inspections by the county health department and city code enforcement.
Though the author of the Community Action Plan recommended that Bowling Green require landlords to register their units and undergo inspections, Jeffers said that type of program has been successfully contested in court.
Instead of a mandatory registry, Jeffers favors a voluntary landlord registry, similar to the program in the area surrounding Ohio State University. The landlords whose properties undergo inspections are then placed on a list for renters to view.
On the topic of sustainable energy, Jeffers is particularly proud of the city's emphasis on renewable energy – which supplies 40 percent of the city's electricity.
The city invested in wind turbines, then recently added the largest solar field in Ohio. Now the city is working on building more solar power – this one a community solar array.
"That is pretty exciting," Jeffers said.
Bowling Green is doing its part in response to climate change, he said. "We're trying to think about our local response to that."
The city is also struggling with finances – especially since the state made sizeable cuts to local government funds. Some of those revenues are being restored, and the city should benefit from the state's new fuel tax increase.
"That will certainly help us with street repairs," Jeffers said.
And continued economic development growth will help boost the city's tax base as well.
"We want to stay financially stable," Jeffers said.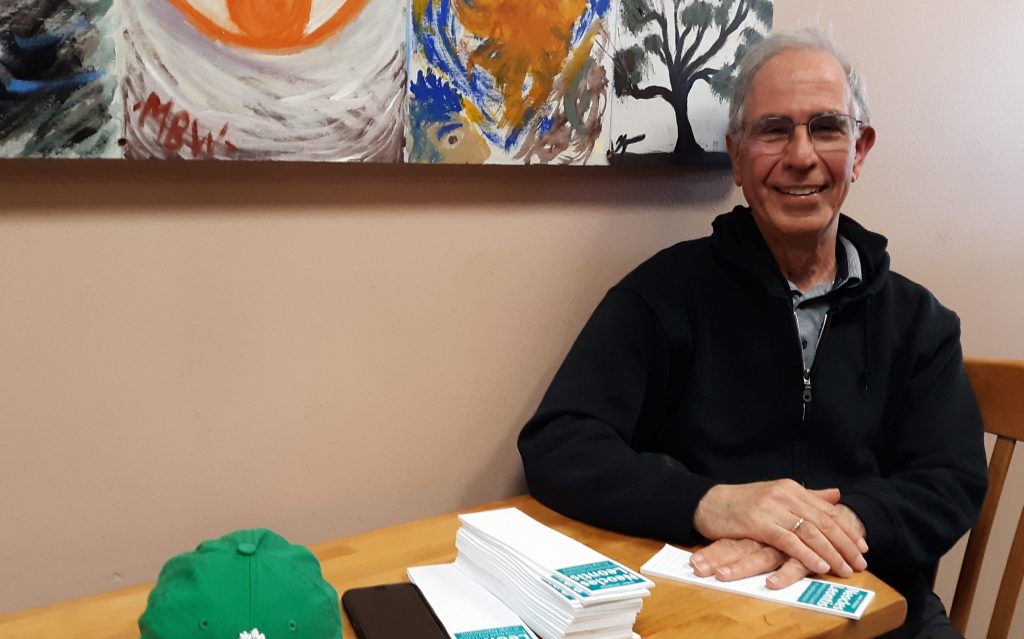 Neocles Leontis is frustrated with the slow speed at which local government moves.
"If you don't move forward, you get behind," said Leontis, who has been a full-time chemistry professor at Bowling Green State University since 1987.
"I'm running because I'm tired of seeing students and young families who have to rent being abused," he said.
Leontis believes the rental market is far less than transparent.
"I'm a great believer in the free market. But this is not a free market because information is hidden. People don't know if they are safe," he said, noting the lack of required inspections for rental properties. "We're just playing with fire by not dealing with this."
Some city officials are opposed to mandatory fire inspections of rental units, and a requirement that landlords put their properties on a registry. Some support a voluntary inspection program, and say that renters can call the fire department or health department if they want their apartments inspected.
That is not good enough, Leontis said.
"So when you go to a restaurant, do you call the health department before you eat," he said, noting that food establishments undergo regular inspections.
Rental units should be the same, he said. To those city leaders and landlords who insist that apartments are private, he disagrees.
"It's not a private property. It's a business," that landlords charge money for, Leontis said. He would like to study how other college communities handle the issue.
"Other towns have solved this problem," he said.
The rental property registry is not only important to students and young families, but also to long-time city residents who share their neighborhoods with rental units.
"This issue resonates with citizens," Leontis said, adding that many residents are unhappy with rundown rental properties in their neighborhoods.
Leontis wants to see the city set concrete goals for rental units and a timetable of when they will be accomplished.
Leontis also supports neighborhood revitalization efforts – but only if efforts involve updating homes' heating, electricity, insulation, and energy efficiency.
"I'm for revitalization if it includes all those things," he said. "It can't just be about image. Not just a new coat of paint on a house. Then we're just putting lipstick on the pig."
Leontis also believes Bowling Green can do better on environmental issues.
"We are blessed in Bowling Green that we have municipal utilities" that are committed to green energy. "We're real leaders in municipal solar power in Ohio."
But the city needs to work on its waste disposal system – which is sending too much to the landfill, according to Leontis. The city pays $40 a ton to dispose of trash in the Wood County Landfill.
"If we could reduce the amount we put in the trash, we could save" money and space in the landfill, he said.
"We aren't recycling glass and glass is heavy. That's nuts," Leontis said.
The city could also save money by collecting food waste, and doing a better job picking up yard waste. The compost from those items could be used by the city or sold to others, he said.
"None of that should go in the dump," he said of food waste that creates methane gas as it decomposes in landfills.
As for the plastic bag issue under consideration by the city, Leontis said he favors requiring a fee for single-use plastic bags, not banning them.
"The best thing is if people bring their own bags," Leontis said.
But the best way to impact climate change is to reduce greenhouse gas emissions, he said, and to do that the city needs to make sure buildings are adequately insulated.
Leontis would also like to see the city work on marked bike lanes, so people would feel more comfortable bicycling on city streets.
"We need to keep working on making our town more walkable, more bikeable."
Leontis is in favor of transit alternatives in the city, and fixing the underlying issues for families struggling to make ends meet.
"We need to think about how to improve life for everybody – from the bottom up," Leontis said.