By DAVID DUPONT
BG Independent News
Last week 87 students from the College of Musical Arts each had their eight minutes in the spotlight to vie for a chance to perform as a soloist with the Bowling Green Philharmonia.
The instrumentalists and vocalists were part of the largest field ever for the Competitions in Musical Performance at Bowling Green State University, said  Caroline Chin, who teaches violin at the school and coordinated the event this year.
In the preliminaries, the students performed for a panel of five outside judges. On Saturday, the eight finalists, four each in the undergraduate and graduate divisions, returned for a full reading of their selections, for a new panel of six judges.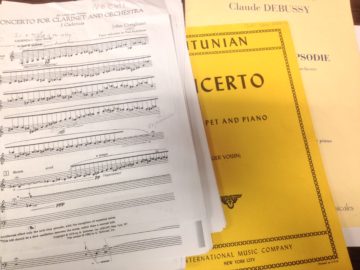 Those selected to perform on the Feb. 25 concert with the orchestra are: undergraduates Andrew Hosler, alto saxophone, and Zhanglin Hu, piano, and graduate students Kyle McConnell, trombone, and Caroline Kouma, soprano.
Also, Kory Reeder won the composition award for "The Location of Lines." The piece will be performed by the Philharmonia in October during the New Music Festival.
Rhys Burgess received the Virginia Marks Collaborative Piano Award. Burgess, a student of Laura Melton, performed with three students during the competition and all three were finalists, including Kouma.
Chin said the large field of competitors "shows the devotion of the studios to giving their students a lot of experience."
"For the competitors, it is a wonderful experience to learn what it's like to compete, to figure out how to deal with their nerves. Some students compete every year, and you see a lot of improvement."
The competition offers them a way to prepare for moving on to the next stage of their careers, whether juries for graduate school or auditions.
They also benefit, Chin said, from receiving comments from five, or if they make the finals 11, outside judges.
While other institutions have assigned pieces, or run the competitions for specific instruments, the BGSU event is open to all instrumentalists and singers, and they can freely select with their teacher what they will perform.
"It's a great opportunity for all students and faculty and BG people to hear such a wide range of instruments and repertoire," Chin said. "All the students have worked so hard. All got out in the preliminaries and did really well. The faculty and their studio mates were really proud."
In the past several years, contemporary pieces have dominated. While that's challenging for the orchestra, "they are up to the task," Chin said. "They always make it work."
Hosler performed a Concerto for Alto Saxophone and Chamber Ensemble by Walter Mays, which his teacher John Sampen commissioned in 1974.
Hosler said he saw a video snippet of Sampen playing the piece and asked him if it may be a possibility for him to learn. "He seemed super excited," Hosler said. "It's a cool piece."
Hosler is not new to the event. He was a finalist last year. "I like competition because it's a chance to perform. I like sharing music with an audience."
As it turns out the Mays' composition will be the sole contemporary piece on the program.
Hu will perform one of the warhorse of the piano literature, Beethoven's "Emperor" concerto.
Hu's teacher, Robert Satterlee, suggested the concerto, and Hu approves. He loves the "grand sound" that fits the concerto's name.
Earlier this year he won the Music Teachers National Association's Ohio Young Artist competition. "I want to push myself and challenge myself more," he said.
Though not as famous, the Ferdinand David Concertino for Trombone, performed by McConnell, is also one of the staples of that instrument's repertoire.
McConnell, a second year masters student studying with Brittany Lasch, said he's gotten extensive use out of the piece as he auditions with an eye to furthering his graduate education.
He also saw the competition as an opportunity to move to another level. This was, he said, the first time he perform a piece entirely from memory, and it will be the first time he gets to perform as a soloist with the orchestra.
As a member of the Philharmonia's trombone section, he enjoyed performing the concert last year supporting his fellow students who were soloing.
He looks forward "the chance to be on the front of the stage rather than in the back row."
Kouma, a first year master's student, worked with her teacher Sujin Lee, to choose a selection of pieces, arias by Dvorak, Franz Lehar, and Mozart.
Not many vocalists have chosen to participate in this competition recently, Kouma said, so she thought she'd give it a try. "I'm just looking for any opportunity I can find to get up and sing."
She also had high praise for her accompanist Burgess. "He's fantastic."
While a great player in his own right, she said, he's also very sensitive to the needs of his collaborators.
"It's a team effort," he said.  "You have more inspiration when you work with someone else."
He'll get further opportunities for that next semester when he participates in the Wayland Chamber Music Competition. He also anticipates participating in the Conrad Art Song Competition.
He did consider entering the Competitions in Music this year, but had too much on his plate. He is looking forward to competing in 2018.