By BG Independent News
Wood County voters joined the rest of Ohio in helping hand Ohio Gov. John Kasich a win in his race for the Republican presidential nomination.
On the Democratic side, Wood County voters gave more support to Senator Bernie Sanders, though Hillary Clinton captured the state overall.
Of Wood County's 89,280 registered voters, 36,640, or 41 percent, cast ballots for the primary .
Here is how Wood County voted in the primary election.
DEMOCRATIC BALLOT
President (delegates-at-large and alternates-at-large to national convention)
Hillary Clinton: 6,108 (45.76%)
Roque "Rocky" De La Fuente: 75 (0.56%)
Bernie Sanders: 7,165 (53.68%)
United States Senate
Kelli Prather: 1,628 (13.47%)
G. Sittenfeld: 3,006 (24.86%)
Ted Strickland: 7,456 (61.67%)
Fifth U.S. Congressional District
Justice of Ohio Supreme Court
Justice of Ohio Supreme Court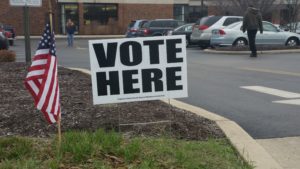 Second Ohio Senate District
Third Ohio House District
Sixth District Court of Appeals
Jack R. Puffenberger: 8,278
Sixth District Court of Appeals
Mark L. Pietrykowski: 8,697
Wood County Common Pleas Judge
Wood County Commissioner (term commencing 1/2/2017)
Wood County Commissioner (term commencing 1/3/2017)
Wood County Recorder
Julie L. Baumgardner: 9,232
Wood County Sheriff
Ruth J. Babel-Smith (write-in): 684
Wood County Treasurer
GREEN PARTY BALLOT
United States Senate
REPUBLICAN BALLOT
President (for delegates-at-large and alternates-at-large to national convention)
Jeb Bush: 74 (0.33%)
Ben Carson: 190 (0.84%)
Chris Christie: 31 (0.14%)
Ted Cruz: 3,718 (16.44%)
Carly Fiorina: 27 (0.12%)
Mike Huckabee: 49 (0.22%)
John R. Kasich: 10,968 (48.48%)
Marco Rubio: 638 (2.82%)
Rick Santorum: 16 (0.07%)
Donald J. Trump: 6,911 (30.55%)
President (for district delegates and district alternates)
Jeb Bush: 135 (0.63%)
Ben Carson: 343 (1.61%)
Chris Christie: 64 (0.3%)
Ted Cruz: 3,592 (16.89%)
Carly Fiorina: 64 (0.3%)
John R. Kasich: 10,003 (47.04%)
Marco Rubio: 749 (3.52%)
Rick Santorum: 43 (0.2%)
Donald J. Trump: 6,270 (29.49%)
United States Senate
Don Elijah Eckhart: 2,557
Rob Portman: 13,732
United States Congress
Chief Justice of Ohio Supreme Court
Justice of Ohio Supreme Court
Pat Fischer: 8,357
Colleen Mary O'Toole: 6,981
Justice of Ohio Supreme Court
Second Ohio Senate District
Third Ohio House District
Wood County Common Pleas Judge
Matthew L. Reger: 9,777
Corey J. Speweik: 7,865
Wood County Commissioner (term commencing 1/2/2017)
Wood County Commissioner (term commencing 1/3/2017)
Wood County Clerk of Common Pleas Court
Wood County Coroner
Wood County Engineer
Wood County Prosecuting Attorney
Wood County Sheriff
Wood County Treasurer
Issues on Wood County ballots
Perrysburg Way Library, renewal 1.5 mills with increase of 0.4 mills, for total of 1.9 mills, for four years. Yes: 4,935 No: 2,625
Eastwood Local School District, renewal of 1 percent income tax, for five years, for current expenses. Yes: 1,636 No: 1,436
Grand Rapids Township, replacement 2-mill levy for five years, for fire protection. Yes: 282 No: 203
Sunday sales of liquor at BG Eagles. Yes: 295 No: 113
Sunday sales of liquor at Billy Vs in Rossford. Yes: 355 No: 61