By DAVID DUPONT
BG Independent News
Miguel Hidalgo and Vicente Guerrero, heroes of Mexico's fight for Independence, are riding again, now in South Toledo.
The two are the central figures in a mural created by artist David Cuatlacuatl and students involved in the Bowling Green State University mural project.
Cuatlacuatl, a Mexican-born, Indiana-raised artist, was the guest for this year's project. He is the resident artist with the Sofia Quintero Art and Cultural Center. He's been at the center since last summer, but his connections extend further back.
He first visited when his brother Frederico Cuatlacuatl was studying for his Master of Fine Arts in digital arts at Bowling Green State University from 2013-2015.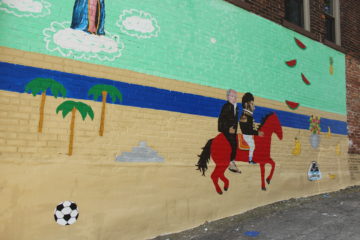 But David Cuatlacuatl was offered the opportunity to come to Toledo when the director of the Quintero center visited an artist-in-residence program that the Cuatlacuatl brothers co-directed in their native Puebla, Mexico. She offered him the position in Toledo.
Gordon Ricketts, the BGSU instructor who runs the mural project, knew his brother and approached him to work with a few students to create a mural as part of the summer project. (For a story on the mural project see http://bgindependentmedia.org/bgsu-students-paint-murals-to-animate-toledo-neighborhoods/)
So Cuatlacuatl set about designing a mural for a wall two blocks from the Quintero Center. It's on the back of the building that houses the food pantry run by the Immaculate Conception Church that's right across the street.
In the center he placed Guerrero and Hidalgo on a horse, and in a contemporary touch he has them wearing running shoes, the Nike swoosh evident on Guerrero's footwear.
The general's presence reflects the ethnic mix of the neighborhood, the artist said. He was of mixed African, indigenous and Spanish ancestry.
This neighborhood brought Mexican and African Americans together, Cuatlacuatl said, the result is mixed race families.
The use of logos reflects Cuatlacuatl's own interest in graphic design. Logos are packed with meaning, modern hieroglyphics. The logo for Jarritos, the Mexican soft drink evokes good times.
Cuatlacuatl said he hopes "because of these recognizable objects, it will help viewers "engage in the more complex history."
The objects reflect on the nature of crossing borders, he said. "Objects can go back and forth, but people not so much."
In the upper left hand corner, the Virgin Mary looks down from a cloud.
Even as Cuatlacuatl and BGSU students Kelsey Frysinger and Nick Purpura worked on the mural, residents would praise it.
"They're thankful we're bringing some color to the building, making the neighborhood more attractive," he said. But the impact of the mural is more than paint deep.
It lends "a certain bit of empowerment for the community," he said. "Most people in impoverished communities feel they are being pushed away"
They have few street lights, the sidewalks and roads are in poor condition. That's especially problematic in a community where many people rely on walking and riding bikes to get around.
The mural sends a different message, Cuatlacuatl said, "that there is importance to the space."
Cuatlacuatl has lived both sides of the border. He was born in Puebla. His parents moved to Indiana to work when he was about 5. For about four years he lived with his uncle and aunt.
That's where he got some of his earliest training in art. His aunt and uncle encouraged all the children, their own and their nephews, to pursue educational activities. They held little art contests that helped hone the children's skills.
At age 9, Cuatlacuatl was reunited with his parents in Indiana. Here art was incorporated into the school curriculum, he said. "That's not something we saw in Mexico."
Not knowing English, he gravitated toward math and art because they use a universal language.  "That made art more a go-to place, almost a shelter," he said. He wanted to become an architect, so he studied art, design, and physics in high school.
But when he graduated his family didn't have money for tuition. Because he didn't have the proper documentation to be in the country, he was ineligible for any sort of federal financial aid.
Still he applied to Ball State University. He submitted his portfolio School of Art. Based on the strength of his work, he was offered a scholarship to study art.
After Ball State, he went to Penn State to do graduate work.
Standing by the South Toledo mural, he says he knows of the murals of Mexican's Diego Rivera and Jose Clemente Oroszco (who also depicted Hidalgo), but says he doesn't feel any particular kinship to their work.
Cuatlacuatl said he confounds some people who tell him he doesn't dress like a Mexican or act like a Mexican. He doesn't know what that means.
He grew up, he said, in the middle of the United States.  That Indiana childhood shapes his vision as much as his roots in Mexico.
He only returned to Mexico last year, after 16 years in the United States. Then it was to visit the home his parents had built, their dream home, that is being converted into an arts center.
"I'm trying to find my voice as an individual artist," Cuatlacuatl said.
While he recognizes the important place of Mexicans in the history of the mural, his connection is more on the level of craft. Even if he were not Mexican born, "I would still feel a connection to the materials and the process, and not necessarily be tied down to an ethnic identity."