By DAVID DUPONT
BG Independent News
The year ended on the arts beat Saturday evening with a hello and a goodbye.
On one end of Main Street in downtown Bowling Green, friends and family gathered at Grounds for Thought to bid farewell to Tom McLaughlin Sr. who died Dec. 11.
McLaughlin, a Bowling Green native who returned to his hometown to retire, then lived most of his last year in Ireland, soaking in the music and dance, and memorizing the poetry of William Butler Yeats. In Bowing Green, he was an energetic promoter of the arts, and an artist himself. At the first Black Swamp Arts Festival he won second prize for one of his dollhouses. But as he explained in an interview before the 25th festival , he knew he couldn't produce enough work to sell at an affordable price, so instead he demonstrated his craft launching the Artist at Work feature at the festival.
Then he worked with Kay Baglione and Jacquie Nathan to chair the visual arts committee. Together they made the decisions that established the festival as a premier show on the art fair circuit. They ended the non-juried show, but also created the Wood County Invitational to insure that local artists had a place at the event.
He was a multidimensional character as explained by those who spoke at the memorial. He was presence around town. He walked everywhere, a habit he continued in Ireland.
Down the street at Howard's Club H, local music fans welcomed back Joe Baker to the scene.
He wryly noted he'd been on "vacation," or as he told BG Independent on a tour of Northwest Ohio hospitals. He's bounded back from his serious heart issues.
He and the band first played last summer in City Park, but there was something particularly poignant about being back in Howard's where he's played for so many years with so many different bands. On Saturday he had his electric guitar in hand. And the crowd was there to support him. Several couples split their attentions with one spouse attending the memorial while another came to cheer on Baker. That included the Bakers. Peg Baker came into her husband's show late having been at Grounds. Baker's long-time bandmate Bob Manley, who plays saxophones, flute, and keyboards, offered up a toast to Peg Baker who was there by her husband side throughout his illness and recovery. Manley has been there for Baker as well. Manley has played with Baker dating back to the late 1970s with Hardy's Live Band. The same could be said for a number of listeners in the crowd.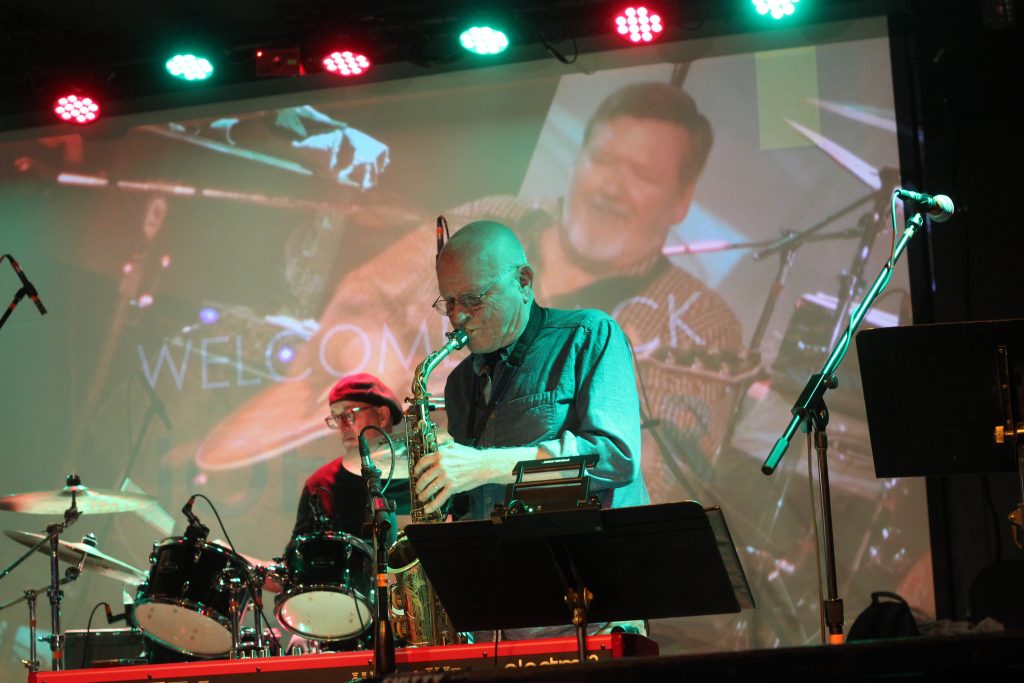 The band that also included veterans Tim Stubbs, drums, Tim Berry, bass, and Denny Gwynne, lead guitar, delivered a solid set of rock, folk rock and country covers. Those included favorites including Lyle Lovett's "She's No Lady (She's My Wife),""Carey" by Joni Mitchell' and "Tupelo Honey" by Van Morrison. 
The band welcomed some guests to the stage, including pianist Michael Peslikis, singer Deb Weiser, club owner Steve Feehan on keyboards, and singer Anne French. It all added to the hometown party atmosphere. If anyone in the house didn't know everyone, there was certainly only a degree or two of separation.
The crowd included Santa Claus, incognito of course. Asked about Weiser's "Santa Baby" with its wish list of numerous luxury items, he said he was listening, but she probably shouldn't count on the convertible.
The fans who filled Howard's Saturday night knew they could count on Baker and his band to deliver a night of good time music. It was a fitting way to wrap up a year filled with music.