By DAVID DUPONT
BG Independent News
During a season when the temptation is stay bundled up at home, Bowling Green's Winterfest BG Chillabration gives folks a reason to brave the cold.
On Saturday afternoon, visitors could alternate between experiencing the chill as they strolled through the ice sculpture garden or ride around the downtown in an open horse-drawn trolley. They could warm up in the heated Chillabration tent where bands had started performing mid-afternoon, or view high school art work on display in the Four Corners Center.
Another option was to stop for a bite to eat at a local restaurant or do some shopping.
Aaron and Molli Blachuta had done a bit of all of that. The event gave the couple and their 19-month-old son Blaiden "a change to get out of the house and give the little man a walk," the dad said.
Molli Blachuta had seen an announcement on Facebook. "It's always nice to find something we can take him to." That's harder to do in the winter. They also ate lunch at Sam B's before taking the carriage ride. They were going to stop into Ben Franklin before heading home.
Jayan Karunarathna, a doctoral student in photochemical sciences from Sri Lanka, said he likes coming downtown for any of the events, whether Winterfest or Black Swamp Arts Festival.
Winter events are especially appreciated. He checked out the ice sculptures created to advertise local businesses and services. He said he was going to go back to campus and bring friends down to hear more of the music in the Chillabration tent.
"I think it's good to have things like this … so people can hang around and meet new people," he said.
Earlier in the day the tent had featured about 10 vendor tables. The fair was an innovation in Winterfest's 10th year. By 4 p.m. it had been transformed into a music venue with Ginger and the Snaps the opening act for a lineup that would run until 11.
Up front, beer and wine were being served at a bar fashioned from blocks of ice.
A couple visitors had come intent on hearing The Snaps.
Char Brock had come from Toledo. She wanted to see Ginger and the Snaps, but had also appreciated the ice sculpture and the high school art. "It's a great idea because it brings people out and brings people together to see things you don't normally see."
Kathy Wittman was looking at the high school art. "They're so creative," she said. Wittman appreciates the diversity of work exhibited.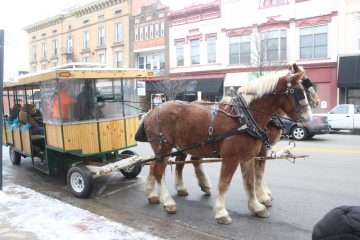 On her way to the tent, she planned to walk down on the other side of the street, to look at the school art displayed in shop windows. "I think it's a great celebration. It gets people out. I try to come out every year." She appreciated that the weather cooperated – in some years the ice sculptures melted in unseasonably warm weather.
"It's nice to have some snow on the ground. It gets you in the mood."
Mary Hinkelman, of Downtown Bowling Green, one of several sponsoring organizations, said she was pleased with the response. The tent filled up quickly. She'd also heard positive comments from local business people about the Chocolate Stroll held Friday night.
"During months when nobody comes downtown it brings people out," said Jeff Smith, a Bowling Green business proprietor. "It helps the restaurants and retail shops and gives people something to do."