By DAVID DUPONT
BG Independent News
The name Ben Franklin is a thing of the past on Main Street, Bowling Green. What that name represented, though, lives on under another moniker, Ben's.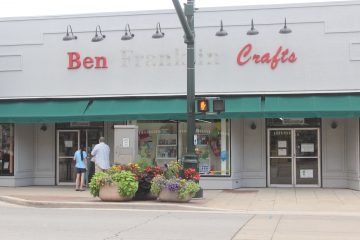 "That's what everyone calls it," said owner Floyd Craft.
Ben Franklin Crafts has been a fixture in downtown for 42 years, since Craft and his wife, Charlotte, brought their young family to town to buy and operate a Ben Franklin franchise.
For many years though, the only connection to the chain has been the name – a privilege Craft had to pay for.
Back in those early days the iconic American chain was a going concern. It served as the wholesaler for stores as well as providing business services such as accounting and insurance for store owners.
All that changed in 1996 when Ben Franklin went into bankruptcy, the first of a series.
While that was fatal for many of the stores, especially smaller, more rural operations that relied on the chain for its stock, the Craft family's business continued.
Craft said Tuesday that he realized soon after opening his store that he couldn't solely use Ben Franklin as a wholesaler. He said he realized he was paying more to Ben Franklin for some items than his competition Rink's Bargain store was selling them to customers.
Now with Ben Franklin having its third owner since the bankruptcy, Craft decided it was time to change the name. So he notified Ben Franklin that he would not renew, and in June the Franklin disappeared from the store's front, leaving Ben, a shadow of Franklin, and Crafts.
The problem is the name doesn't mean anything to anyone under 50, Craft said. Maybe a college student's grandma will know what it is.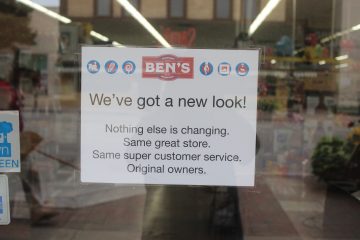 The new sign was designed by Amy Karlovec, who is known for her many award-winning posters for the Black Swamp Arts Festival. Flanking the name will be icons letting customers, especially younger customers, know what the store sells.
That merchandise has changed over the years. The store no longer sells underwear. Changing with the times is what kept Ben Franklin a going concern, shifting stock based on customer demands and the competition.
Craft said he was conservative in running the operation making sure to pay off his debt as soon as possible. That helped him weather the tough times. Owning the building is also important.
Craft who worked for WT Grant before opening the Bowling Green store, has seen a lot in his 62 years in business from hula hoops to Beanie Babies.
Nothing, he said, compare to the Beanie Baby craze. The Ben Franklin store would sell $25,000 in Beanie Babies in a day.
Craft's daughter, Amy Craft-Ahrens who was working in Chicago at the time, gave him a heads up on their growing popularity. They sold so many, Craft said, when Craft-Ahrens returned to Bowling Green to start For Keeps, they were able to pay for the inventory for the new shop.
But the craze had its drawbacks. Craft said he remembers collectors fighting in the store over Beanie Babies. When Princess Diana died and a memorial Beanie Baby was created with each store allotted only a dozen, Craft didn't want to deal with the frenzy, so he donated them to the American Cancer Society, which sold them in an online auction for several hundred dollars each.
The store still carries Beanie Babies, though now they're viewed as what they are, a plush $5 toy. In recent years the store has expanded its toy department, as well as opening up a fabric and yarn annex, The Busy Thimble.
While crafts was in the name, the store exited that market when Hobby Lobby opened. Now with Hobby Lobby is gone, Craft said he's added some craft items back into the mix. How much is still a question. The demand's not great, but "we like to serve the customer," Craft said.
That doesn't change no matter the name over the door.