By JAN LARSON McLAUGHLIN
BG Independent News
The Bowling Green women piled into an SUV Thursday afternoon and headed for Detroit to be part of a national protest against a U.S. policy they called inhumane.
The numbers aren't exact, but it's been estimated that nearly 2,000 children have been separated from their parents at the U.S. border with Mexico in the last six weeks. The Trump administration has said it is simply following the law. But opponents say there is no law requiring that children be taken from parents who are seeking asylum in the U.S.
"This is immoral," said Janet Parks as the Bowling Green women headed up Interstate 75 in Tom Baer's BG Airport Shuttle.
Parks was joined by Joan Callecod, Beatriz Maya, Debra Nicholson, Sandy Rowland and Amanda Schackow – a retired educator, accountant, realtor, retail manager, writer and community advocate.
"I'm ashamed of what our country is doing by separating families," Rowland said.
For some, the protest was personal.
"I know several people who came here as asylum cases," Schackow said. "Thinking about their children being taken away is really horrific."
As the SUV continued north, the women talked about tango classes, knitting, travels and food. But the conversation kept circling back to the injustice of children being separated from their parents.
"I keep thinking about the trauma the children are going through," Callecod said.
"These are people. These are not animals," Nicholson said.
Maya, originally from Argentina, finds it hard to fathom the harm caused by the separations.
"It is unbelievable that somebody can do this. It's the most horrific thing," Maya said.
These families seeking asylum in the U.S. have made great sacrifices getting here – many trying to escape life-threatening situations, she said.
"I went through a dictatorship in Argentina. It is already frightening to be an immigrant," Maya said. "Do you know what it is to lose your kids to foster care and never know what happened to them?"
The Bowling Green women joined about 300 other protesters outside the gates of the immigration detention center in Detroit. As they lined Jefferson Street and encouraged vehicles to honk, the protestors held signs saying things like: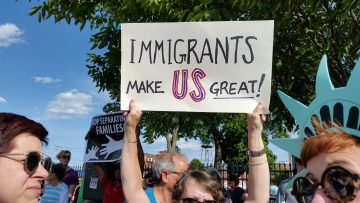 Immigrant rights are human rights.
No more families torn apart.
Hate does not make U.S. great.
We've seen this before (with a Jewish star.)
Nazis also took children away.
Compassion not cruelty.
Unless you are a descendant of Crazy Horse, what right do you have to be anti-immigrant.
Family separation is not an American value.
Families belong together – Sincerely, a pediatrician.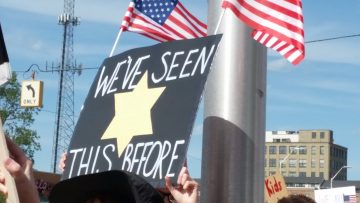 There were older people with walkers, younger people with strollers, and families with children holding homemade signs. There were people still in their business clothes, like the man in a shirt and tie with a sign saying, "Don't steal children."
"I see a cross section of young, middle-aged and older. Black, white and brown," Rowland said. "The messages are similar. They don't want the separation of children."
The crowd joined in chants like, "No fear, no hate. Do not separate," and "Love not hate, makes America great."
Immigration problems have long plagued the U.S., but never before have parents seeking asylum at the southern border been immediately imprisoned and children placed in detention centers. In one Texas community, an old WalMart store has been transformed into a warehouse child detention facility, and talks are underway of creating "tent cities" on military bases.
"It has been known for quite some time that there is a need for immigration reform," Nicholson said. "Our country as a superpower has the capability of doing so much good in the world."
"We have so much brain power in this country – couldn't we have thought of something better," Parks said.
U.S. Attorney General Jeff Sessions has changed the interpretation of immigration rules so that people trying to escape domestic abuse or gang violence no longer qualify for asylum. Political persecution still qualifies as criteria for asylum.
"This is persecution," Nicholson said of the current process of splitting families. "I think what we're doing is persecution."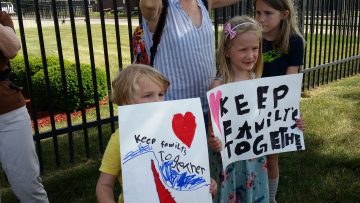 Flipping through her phone, Nicholson pulled up a clip of Trump's spokesperson Sarah Huckabee Sanders taking questions earlier in the day about Sessions' recent statement that separating children from parents is "Biblical" since it follows the law. Sanders repeated the assertion. "It is very Biblical to enforce the laws," she said.
That unleashed a howl of indignation from the vanload of women.
"That's so hypocritical," Parks said. "We say we're a Christian nation. We say we take the huddled masses."
As she stood with other protesters, Rev. Jill Zundel, from a United Methodist Church in downtown Detroit, was disturbed by the comments made by Sessions and Sanders. She suggested that there is a higher law than those being followed.
"We can pick and choose what we want," she said of the attempt by Trump officials to quote scriptures.
And she reminded that Jesus himself was a law breaker. The Bible tells of him healing on the Sabbath and flipping over tables in the temple.
The Bowling Green women talked about their travels and the disbelief from people of other nations.
"Every time you go abroad it's just embarrassing," said Callecod, who recently returned from Iceland. Her daughter, who lives in Austria, gets the same bombardment of questions about the Trump policies.
Thursday's protest included some speakers, including Sandra Gaytan-Tinoco, of the Detroit Hispanic Development Corporation. She has a son who will soon be turning 2 years old.
"I can't imagine anyone trying to take him from me," she said.
Gaytan-Tinoco was 9 years old when she was brought to this country. She is now a naturalized citizen.
"This is not who America is. This does not represent our values," she said. "We need human rights watchdogs to stand up for people."
Gaytan-Tinoco referred to the separation of children from their parents as a "humanitarian crisis."
"It's really just a soft ethnic cleansing," she said.
Also speaking was Michigan's Democratic gubernatorial candidate Abdul El-Sayed. Immigration, he said, has made this country great. If elected governor, he vowed to stop any state offices from working with Immigration and Customs Enforcement to arrest immigrants.
And Adonis Flores, of Michigan United, spoke of his brother, who was deported last year.
"Most immigrants can lose their lives if they are deported," he said.
Rather than continuing to rally outside the immigrations office in Detroit, Flores suggested that protesters need to take the fight to other areas – specifically to the posh neighborhoods of the people in charge of the Detroit ICE office.
"We need to continue fighting together like we are today," he said.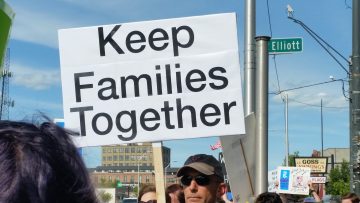 The women in the Bowling Green group are becoming accustomed to protesting in the last couple years – for women, choice, immigration – as they see rights being chipped away.
Nicholson said she keeps a large photograph of a crammed boat carrying refugees from Syria – searching for any country that will allow them in.
"I have it on my dining room table to remind me what is going on in the world," she said.
Five years ago, Maya and others created the LaConexion organization to help lessen the isolation felt by many Latinos in Wood County.
"We made a lot of progress," she said.
Then this "zero tolerance" immigration policy went into effect.
"This has been like a bomb. It took us back," Maya said. "People are afraid. It's a community of fear."
As they arrived back in Bowling Green, the women had already talked about the next rally they hoped to attend. The next time they will hold signs, shouts chants and try to make a difference. This has become their new normal.