By DAVID DUPONT
BG Independent News
For some of those participating in the Community Action Poverty Simulation at Bowling Green State University being poor is no simulation.
"This isn't new to me," said KJ Ashford, a student who grew up in Detroit.
For the simulation, the undergraduate was depicting an elderly man, but he knows the sting of not having enough from childhood.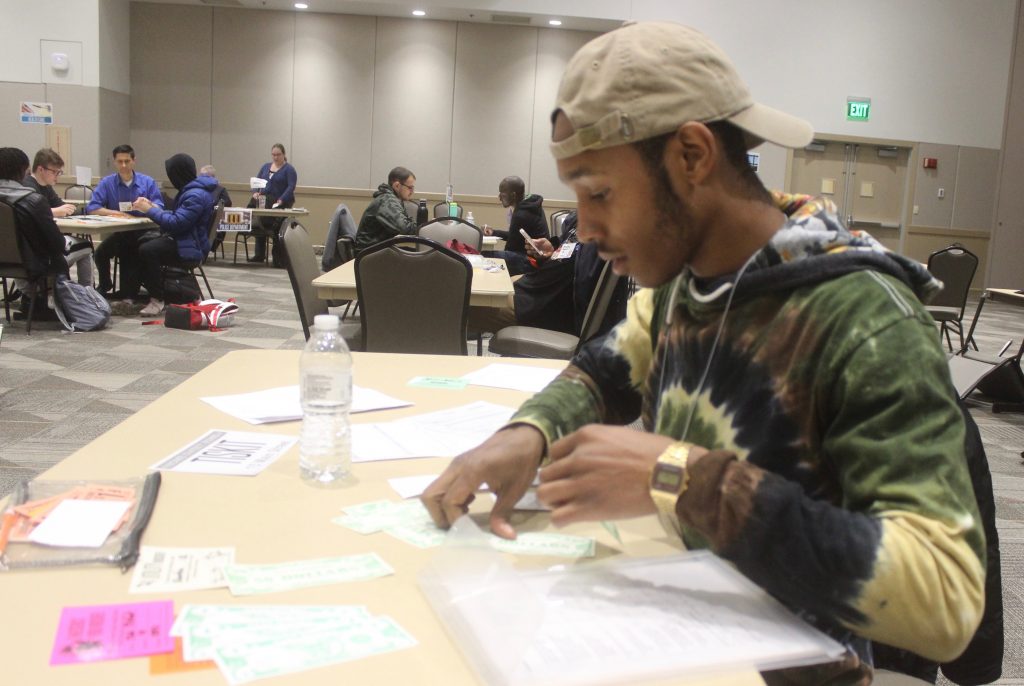 The simulation took participants through four weeks of being poor. They were assigned specific roles and to specific families. Around the conference room in Olscamp Hall, tables were set up representing   the various agencies and businesses they had to interact with in order to live — a social service agency and a pay day lender, a grocery and a pawn broker, a school and a police station. At the sound of a bell the subjects had just a few minutes to get everything they and their family needed to survive. Those serving in the roles as service providers were instructed not to go out of their way to be helpful, or even civil.
The roles may have been make believe, but the issues are real, as Ashford and others could testify.
According to V Jane Rosser, director of the Center for Community and Civic Engagement on campus, the simulation is intended to provide participants "with an opportunity to walk a mile in the shoes of those facing poverty."
Justin Rex, a political scientist, worked with the center to acquire the simulation kit, which is free. Other similar programs charge for the kits.
The Monday event was a pilot run for the simulation. The center is hoping to be able to offer it to other civic and business groups in the community.
Rex said they will train those wanting to use the kits.
He had the 25 students in his Politics, Policies, and Poverty class, including Ashford, participating. Other students were also recruited.
"Some of them may not have experienced poverty on their own, so for them this is part of the learning process," Rex said.
In the classroom, you can learn all the facts and statistics but "getting a sense of the lived experience is important," he said.
This gives the students some sense of the difficulties and challenges people living in poverty face.
For Ajsha Reddick, who was playing a social worker, these are difficulties she grew up with.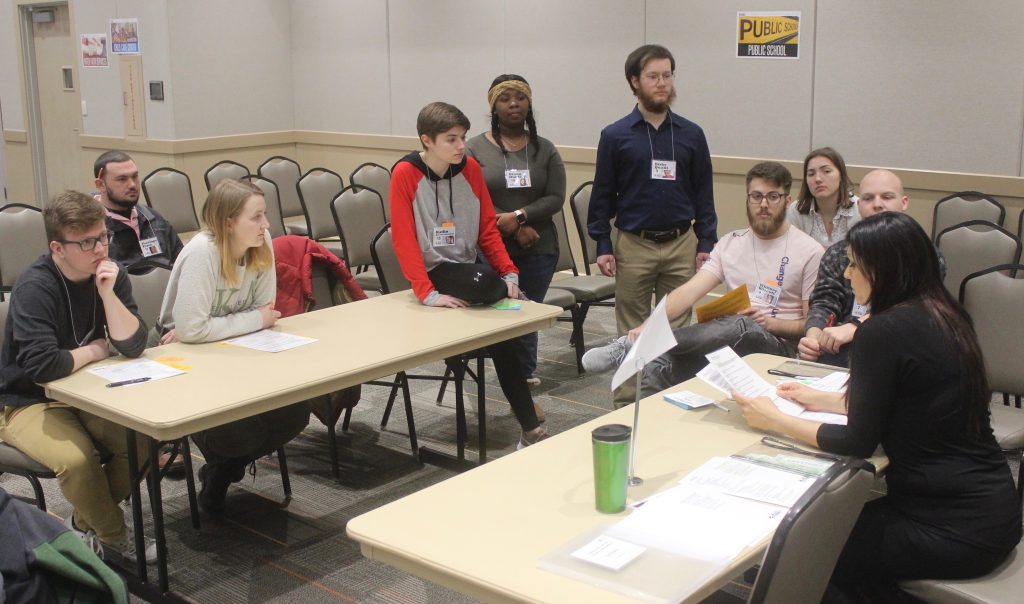 While a simulation can't capture every detail, this experience does give a good representation of the stresses many people face, she said. "This is a reality. That's not how it was discussed in class. This is not how it's supposed to be. This is how it is."
Not having enough money is a constant, said Reddick, who is majoring in criminal justice with a minor in sociology. "You have to work two or three jobs. You can't go to certain appointments that are mandatory for you to go to. It brings to light the big issues that come from living in poverty, not having access to the things you need, even though you desperately need them.
"You have kids to feed. You have to take care of certain individuals in your household, for example, an elderly parent, and you're still trying to make ends meet by going to work."
Then there's making sure kids get to school. "You only have so much time to do the things you have to do, and it's already hard for you as a person who is living in poverty."
Reddick said the simulation puts all this on a scale "where they can just live it without feeling the complete harshness of it."
At the end of the exercise, she said, people can debrief and talk about what they've experienced.
Rex said he hopes, based on what students learn, they can "think about those ways they can make a difference."
"We'll suggest some resources for either direct service or advocacy," the professor said. "Hopefully this will develop some emotional connection that will push them to take some action outside the classroom."
"You hope it sticks with people," Ashford said. "Because I know it's kind of easy to enjoy because we're in a big room with our peers. So it's kind of fun, but this is real life for some people."