By DAVID DUPONT
BG Independent News
The opening of the annual Undergraduate Exhibition is one of the busiest days for the galleries at Bowling Green State University.
The annual exhibit features work by 100 artists, and the awards ceremony draws a large contingent of family, friends, fellow artists, faculty, and staff. Sunday's opening was no exception.
For Charles Kanwischer, the director of the School of Art, the turnout is fitting. Harking back to the first time his work was shown, he said, this is a milestone in these young creators' careers.
"To win a prize, to be acknowledged some way, is to start believing in yourself, and that's the most important function of this show," Kanwischer said.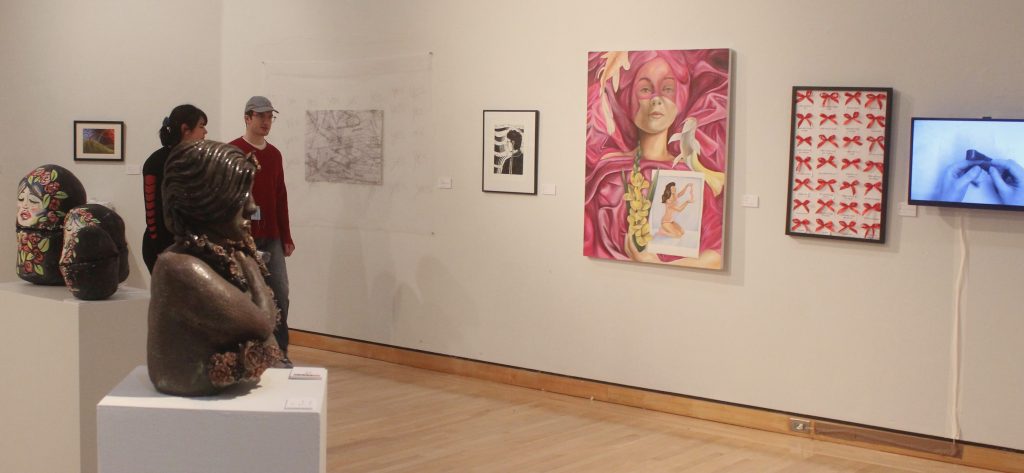 There were many awards — some determined by faculty, and five determined by the panel of three outside jurors.
Yuna Ahn, a junior from Perrysburg, won the Medici Circle Best of Show Award for her painting "I Swallowed the Red Pill," which was also selected for first place in painting.
Also honored by the jurors were:
Jacob Church, Main Street Photo and Portrait Studio Award, for his photo "Slide."
Trent Clayton, Marietta Kirschner Wigg Print Award, for his print "South Michigan Ave."
Chloe Arch, Ringholz Art Supply Award 2D, for her drawing "Autism 6-8th."
Hannah Zitzelberger, Ringholz Art Supply Award 3D, for her jewelry "Cicadas."
(Click to see a full listing of awards.)
Best of Show honoree, Ahn said she relies on art to tell her story. A native of South Korea, her family moved to Perrysburg seven years ago. Her English isn't fluid enough to convey her ideas. "I'm always struggling to communicate. I can express myself truly through my art."
Her painting speaks volumes.
"I Swallowed the Red Pill" has layers of imagery. The painting employs a popular ancient Korean painting as the background to the scene, just as the painting appears in many restaurants in Korea.
That traditional painting, she explained, shows two men spying on a woman bathing outdoors. Ahn connects that to the problem prevalent in Korean of social media voyeurism using spy cams.
The title of her painting is a reference to the "Matrix" movies. The red pill makes you see the truth, Ahn said, and that's not always pleasant. "It's going to be something you don't want to know, but it'll be the truth."
In the foreground is a double self-portrait of the artist. In one, the figure is staring at her cell phone. Is the truth there? Maybe, the artist answered. But there's also fake news. One figure is cutting her long hair. The other, her hair already shorn, is lifting the red pill to her mouth with chop sticks.
Since she was a child, Ahn has loved creating art. Her parents did not want her to study art in college, but she applied to the School of Art and was accepted. Now her parents support her work, she said.
What she can look forward to beyond graduation from BGSU is uncertain. She is not a citizen and does not have a green card, so she will have one year to either find a job or enroll in graduate school. Otherwise she will need to return to Korea, which she would prefer not to do.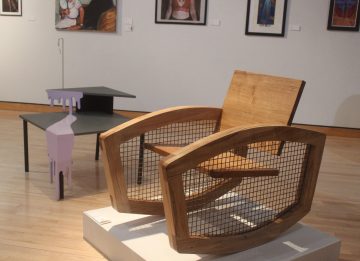 Downstairs Moira Sams, who also attended Perrysburg High School, was talking to two people she'd never met before about "Bonding," which won the first place in sculpture. The piece is a rocking chair with a rounded and contemporary style.
Sams is an art education major, so she's required to make the rounds of different disciplines. She took advantage of being in the sculpture studio to do something she'd always wanted to try — work in wood. Her father works in wood, she explained.
This was the first of the two projects she did for the class. This was the project she spent the most time on.
Sams said she was uncertain if she'd get a chance to have students work in wood once she starts teaching though the idea of using recycled wood is appealing.
She certainly hopes to bring some of the rigor she discovered in art school to her teaching, Though she came from a good art program, she was surprised by how little she knew about contemporary art.
For now, she's proud of what she's accomplished in "Bonding." She'll be submitting images of it for publication in arts magazines.
What she won't do is sell the chair. She hopes someday to pass it on to her children, and for them to pass it down. This is an heirloom.
***
The Undergrad At Show continues in the galleries in the Fine Arts Center through March 3. Gallery hours are Tuesday-Saturday 11 a.m. to 4 p.m.; Thursday, 6-9 p.m.; and Sunday 1-4 p.m.