By DAVID DUPONT
BG Independent News
Saturday morning, the trumpet called and about 100 vocalists and instrumentalists gathered in St. Mark's Lutheran Church in Bowling Green to put the final touches on the J.S. Bach Cantata "Ein feste Burg ist unser Gott."
The familiar strains of "A Mighty Fortress" rang out, with voices entwined in harmony, bolstered by trumpet flourishes.
The jubilant sound was fitting for a celebration. The University Choral Society will join the St, Mark's Adult Choir and university soloists and instrumentalists for a presentation on the cantata Sunday at 4 p.m., at the church to mark the 500th anniversary of Martin Luther's declaration of his 95 theses, the central event in the Protestant Reformation. The anniversary is Tuesday, Oct. 31.
Luther was also a prolific composer of hymns, the most famous being "A Mighty Fortress."
"You just can't let a big anniversary like that go by without observing it," said Mark Munson, of Bowling Green State University and director of the University Choral Society. "Bach was one of the great church musicians of the Lutheran church. We have a big active Lutheran church in town, so here we are.  It's a perfect marriage of a great piece of music on a special day."
The concert will open with a contemporary setting of "A Mighty Fortress" set by Nancy Raabe. She employs the original rhythm, Munson said. "The way we sing 'A Mighty Fortress' in our churches now does not swing quite the way it did back then. …  So the contemporary setting uses the original rhythm and is modern sounding."
The choir is accompanied by organ and trumpet, played by Brian Bushong.
Organist Michael Gartz will play a choral prelude by the 20th century organist Helmut Walcha. Then Kevin McGill, the church's director of music, will perform Bach's organ prelude based on the hymn.
The cantata will feature soloists Hillary LaBonte, soprano; Ellen Scholl, mezzo, Christopher Scholl, tenor; and Lance Ashmore, baritone, and a chamber orchestra of BGSU students.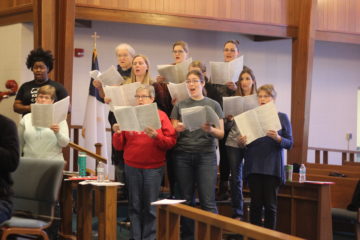 Orchestra members are: Kurtis Parker and Ben Silberman, violins, Amory Fout, viola, Octavio Kavakama, cello, and Thomas Morris, Jana Kilova, and Samantha Carr, oboes.
Munson, who was one of the founders of the choral society, said that such performances fit with its mission of giving singers from the community the opportunity to sing great choral literature and to share those performances with the community.
Last spring the choral society presented Bach's St .John Passion in two area churches.
The core of the society's mission, though, is to perform large scale pieces with orchestra. It has performed "Messiah" eight times with the Toledo Symphony Orchestra and has done Carl Orff's "Carmina Burana" with that orchestra as well. On campus it has performed Stravinsky's "Symphony of Psalms," Verdi's Requiem, and other major orchestral masterworks with the Bowling Green Philharmonia.
This spring the choral society will join the Philharmonia to perform Brahms' Requiem.