By DAVID DUPONT
BG Independent News
Jed's, home of chicken Fireballs, has flamed out in downtown.
Still the owner of the Millikin Hotel building on downtown Bowling Green's Four Corner is confident he'll find a new tenant for the former Jed's space.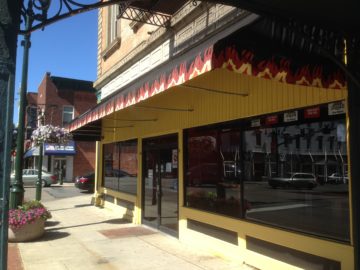 The sports bar and grill closed for business on Monday. A call to the owners has not been returned.
Bob Maurer, who owns the building, said all he knows about why the business closed is "just economics."
The Jed's restaurant in Perrysburg remains open.
"Any time you lose a tenant you want to know what happened, what you could have done to avoid it," Maurer said.
"It's a good spot. Somebody's always looking," he said. "Some people's problems are another person's opportunity."
He expects that given there's been a restaurant in that spot for well over 10 years that another eatery is the most likely option. Maurer expects to have it filled in "four to six months."
Overall Maurer said downtown Bowling Green "is doing extremely well." He said that compared to Fremont or Napoleon, or even Findlay, Bowling Green's downtown is thriving.
He praised Mayor Dick Edwards and Sue Clark, the executive director of the Community Development Foundation, for their efforts.
The Jed's space in the second vacancy to open up on the Four Corners in the past two months.
The Mosaic Consignment shop, which sits kitty-corner from the former Jed's, closed in May. But that space is already undergoing renovation as another business prepares to occupy it.