By DAVID DUPONT
BG Independent News
For Finders Records having a vintage-theme t-shirt made in the store's honor was a perfect fit, especially when shop owner Greg Halamay decided the store's share of the profits would benefit Downtown Bowling Green.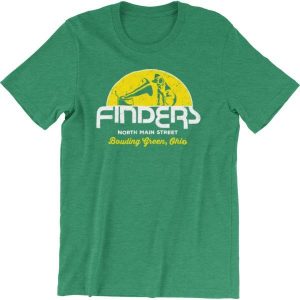 The shirt will be created by BG Memories, a local spirit ware company founded by Ryan Fowler and Kevin Goldner, both 2003 Bowling Green State University graduates.
As of midnight, the green and gold shirt can now be ordered. Ordering will continued through Sept. 9. Laura Fredericks, manager of Finders, said it hasn't been determined whether they will be available after that.
Fredericks is a faithful customer of the company's shirts that offer designs celebrating aspects of BGSU life, including the now-gone Harshman Quad and its dining hall. Local businesses, current, Campus Pollyeyes, defunct, Mark's Pizza Pub, and somewhere in between, the Corner Grill, also have their own BG Memories attire.
When BG Memories approached Finders, Fredericks and Halamay had a rather short conversation, he remembers. The decision was to go with the shirt and donate the store's share, which probably will be in the neighborhood of $10 a shirt, to the Downtown BG.
Halamay serves on the board of the special improvement district. "Everything the SID does downtown contributes to the health and well-being of our retail operation."
That includes clearing snow in the winter, hanging flowers in warmer weather, and sweeping sidewalks year round.
It has sponsored the local Farmers Market and worked with the independent groups that stage the Black Swamp Arts Festival and Firefly Nights.
Many people, he said, assume that what the SID does is paid for by the city. Downtown BG's activities are funded through a special tax levied on property owners, who voted it in. Downtown BG also gets private donations. "As a property owner, a business owner, I thought it was a good idea and very, very appropriate" to donate the proceeds to Downtown BG, Halamay said.
The shirt will be distinct from Finders' own classic t-shirts. Those shirts, designed by Tony Duda, have been around with a few tweaks for about 35 years.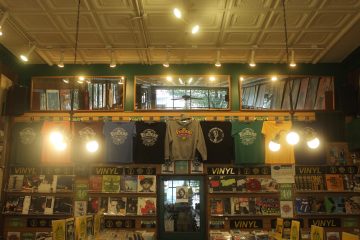 The logo is familiar to anyone who works in the store. It's based on the old sign from the campus store that is still displayed in the back office.
The new shirt harks back to an earlier time, the first Finders shirt. Halamay designed those, and a few were screen printed. Like that one, the BG Memories version will be green with a gold design – the colors inspired by those of the high school Halamay attended in Akron. Those colors are still used throughout the store.
Fredericks said she and BG Memories also did research into old store ads to fine tune the design.
Fredericks said that she and BG Memories decided that initially at least the shirts will not be printed on demand as are the company's other products, but screen printed once the orders are in.
The shirts will be printed on premium Bella+Canvas blend shirts.
Finders has been a mainstay in the downtown since 1971. Halamay said he came to BG in 1969 to attend college. He liked the historic downtown then, and for all the changes, is still a fan.
The store has remained dedicated to selling recorded music, but the formats have changed over the years. When the shop opened vinyl was king. Tapes were also popular, but both products were pushed aside by compact discs. Halamay said people are still buying CDs, but that format is surrendering more and more of its space to vinyl, which is resurgent again, and accounts for a growing percentage of Finders' sales. That makes the new shirt's tribute to that earlier vinyl era even more appropriate.
Fredericks, who graduated the same year a Goldner and Fowler, said their products target their age group, though have appeal for younger and older buyers as well.
They are very savvy, she said, in their use of social media to promote their projects. She hopes that will translate into robust sales for the Finders shirt.