By JAN LARSON McLAUGHLIN
BG Independent News
The Cocoon is known as the shelter in Bowling Green that takes in victims of domestic and sexual violence.
But it is far more than that.
In fact, emergency shelter is just 10 percent of the help offered by the Cocoon.
It's up to Robin Guidera, the new development coordinator at the Cocoon, to get the message out that the agency provides much more than emergency shelter. And while she's at it, Guidera also hopes to let local businesses and individuals know how they can help.
Guidera, a new face at the Cocoon, previously worked at the Toledo Zoo and Lucas County Libraries. She first learned about the Cocoon through her daughter, a student at Perrysburg High School.
"She's very much a 'girl power' kind of girl," big on human rights and believing in the mission of the Cocoon, Guidera said.
"I kind of felt like it was a sign," when the position opened up with the Cocoon, Guidera said.
Working with Cocoon Director Kathy Mull, Guidera will focus on raising awareness of the Cocoon's programs and raising funds to keep them going.
"I will be looking for avenues to stay in front of people, so we're not showing up just when we have our hand out," she said.
That means Guidera will be sharing the stories of people helped by the Cocoon.
"We need to balance the dark side of what we do, to tell some of the success stories," she said.
And that means Guidera needs to explain to the community that the emergency shelter represents 10 percent of the services offered by the Cocoon. The shelter is busy – with the 24 beds being filled to capacity at times.
But that is just one service the Cocoon provides. Last year alone, the Cocoon received more than 6,000 calls on its crisis line.
"And it's not getting any better," Guidera said.
The Cocoon has provided medical advocacy to help survivors navigate services. The agency also provides legal advocacy to help survivors secure temporary protection orders and custody orders. And the Cocoon offers transportation to survivors needing help getting to court, doctors' appointments or the hospital.
All Cocoon services are free to survivors and their families, Guidera stressed.
The agency also offers awareness events at Bowling Green State University, focusing on issues such as intimate partner violence and human trafficking.
While the services are free to those in need, they cost money to provide. That means Guidera's other focus will be convincing businesses to invest in corporate sponsorships and individuals to donate to the Cocoon.
"It's exciting to create some new partnerships," she said.
The Cocoon plans to continue featuring a national speaker in April during its Sexual Violence Awareness event, and holding its "Dueling Pianos" event in October during Domestic Violence Awareness Month. Guidera is looking for some fresh ideas for the Cocoon's annual anniversary event in June.
This spring, the Cocoon plans to undertake Phase 2 of its building plan by adding an advocates office, community room and teen respite room.
The community room will be a space that can be accessed from the Cocoon residence area and the advocates side – to allow for support groups and training.
Phase 3 will then continue by adding private space for people who are not residents of the shelter.
Guidera explained that the new rooms will offer "naming opportunities" for local organizations, businesses or families.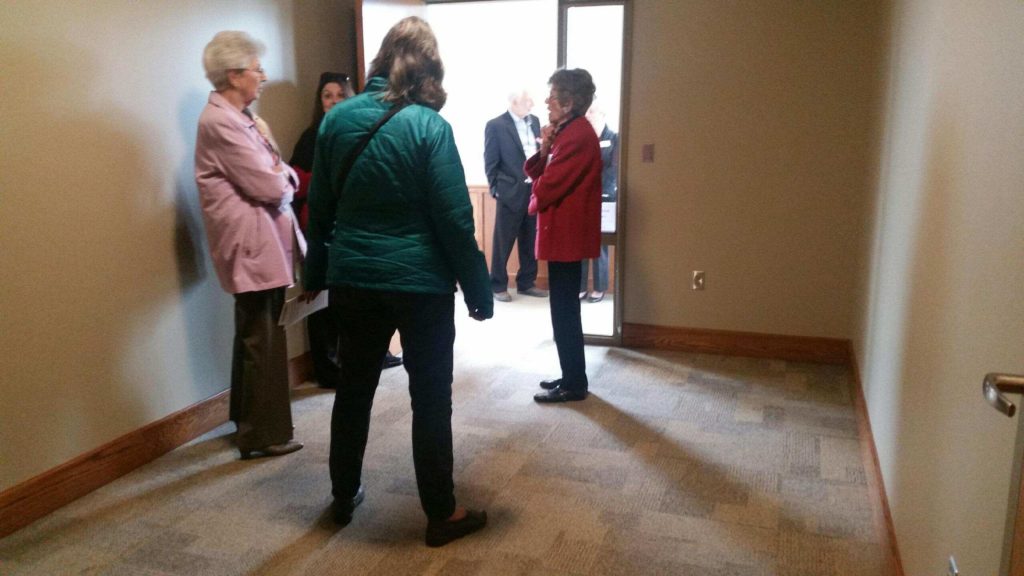 During 2018, the Cocoon worked on the following goals:
Raise awareness in Northwest Ohio about the Cocoon and all of the services offered, as emergency shelter is actually only about 10 percent of what is provided.
Train advocates who provide medical and legal advocacy, including assisting 121 survivors in filing for Civil Protection Orders in 2018.
Provide help and support for those caught up in sex trafficking or being sexually harassed.
Offer 24/7 crisis line (419-343-1730) with more than 6,000 calls for assistance.
Provide support groups.
Offer emergency transportation assistance, helping with 987 requests to medical and legal appointments.
Give ongoing support for survivors and their families
Provide emergency shelter for up to 24 individuals, including women and/or men with children, with two rooms being equipped to also house pets (provided nearly 4,000 nights of housing in 2018.)
The Cocoon has the following goals set for 2019:
Raising awareness throughout Northwest Ohio about all of our services and that we are now known as The Cocoon (rather than The Cocoon Shelter) via a more consistent presence in print, radio and TV interviews.
Having more of a presence at community events to raise awareness throughout Wood County.
Completing Phase II of the capital improvements which includes the community room, teen respite room and advocate office space. The community room will allow outside groups to come in and hold training, education and support services at the site. The teen respite room will provide a teen specific space for kids in shelter to socialize with their peers, complete homework, or have some quiet time.The advocate office will allow space for advocates to meet one-on-one with survivors in a confidential and quiet space on site. There are sponsorship opportunities available for these three spaces including naming opportunities for individual rooms or all three as a "suite."
Looking to Phase III of the capital improvements which will include private meeting space for advocates who work outside of the shelter facility. There is currently no place where survivors who are not residents can talk confidentially with their advocate on site. The next phase also includes the Katzner Garden and Nature Walk and an outdoor workout and retreat space.
Fundraising partially through three fundraising events, tentatively scheduled for April (Sexual Violence Awareness Month), June (Cocoon's anniversary month) and October (Domestic Violence Awareness Month); more information to come as they develop.
Offering corporate partnering opportunities that provide return on investment throughout the year: "Sponsor Spotlights" monthly on Cocoon Facebook page and in the newsletter; a corporate partner page on the website; Facebook live feeds featuring donors and sponsors monthly; mentions as the Cocoon provides interviews via print, radio and TV, event ticket packages, etc.
Anyone wanting to donate to the Cocoon may reach Guidera at
419-373-1730, ext.1002. She plans to reach out to many current and post donors, as well as look for new opportunities for partnership while educating the community about domestic and sexual violence and all of the Cocoon services.