By DAVID DUPONT
BG Independent News
David Bixler can thank his mother for inspiring his Hughes Project. His mother, a retired English teacher, sent him a copy of Langston Hughes' poem "Mother to Son."
"Well, son, I'll tell you," the poem begins. "Life for me ain't been no crystal stair."
That poem inspired Bixler. He responded as a jazz saxophonist and composer would: by writing a song. From that first piece has grown into The Hughes Project, seven pieces with more to come for a nine-piece ensemble. All based on poems written by the man of letters considered a leading figures of the Harlem Renaissance in the 1920s and 1930s.
Last week Bixler gave a lecture about the project, accompanying his remarks with performances of two pieces from the project. Later that night he presented a recital featuring the seven movements he's completed so far.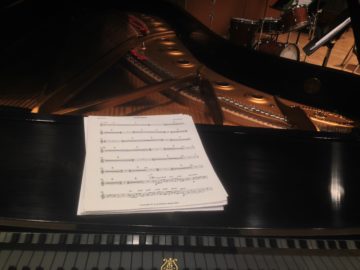 He'd long been interested in writing music inspired by Hughes that blended a jazz quintet and a string quartet. He finally carved out the time to write the piece last year. He was on leave from his position as director of jazz studies at Bowling Green State University, and his family had relocated back to New York City. They were living, he quipped, in "the squalor" of renovating their new home.
He started writing in June, 2015 and first heard what he'd written this May. Bixler, who received a grant from the Institute for the Study of Culture and Society at BGSU, brought in musicians from New York City for the performance. They included trumpeter Russell Johnson, who grew up in the same Wisconsin town as Bixler and has his mother as a teacher.
The jazz contingent also featured Jon Cowherd, piano, Gregg August, bass, and Fabio Rojas, drums. The quintet was joined by the Semiosis Quartet – Natalie Calma and Nicole Parks, violin, Oliver Chang, viola, and Kett Lee, cello.
In composing the pieces, Bixler made some key decisions up front. As with the initial "Mother and Son," he did not set the poem to music to be sung nor did he have a narrator reading against a musical backdrop.
Also, though Hughes was often called a "jazz poet," and he wrote many works inspired by the music of African-Americans, Bixler avoided those. Instead, he said, he focused "on his work that dealt with our common humanity and the emotions therein and trying to find the musicality and lyricism that's imbued in his work."
Bixler started that search as is his wont by improvising on the poems, each of which he'd memorized. Through the improvisation he teased out the melodic, rhythmic and harmonic ideas and basic elements of structure that he worked into the composition.
He eschewed any reference to the jazz popular at the time, adopting a harmonic and melodic vocabulary that bridges contemporary jazz and concert music.
The composer, though, also set about studying Hughes' life and work. He found that "I held a romantic notion of what he was and what he represented. … The reality was I knew relatively little about the man and his work."
Early on he turned to the monumental "The Life of Langston Hughes" written by BGSU graduate Arnold Rampersad. The Hughes Bixler discovered in those pages was a more complicated figure. Hughes found himself "pandering to an elusive audience that was going to bring him fame and seemingly more important financial success."
Despite early fame, the musician said, the writer
"scuffled financially his entire life."
Bixler had to wrestle with doubts about how words and ideas could be expressed in music, especially when those words and ideas were not my own. He said he "reached a turning point" while reading a volume of essays on Hughes' own translations and others' translations of Hughes' work. Bixler now saw his role as that of a translator – taking Hughes' verse and expressing it in Bixler's own musical language.
So when addressing the poem "Justice" he created a lament using two cells of notes. These served as the DNA for both the written parts and the piano solo. As Bixler noted, in The Hughes Project, the improvised solos are shorter than in his jazz work, serving as a development within the composition rather than to showcase the individual musician.
Bixler also penned an agitated figure underneath that lament as a way to express the turbulent layers of the short poem about Justice whose "bandage hides two festering sores / That once perhaps were eyes."
At the evening recital the ensemble opened with "Silence." Here the horns barked out a series of short phrases, letting the silence settle between each. Then the strings entered, plucking notes underneath the horns and then bowing a long, soft chord where the silence had been. The poem reads: "In your silence / Every tone I seek / Is heard."
While Bixler said he'd love eventually to record the pieces, that's uncertain at this point. In the meantime, he continues working on new Hughes pieces.
In doing so, he continues to question some aspects of the work.  "Hughes was more than a writer. He was a social activist and champion of justice," Bixler said. How can music spur listeners to act? Can music change the listener's outlook? He doubts his music can effect social change.
Still, Bixler said, "I hope that this project can be reframed as a step I can take toward bringing music I create to a more meaningful arena."